Paper Labels vs. Film Labels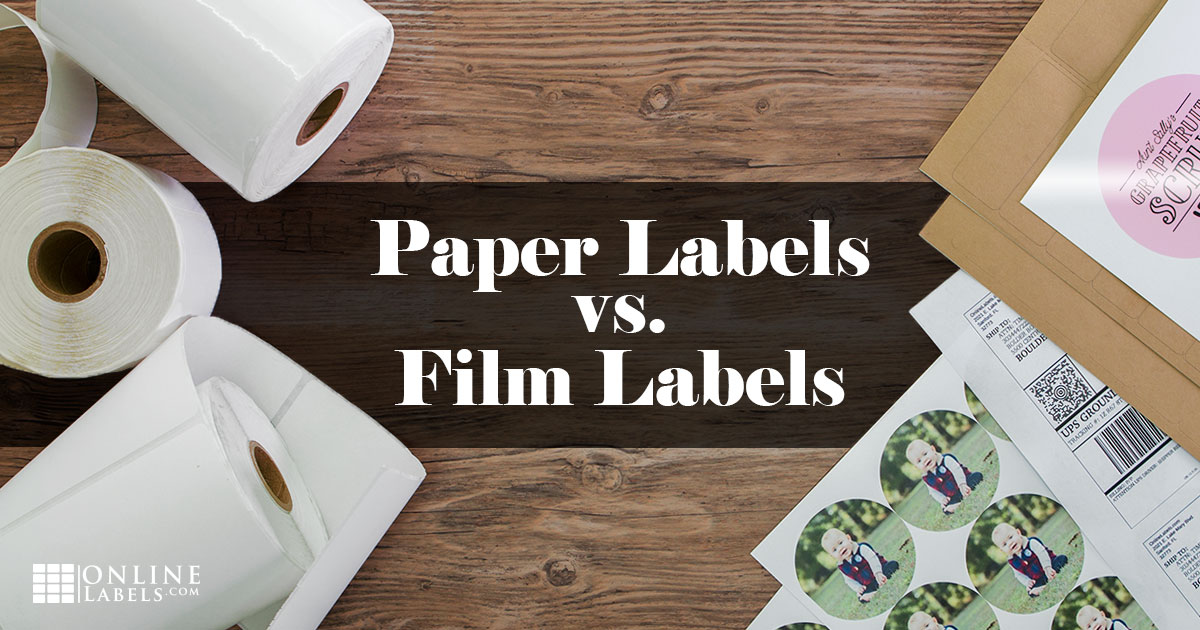 OnlineLabels is proud to offer a variety of label materials suited for a wide range of applications. When determining which one is right for you, it can be helpful to understand the label manufacturing process. It begins with rolls of raw facestock (the top layer of your labels) called substrates.
We generally use two types of substrates: paper or film. Below, we break down the differences between them and explain the advantages and disadvantages of each.
Paper Labels
Paper labels are made of, you guessed it, paper! The color, thicknesses, and coatings of paper substrates can vary, but the base layer is still composed of the same raw material.
Advantages of Paper Labels
Good ink adhesion
Paper has great "printability." This means that it can withstand high-heat printing and hold ink extremely well for sharp prints.
Array of colors
While the most common paper color is white, you can find paper labels available in a wide range of colors. Almost all of our color labels are paper-based, from fluorescent to pastels. We can even create custom color labels for those with specific colors in mind.
Handcrafted look
Paper can help produce the handmade, weathered, or vintage look that's in style today. It's for this reason that paper has lent itself especially well to craft beverage, wine, and spirits applications.
When Guinness released their Dublin and West Indies porters as a tribute, they chose a paper substrate as their label in order to "retain authenticity" and "combine a vintage feel on a modern coated paper substrate."
Paper materials like our brown kraft and recycled white matte are also popular with eco-conscious labelers.
Disadvantage of Paper Labels
Low resistance to environmental conditions
The major downfall of paper is its lack of resistance to conditions such as water, light, time, or tearing. It's more likely than film to yellow and fade when exposed to sunlight and has a shorter lifespan.
Using lamination or varnishes can help improve paper's durability, but will not make paper as durable as film.
When To Use Paper Labels
Based on paper's strengths and weaknesses, we recommend using paper-based labels for indoor, short-term use. Common paper label uses include:
Shipping & packaging
Non-perishable goods
Household & beauty products
Marketing collateral
Warning signs
Home/office organization
Crafts
Paper-Based Label Options
Use any of the following paper-based materials to deliver powerful results with your colorful designs, handmade goods, and more.
Film Labels
Film labels are made from films (like plastic), making them a more durable and flexible material than paper. While paper has been around for thousands of years, the advent of film substrates is fairly new – they were invented around 60 years ago. Films are a remarkably innovative product and they offer unique labeling benefits that may work to your advantage.
Advantages of Film Labels
Better resistance to environmental conditions
Some film materials feature "weatherproof" qualities and can stand up to various conditions such as water, heat/cold, fading, and tearing. Because of this, they're a wonderful choice for heavier duty uses.
Keep in mind that not all film materials are weatherproof, however. Our film-based clear inkjet materials do not offer water-resistant properties.
Flexibility
Films are substantially more flexible than their paper counterparts. Since they can conform to their surroundings, they're great for oddly shaped surfaces or containers subject to squeezing (shampoo bottles, lotion tubes, etc).
"No label look"
Film labels are available in clear, which is ideal for creating the modern "no label look" for product packaging. Clear gloss or "crystal clear" materials are popular additions to see-through and tin containers and show off what's behind the label. Clear matte labels have a frosted finish to slightly obscure the surface for an elegant look.
Disadvantages of Film Labels
Cost
Film substrates are costlier to produce than its paper counterpart, however, if that added durability is crucial for your application, it can save you time, money, and headache in the long run.
When To Use Film Labels
Given the strength and modernity of film labels, they're best for outdoor or moisture-rich environments, long-term applications, or products subject to frequent use. Common film label uses include:
Warehousing & equipment
Refrigerated food & beverage products
Bath & body products
NOTE: Our custom white weatherproof labels on rolls are more durable than our sheeted and unprinted options, as they come with an additional finish that is oil-proof. If your product contains oils, we strongly encourage this route.
Cleaning products
Film-Based Label Options
Use any of the following film-based materials to create durable, long-lasting, and vibrant prints:
---
In short, there's a material for every project. Consider the pros and cons of paper and film labels to choose the right option for your specific application. View all of our available labels by material or contact our customer service team at 1-888-575-2235 for assistance.
---