I had a couple of friends ask me to make their wedding favors. So I made 4 oz jars of their favorite flavor jams and designed this label using their wedding colors (navy and dark green which is why its hard to see) to go on them.
Make sure with these size label's your printer knows where to start, the top label always ended up cutting off a little bit of the design.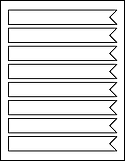 OL1758WX
Ready to inspire?
Share your label creation!