Stick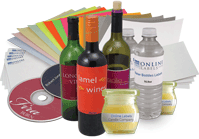 Setting the Standard.
Since our launch in 1998, we've sold over 5 billion labels and we've seen them used for just about every purpose- branding, categorizing, organizing, prioritizing, customizing and identifying.
We've seen our labels placed on automobiles, boxes, bottles, candles, cables, containers, files, folders, CD/DVD's, mailings and just about anything else you (or we) can think of!