16 Candle Label Designs That Shine
Creating the labels and packaging for your candle business can be a big venture. It necessitates as much planning and forethought as the candle ingredients and recipes themselves.
Below, we gathered the best photo submissions from our Customer Ideas gallery and the internet to help you explore inspiring candle label designs. So whether you're looking to reinvigorate your current packaging, considering a redesign, or wanting to start a candle business from scratch, let these examples lead the way.
Not yet to the design phase? Shop
candle labels
to explore popular shapes and sizes.
Barely There Candle Label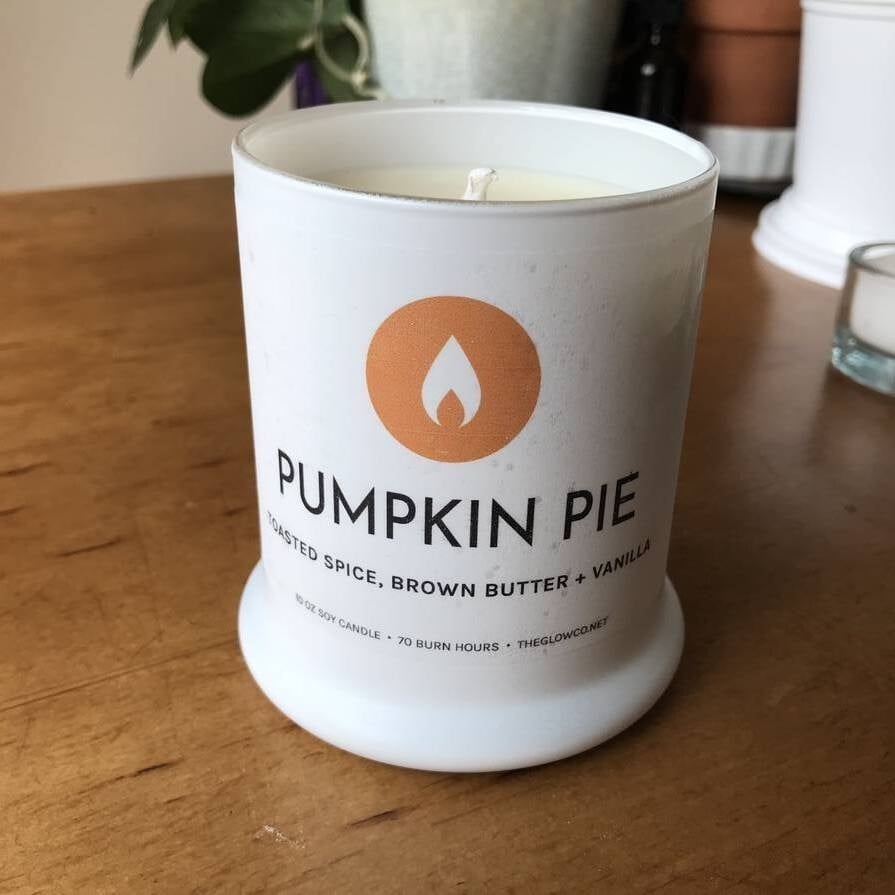 One of the benefits of clear labels is the "no label look" they produce. The Glow Co. capitalized on that trend and then some using the frosted matte finish to soften the sheen of a traditionally glossy product.
With a minimalistic label material, the cleanness of the design and the fragrance of the candle really stand out. Neither are loud and overwhelming so the eco-friendly candle itself takes center stage.
Get the look: OL550CJ, a 4.25" x 2.75" rectangle on Clear Matte Inkjet.
View The Glow Co's full submission.
Minimalist Wrap-Around Candle Label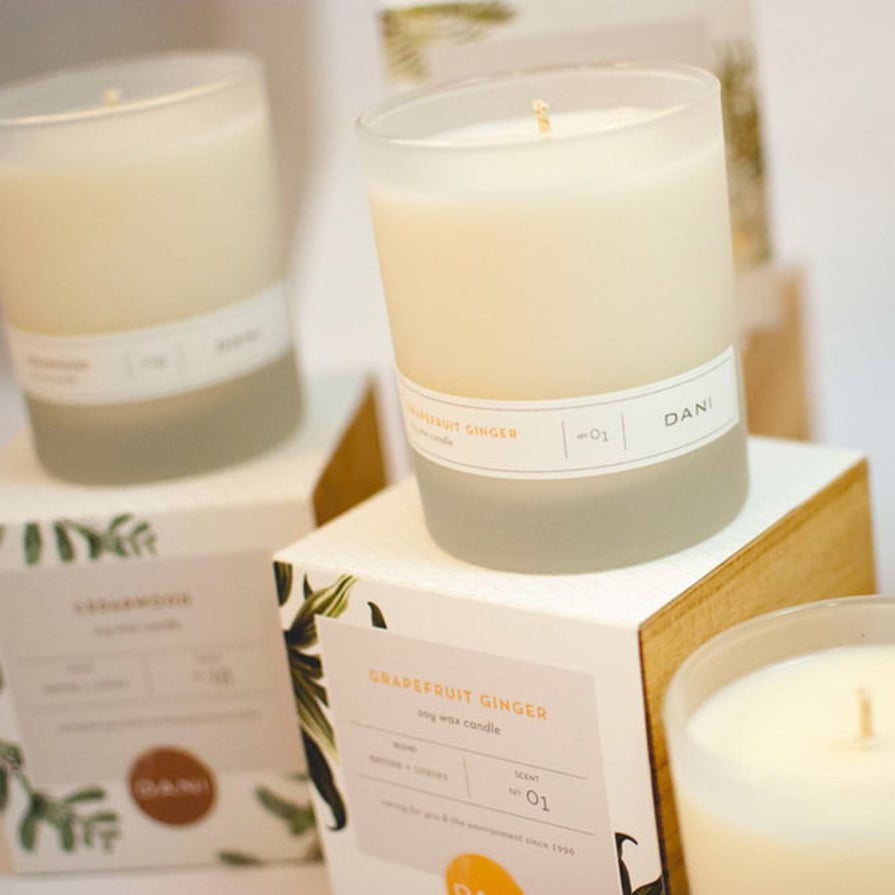 The small label trend is especially prominent in the candle industry, as evidenced in the above product labels by DANI Naturals. Designed by DEI Creative, the packaging reinforces their place as a natural luxury product.
Unsurprisingly with products in that class, the label design features few details aside from the company logo and scent. All the text is printed in black ink, except for a small touch of color on the scent name.
Get the look: OL1649WX, a 1" x 5" rectangle on Standard White Matte.
Colorful Patterned Candle Label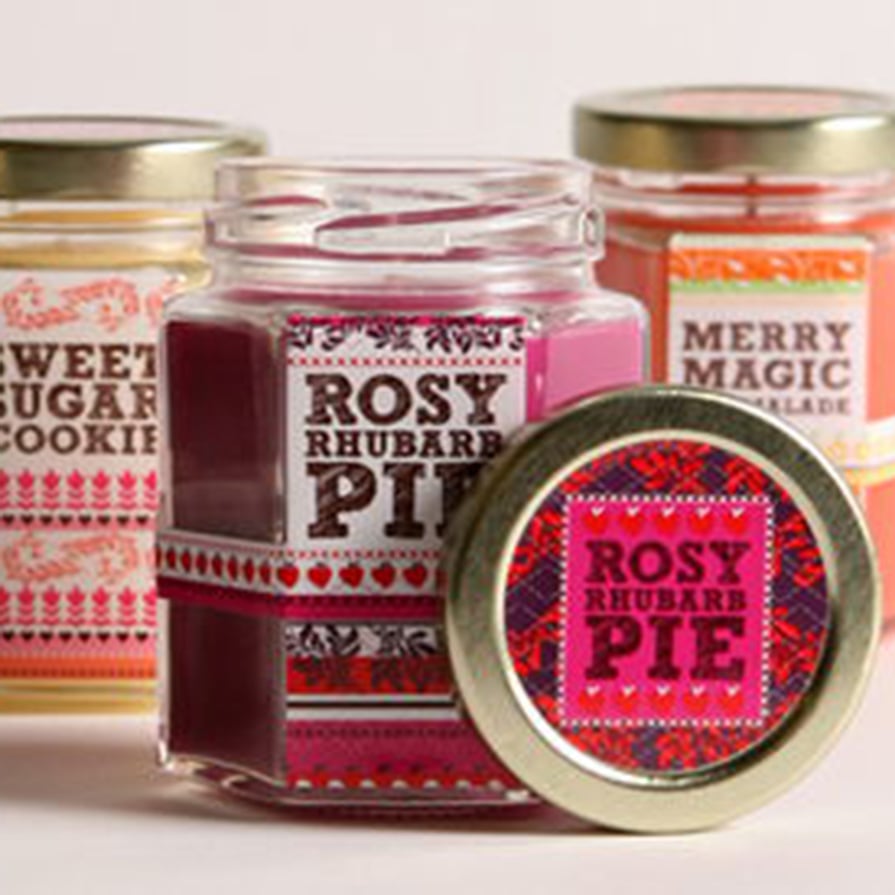 Designed for Urban Outfitters in collaboration with Joya Candle, this candle matches the fun, funky aesthetic of the store.
It has tons of colors and patterns with textured fonts and varied label sizes. Joy Deangdeelert Cho used one label to cover the front panel of the six-sided jar, another to wrap around the circumference, and a third on the lid.
Get the look: OL857, a 1.75" x 2.75" rectangle; O2510, a 5" x 0.5" rectangle; and OL5375, a 2" circle.
Uncomplicated Brown Kraft Candle Label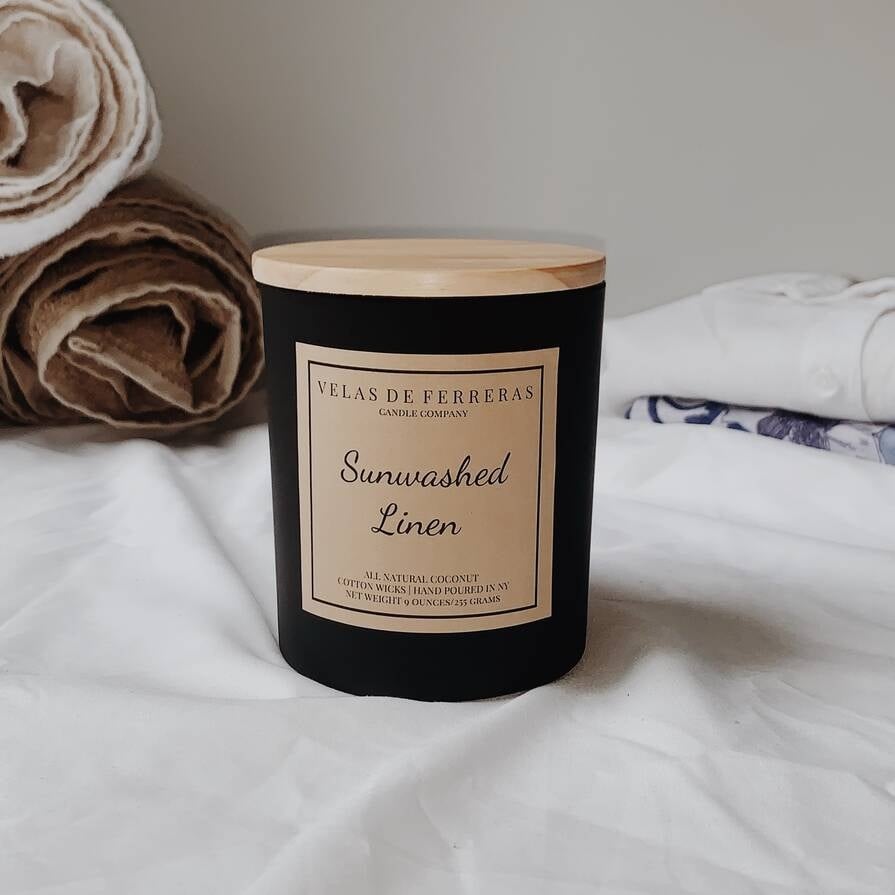 Velas De Ferreras wanted a product label that was "simple, clean, and straight-forward." The matte black jar, wood lid, and matching brown kraft label definitely drive home that vision.
It also reinforces the values of company – seen in their use of coconut wax instead of soy, and the earthy textured brown kraft material over our standard white.
Get the look: OL675BK, a 2.83" x 2.75" rectangle on Brown Kraft.
View Velas De Ferreras' full submission.
Clear Cut-To-Size Candle Label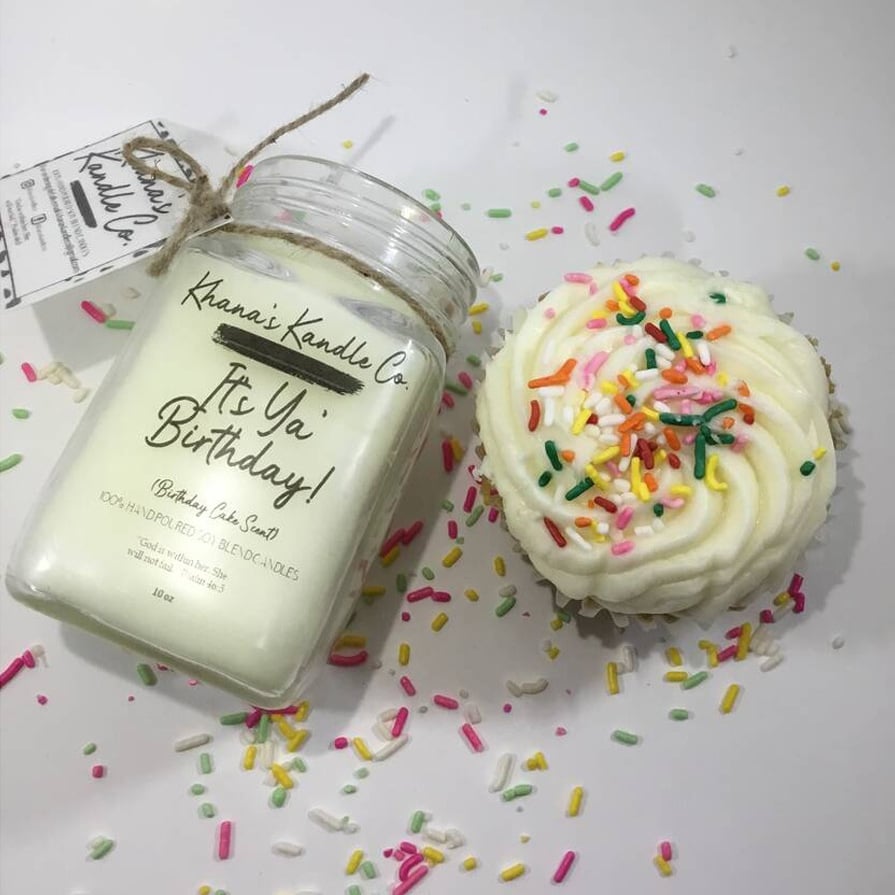 The flair and creativity radiating from Khana's Kandle Co. products is clear at first-glance. The fun names, eye-catching fonts, and soft candle colors seen through the clear label draw you right in.
Using full-sheet sticker paper, owner Shakhana Fulton is able to create the exact size she needs on demand. She can line up templates for various scents, sizes, and jars in Maestro Label Designer and hit the ground running.
Get the look: OL177CJ, sticker paper in Clear Matte Inkjet.
View Khana's Kandle Co's full submission.
Triangular Candle Label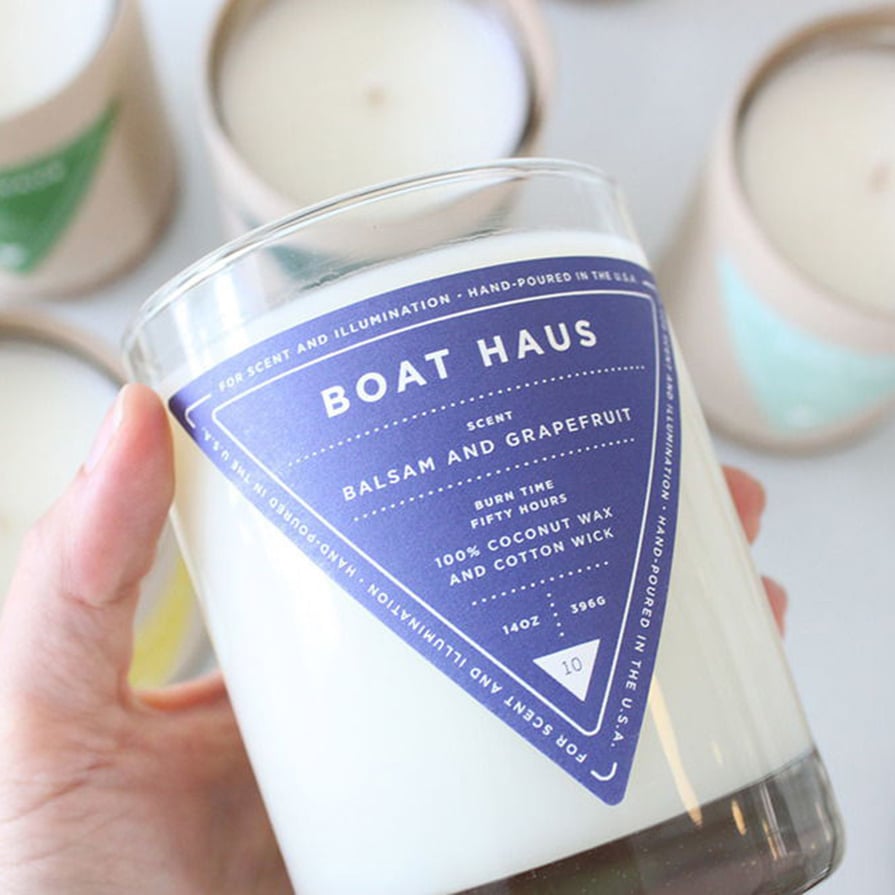 Created by Stitch Design for design firm Haus Interior, these candles range from bright and happy to soft and inviting.
Each label reflects a type of house, both in name and scent, but also in color. The design includes meticulous details such as burn time, pour number, location, and more. It also features subtle accents like the corner curves and dotted line separators.
Get the look: OL1059, a 2.5" x 2.17" triangle.
Vintage-Style Arch Candle Label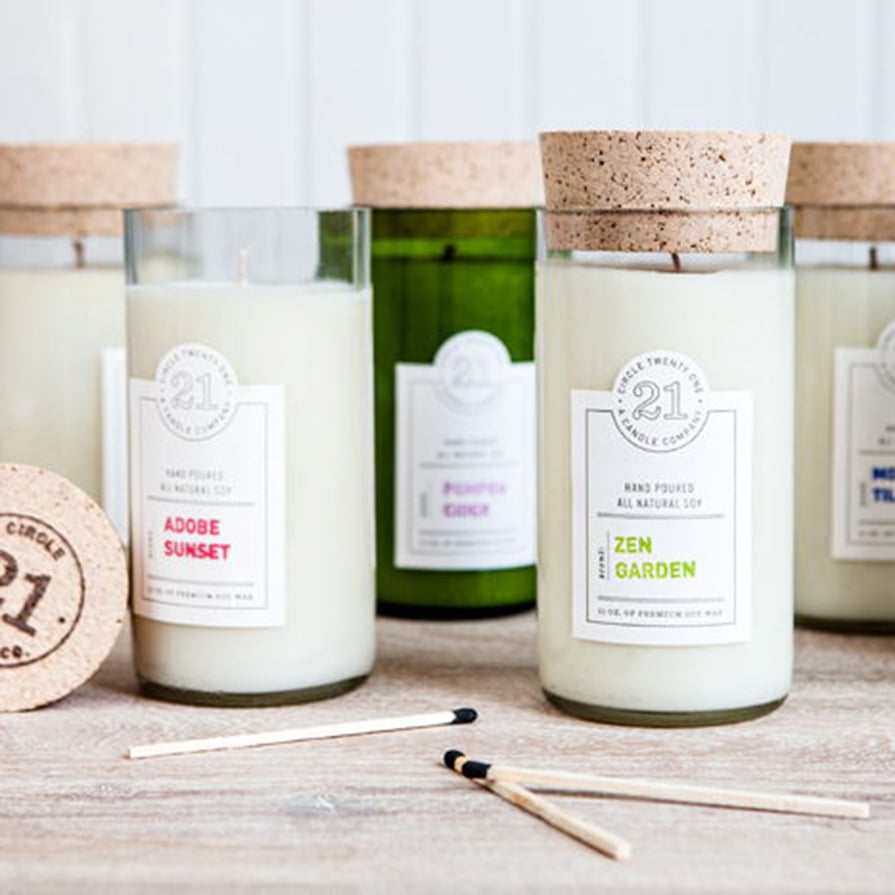 In a label reminiscent of vintage wine, Circle 21 uses scent to transport customers back in time. "Come away with us – explore familiar places, remember forgotten moments, and get lost in the scents that have shaped these favorite memories."
Designed by Studio Nudge, the labels feature a letterpress print style with predominately black and white text. The only color is the bright lettering identifying the scent. The simplicity of the label design let's your imagination create the visuals, without putting preconceived pictures in your head.
Get the look: OL1062, a 2.25" x 4" arch.
Faux Metallic Candle Label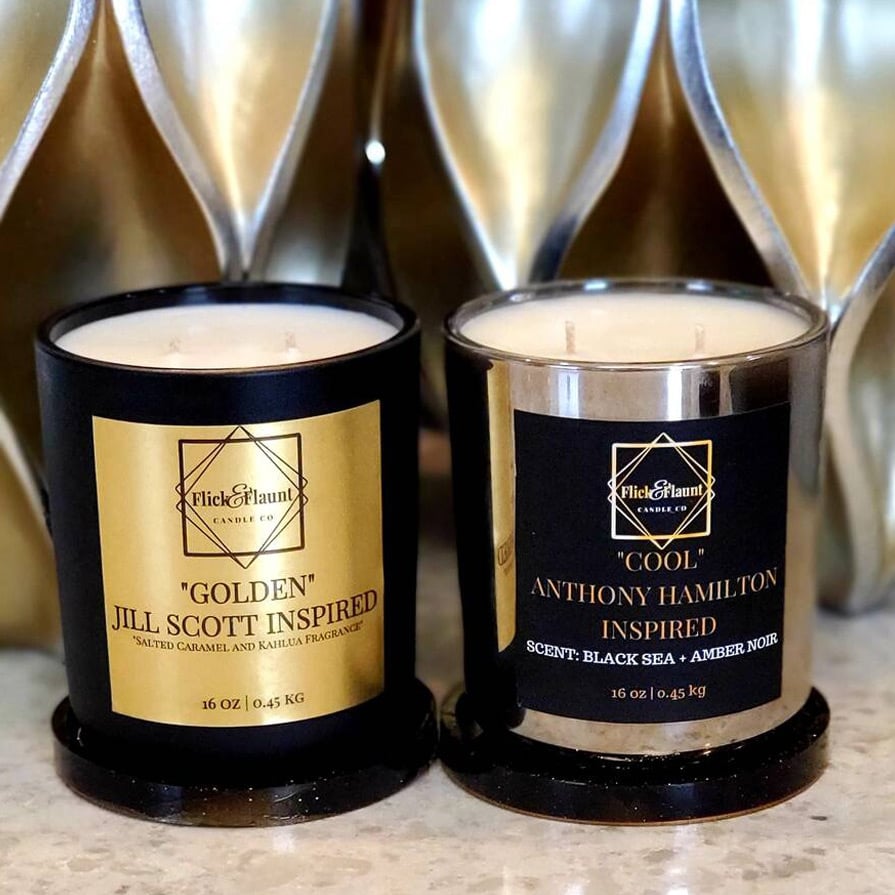 For the new luxury line of candles by Flick and Flaunt Candle Co., owner Tosha Wynette knew how to step it up. She created a glamorous effect using our glossy white labels and her special label design.
Nothing says luxury like a shiny gold label and the classic pairing of black and white.
Get the look: OL805WG, a 3" x 3" square on White Gloss Inkjet.
View Flick and Flaunt's full submission.
Meaningful Pastel Candle Labels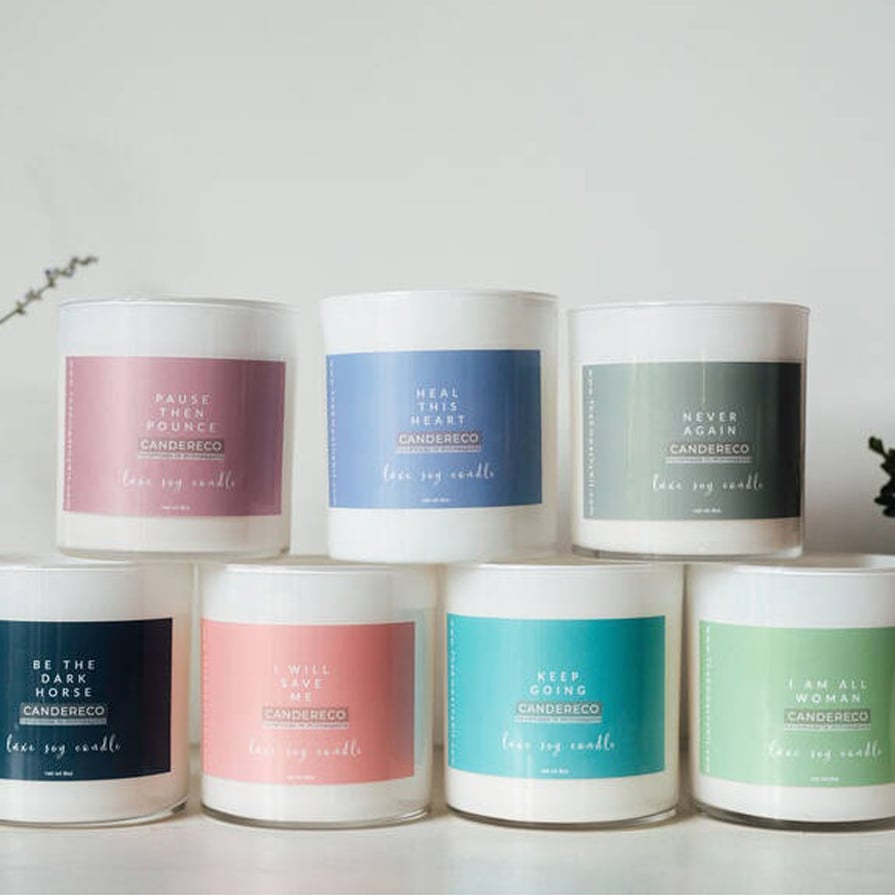 Designed as gifts for those going through hard times, Candereco's Empathy Kit candles are a bright reminder of hope and love. That beautiful spirit is conveyed in the soft pastel label colors, light fonts, and encouraging phrases found on each individual candle.
"I create Empathy Kits for people going through the worst of times. Each candle comes with an Intention Label so the recipient sees a glowing message when they light it." — Veronica Koes, founder
Get the look: OL3072WI, 3.5" x 2" rectangle on Weatherproof Gloss Inkjet.
View Candereco's full submission.
Typewriter Kraft Candle Label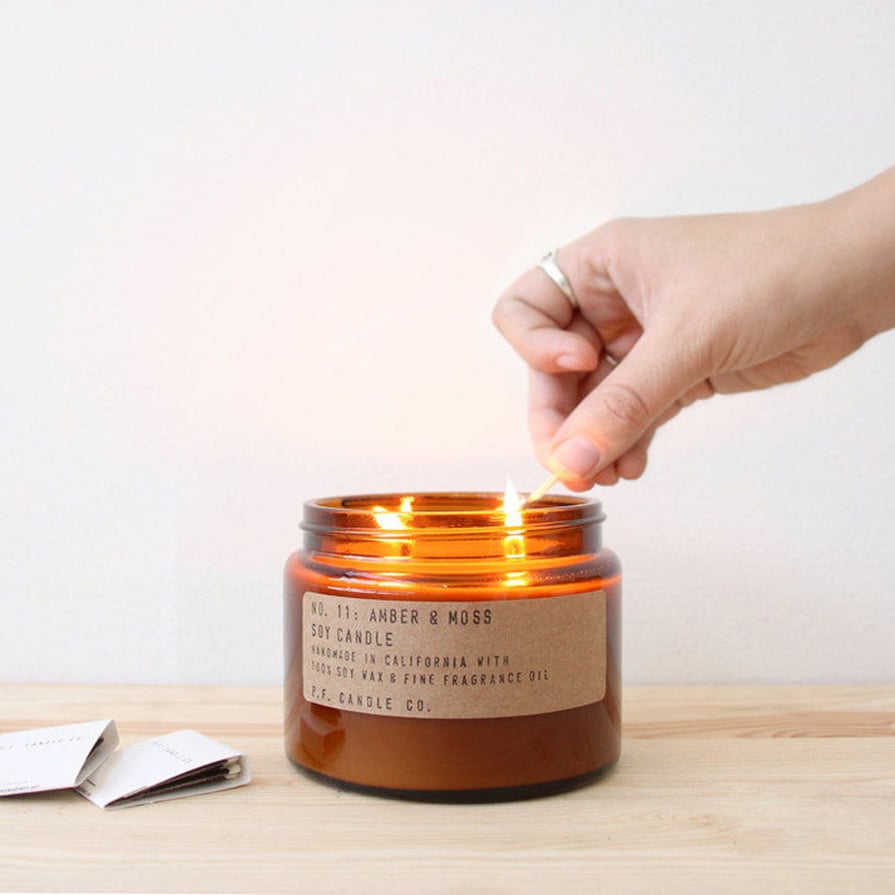 Another simplistic label, created by P.F. Candle Co. to appeal to everyone. Their whole product line matches the same aestheic creating a cohesive brand that's easy to recognize.
The unisex label design mimics the hand stamp used when the brand first launched. The old-fashioned font and earthy label pay homage to the humble beginnings of the company and stick with the company's natural look.
Get the look: OL1809BK, 3.75" x 1.44" rectangle on Brown Kraft.
Write-In Candle Label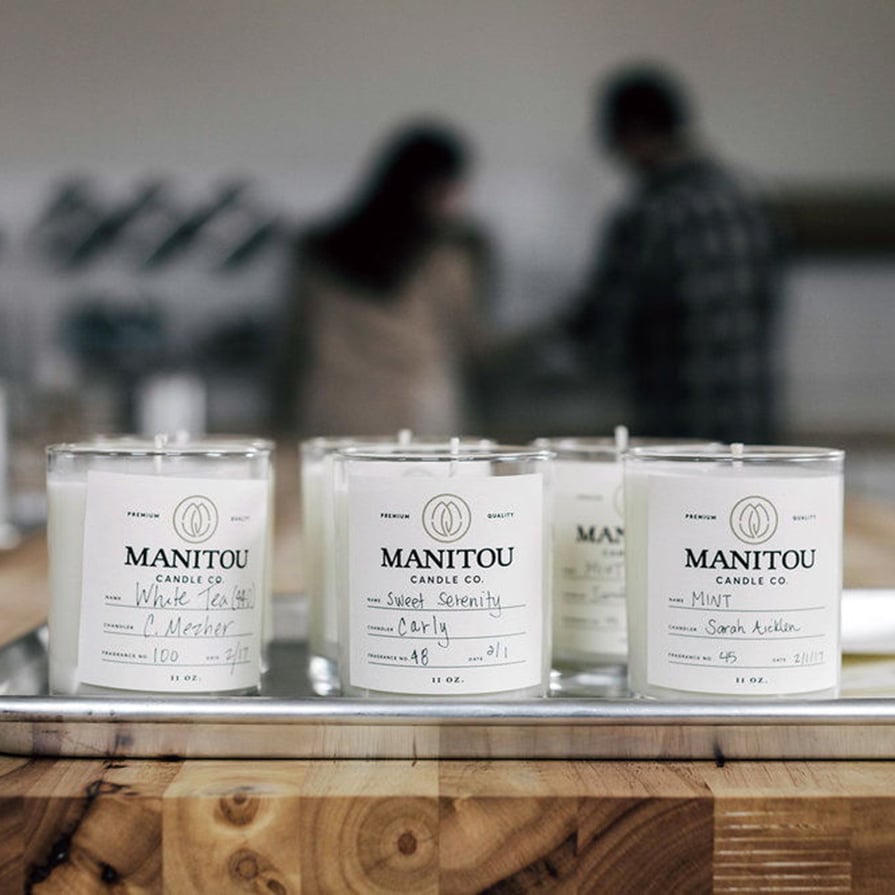 Nothing says handmade and poured with love more than a well-designed yet hand-written product label. The candle label by Durham Brand & Co. for Manitou Candle features the company name prominently and then leaves adequate space to include the important details like fragrance number, name, and date poured.
"The package design and product photography set the stage for the simple yet sophisticated," said Creative Director Austin Dunbar.
Get the look: OL805, 3" x 3" square.
Bold Patterned Candle Label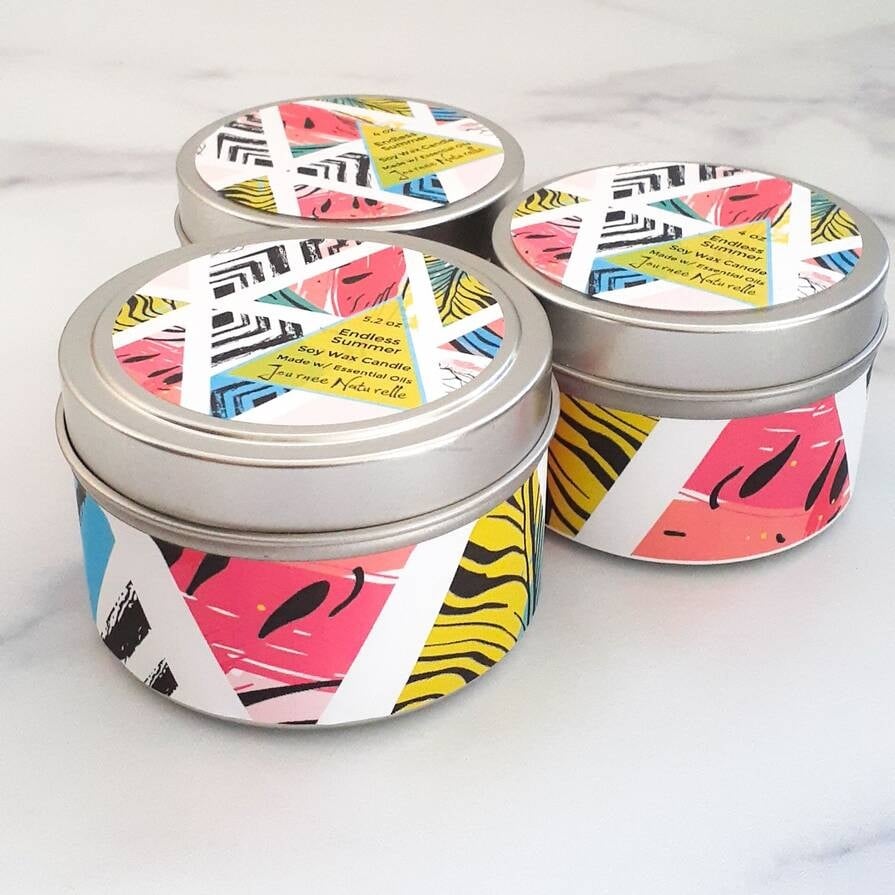 Hop into the summer spirit with these lively candles by Journee Naturelle. The striking, abstract design on the body and lid labels is reminiscent of watermelons and tropical palms.
You can tell even before opening these 8 oz candles that the fragrance will be effervescent and delicious!
Get the look: OL2680LP, a 1.25" x 9.75" large format rectangle on Weatherproof Polyester Laser.
View Journee Naturelle's full submission.
Hand-Foiled Candle Labels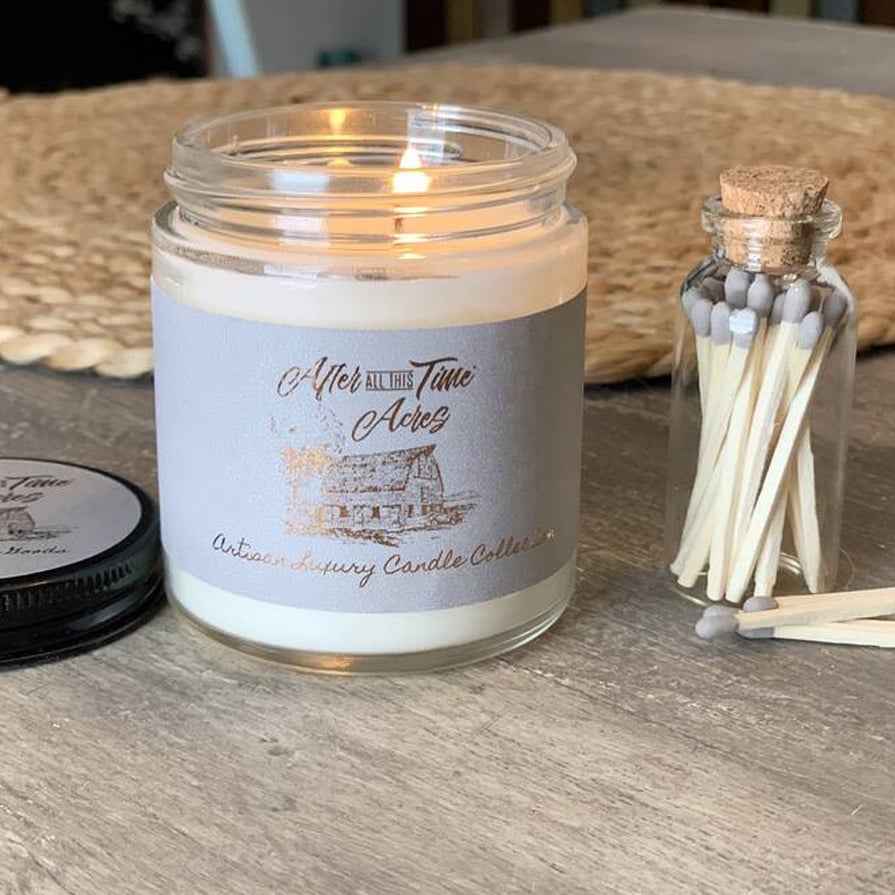 Candle company After All This Time takes a truly unique approach with metallic stamped gray labels made using a foil applicator. The neutral gray is a great balance to the glamarous gold foil, perfect for the luxury Fall candle collection.
The label around the bulk of the jar is a full-wrap label which leaves plenty of space for content and branding, complemented by the nicely sized round label on the lid with repeating product details.
Get the look: OL835TE, a 6" x 1.5" rectangle on True Gray.
View After All This Time's full submission.
Soap Band-Style Candle Label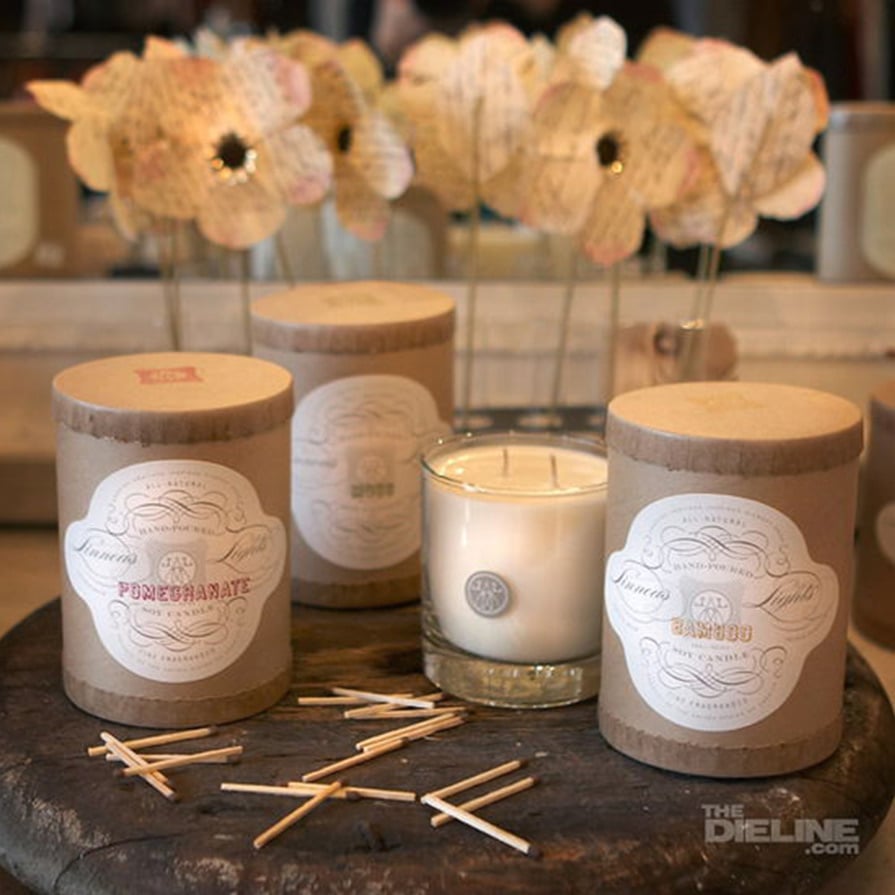 The elegance of this Linnea's Lights candle is evident in every aspect of its packaging. The luxury brand of home fragrances has worked hard to make sure their packaging reflects the status of the brand and its ingredients.
The secondary outer packaging contains the main product label while the candle itself features only a small sticker. The product label is a custom die cut, shaped around the ornate script font. With only a few blacks and grays in the design, the colored scent name really pops and adds clarity.
Get the look: OL2933, a 3.55" x 2.82" band and OL5275, a 0.75" circle.
Round Candle Label
Goodesign helped bring the story behind Kobo Candles to life. The brand was created to enhance the viewing of travel photos. Each scent "has been consciously developed to create a multi-dimensional, enriching ambiance."
The delicate product label features a light line border with surrounding dots and minimal content. It uses a variety of colors found in the outer packaging to tie everything together nicely. With such little content, most of the space is used to name and describe the scent.
Get the look: OL914, a 1.75" circle.
Bright & Happy Candle Label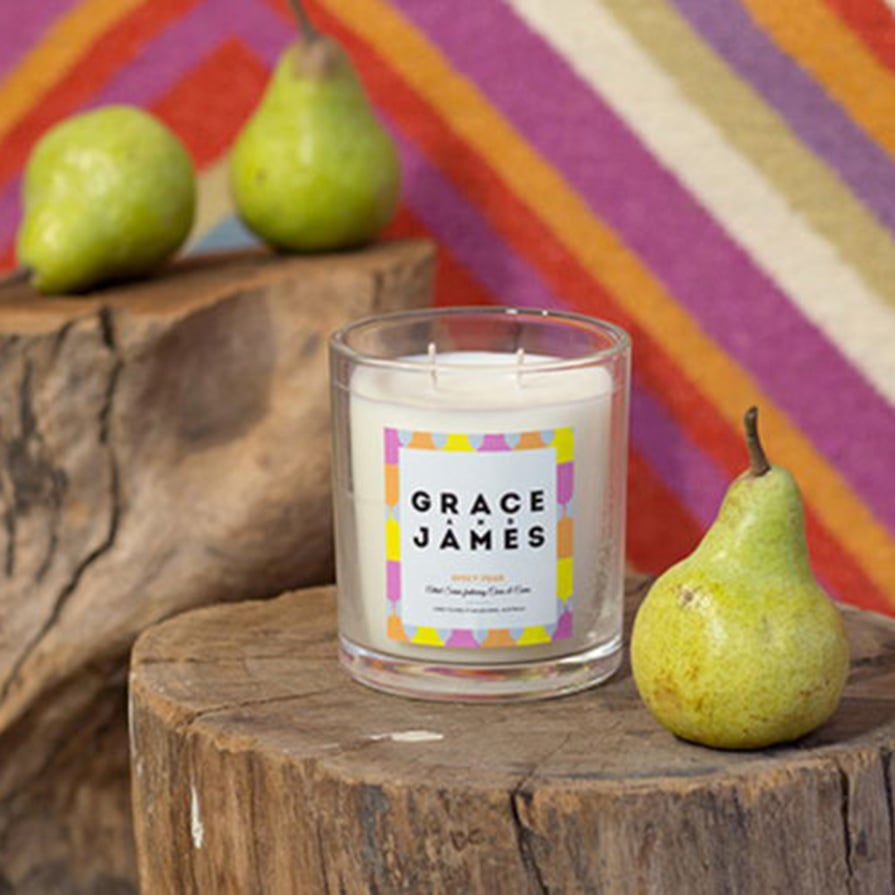 "Inspired by life and everything in between," Grace and James Candles Co. creates candles that are good for the soul. They select artists and designers to craft each label design, use natural ingredients, and sell locally.
Their eclectic candle label designs are something new and fresh. They use bright color schemes with fun patterns. They contrast nicely with the clean glass jars, so the candles stay eye-catching but not overwhelming.
Get the look: OL291, a 2.5" square.
---
As you know and can see from the examples above, product labels are essential for helping your brand stand out. Make sure you're putting your best foot forward with packaging that's affordable for your small business but still looks professional and makes a big impact. Shop blank candle labels.
Be sure to check out more product packaging submissions in our Customer Ideas gallery or read up on product label design tips.
Want to be included in our Customer Ideas gallery? Share your candle label designs with us.
---