How to Label and Ship Food Products Like a Pro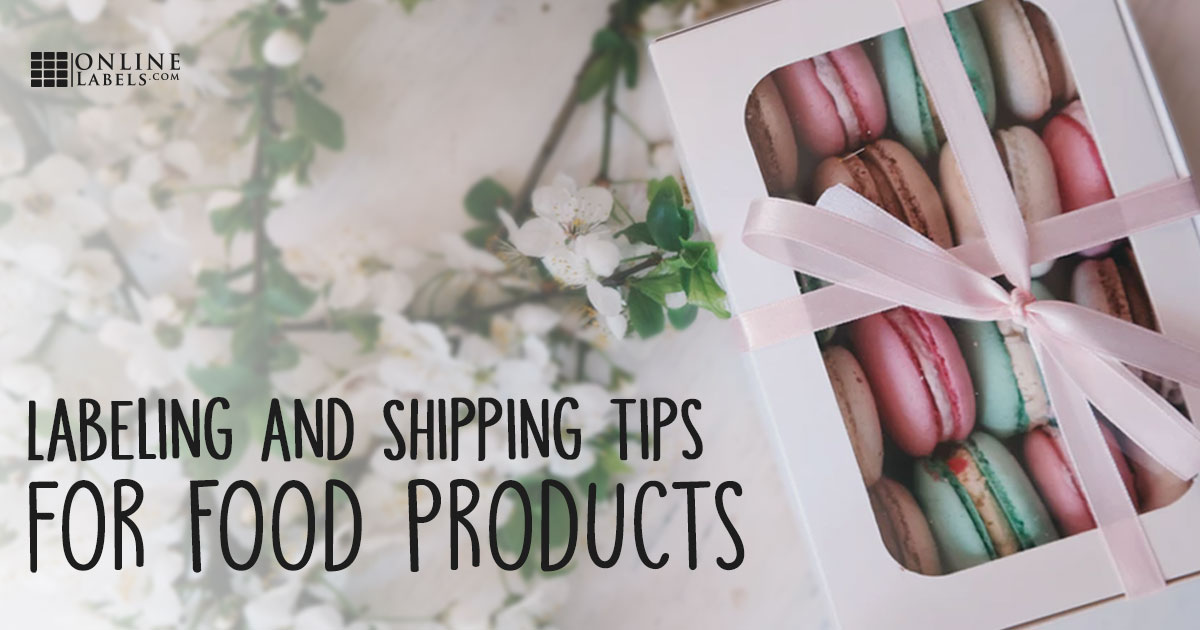 Once you mastered the recipe for your handmade goods, you're ready to make some money. Your website is set up, your packaging is designed and ready to go, but you're worried about properly labeling and shipping your delectable creation to customers.
Have no fear, food artists. We've got everything you need to know about selling and shipping perishable products.
Basics of Food Labeling
Food labels should tell a story. Like the branding of any other product, food should make people feel a certain way (before they have the opportunity to taste it).
Ask yourself, "How do I want my customers to feel about purchasing MY popcorn, versus the popcorn from my competitor?" Are you going for a modern-retro vibe or an organic-hipster feel?
Determining this is the fun part, and the options are endless ... and so is the variety of professional-quality food and drink labels!
But with all the federal labeling (FDA) regulations to abide by, this process can be scary to many entrepreneurs. Navigating the FDA website and applying their rules to your specific product/scenario isn't easy, so we've done all the hard research and laid it out in this super-simple, easy-to-follow guide.
Statement of identity.
This tells the consumer what they're buying. It states the common name of the food – oatmeal cookies, gourmet popcorn, locally made seasoning, etc.
But if it's not a common food (i.e. it's something you created), try to describe the product as best you can.
Net weight or contents statement.
This can be a small line of text describing how much is in the package.
Nutrition facts panel.
This includes the nutrition information for your product. Getting this info is probably one of the most stressful parts for most food creators, but it doesn't have to be.
Find out how to get your nutrition information. Once you have it, use our nutrition label generator to create the panel.
Ingredients list.
This is the list of ingredients used to create your product. The key is to list the ingredients in order of prominence by weight (though no need to list the weight).
Of course, there are several exceptions to this requirement. For example, if you're selling something that's just one ingredient – like nuts or honey – there's no need to list ingredients on the label.
But if you've added seasoning to the nuts or sweeteners to the honey, it would be necessary to include ingredients on the label. Also be sure to include any allergen information (if your product contains nuts, soy, milk, etc).
Name and address.
List is a simple statement with the contact information for the product's manufacturer, packer, or distributor.
What about the expiration date? This differs between states and organizations. If you're shipping your item using Amazon FBA, for example, you're required to list an expiration date on the box and on each individual unit.
Double check your state's laws and any marketplace requirements to ensure your packaging meets each one's individual requirements.
Exceptions
"The rules and laws vary greatly from state to state, and from type of food business," says Damian Roberti, owner of The Brittle Box Candy Co. and founder of Marketing Food Online. "These laws not only govern the sale and production of food at home, but the venues where to sell them."
It's also important to note that some rules don't apply to startups. Various states have what are called Cottage Food Laws, which offer exemptions to home-based food creators (who meet certain criteria).
Exemptions can include needing a commercial-grade kitchen or providing a nutritional analysis on the product.
Packaging and Labeling for Shipment
Not every food item is labeled or shipped the same. But no matter the product, Roberti suggests always using ice packs (especially in the summertime) and shipping two-day priority. He's found two-day priority service to be the most cost effective, in conjunction with free boxes from USPS.
You can order shipping supplies directly from USPS.com for free – up to 90 at a time, depending on the size.
Once packaging is squared away, you may consider using adhesive labels versus the print-cut-and-tape method. Whether you're selling through your website and using the standard carriers or using online marketplaces like Etsy or eBay, you can find shipping labels at OnlineLabels.com for:
If you're shipping something that may break – like chocolate-covered pretzel sticks – you may also want to add a fragile label to your shipping box. This is especially worth considering if you plan to ship large quantities to companies/supermarkets for resale.
Remember, your business' branding is the first impression your customers get, and packaging/labeling plays a large role in that. Switching from the computer paper, cut-and-tape method to professional shipping labels can really up your game when it comes to first impressions.
---
While the above guidelines are mainly the basics of labeling, packing, and shipping food, keeping up with local, state, and national regulations is essential to running a successful food-based business. There's a lot to consider, but don't let it overwhelm you.
Start by making a list of what you need to include on your packaging according the each level of regulations. Once you do that, it's time to start shipping!