How to Create Your Own Beer Bottle Labels
Which sense is more powerful — taste or sight? For beer, taste may keep customers coming back, but sight is what drew them to the brew in the first place.
Take a look around next time you walk through the beer aisle at your local grocery store. While you may be overwhelmed by the sheer number of choices, did you ever notice that they all have their own unique label styles?
Having a unique label design that stands out on the shelf is just as important as the brew that will keep them coming back. In this article, we walk you through the process of creating your own beer bottle labels — from designing them, to printing and applying them.
Explore Beer Bottle Label Styles
There's more to labels for beer bottles than one might consider. Do you want it to wrap from front to back or just be front-facing? Will it have a neck so it's identifiable in a six pack or does the one label speak for itself? Below are a variety of label styles you can choose from when dreaming up the perfect beer bottle label.
Full-Wrap Beer Bottle Labels
A wrap-around beer bottle label is a large rectangular label that wraps entirely around the surface of your beer bottle. These are perfect if you have an elaborate design to showcase or a lot of information to incorporate. Struggling with what information to include? List the ingredients, include a detailed taste profile, describe what inspired the beer, or dive into the story of how you got into brewing.
Take a look at our full-wrap options: traditional labels, soap style labels, and round center labels.
Half-Wrap Beer Bottle Labels
Are you more of a short-and-to-the-point person? A half-wrap beer label has the perfect amount of room for your logo and the information required by law. By only covering one portion of the bottle, you're also letting your product shine through.
Let consumers see the rich color of your homebrew and save yourself the ink that comes with printing the entire circumference.
Imagine what you can do with half-wrap beer bottle labels in these styles: small rectangular label, medium rectangular label, title belt label, shield label, trophy label, small circle label, medium circle label, and oval label.
Beer Neck Labels
If you like the style of the full-wrap but want the added touch of a beer neck label, you don't have to settle. You can buy the beer bottle neck label separately and add it to your bottle. Or perhaps the half-wrap spoke to you. That works too, and you can have the best of both worlds as well.
We've created a combination of the half-wrap and the necks on one sheet. The dual label is a more traditional option and comes in two varieties: square label with a title belt neck and square label with rounded neck.
Looking to stray from the norm? For a minimalistic aesthetic, use the beer neck labels solo. If you've got an awesome and attractive beer bottle or minimalism is more your style, the beer neck labels put the focus on what matters most.
For large quantity beer neck labels, shop our enterprise solutions custom bottleneck labels.
Decide on a Beer Bottle Label Shape
We have a variety of beer bottle label shapes available, from traditional to unique. See how each one can influence consumers:
Square Labels and Rectangle Labels
Square and rectangular labels are the most common label shapes available — they're traditional, comfortable, and reliable. While it's more of a standard beer bottle label shape, you can still absolutely make the design unique to your brand. Also, pay special attention to the corners, however. Whether your label has squared edges or rounded ones is another subliminal cue to consumers.
Square Corners
Squared off edges, also known as cusps, subconsciously evoke feelings of power, stability, and strength. If your beer has a strong flavor, or you want it to make your audience feel tough when drinking it, labels with square corners may help you convey that message.
Rounded Corners
The stability and reliability that squares and rectangles generate can be balanced by the softness that comes with rounded corners. If your beer is light or fruity, a square or rectangular label with curved corners could make that intuitive to your consumers, drawing them to pick up the bottle.
Triangle Labels
Much like the sharpness and balance of square corners, triangles are dynamic and energetic. They are typically more masculine in nature and can sometimes be used to signify superiority. Triangles also symbolize change and caution (think about their use in science and math, as well as road signs).
If your beer is unique and funky, or has different flavors throughout the drinking process, try a triangular label to connect with your audience.
Circle Labels and Oval Labels
Circles are timeless, never-ending, and unified. They're often overlooked compared to squares and rectangles, making them a great alternative if you're looking to make a point. If your beer has a flavor that sticks with the drinker, is a blend of flavors, or is a breath of fresh air, let shoppers know with a round label.
Additional Label Shapes
Using what you've learned about the three basic shapes (rectangles, triangles, and circles), build a profile for the compound shapes. Consider how a heart is both circles and triangles — soft and energetic. Other shapes in the OnlineLabels collection include hexagon labels, scalloped-edged labels, starburst labels, and more unique label shapes.
If none of the shapes we've mentioned stand out to you, OnlineLabels accepts orders for custom size labels. Let your creativity run wild — dream up something abstract, add an extra little detail, play with the standard symmetrical format, or simply just modify the dimensions of a standard label.
Choose a Beer Bottle Label Material
Once you have selected the perfect beer label style and shape, it's time to pick a label material. Because beer is kept cold, whether it's refrigerated or on ice, we typically recommend using one of our waterproof label materials.
A matte finish can be more formal, subdued, or classic. If you're printing beer labels on an inkjet printer, this finish is extremely durable. It utilizes one of the strongest adhesives we offer and is designed to withstand moisture and repel water. There's no doubt that your design will look great on one of these labels.
This glossy finish is ideal for showcasing vibrant colors and can help your design appear crisp and sharp. It offers extreme water resistance and won't tear easily because of its durability. If you have an inkjet printer at home, this option will make your bottles shine.
Home brewers concerned with smudges and labels prone to tearing should go with these. They work with laser printers and adhere with extra-strength to glass, metal, plastic, and more. They, too, are moisture resistant, perfect for using on beer bottles.
For an elegant or decorative look, go with metallic silver. These brushed silver labels are designed for laser printers and can withstand both water and extreme temperatures. Created with permanent adhesive, your label won't get left behind in the cooler.
Give your bottles a unique, 'barely-there' look with clear gloss laser labels… or get a frosty look with clear matt laser labels. Either way, your bottles will certainly stand out. Going with clear labels is a great way to display a unique bottle, or the gorgeous color of your brew.
How To Design Beer Bottle Labels
With such a crowded market, you need to create a beer label that prospects can't help but notice. Designing a great label for your craft brew is easier than you think. Follow these steps to design a beer label that will sell itself.
See What's Trending
Look into popular design trends that are currently hitting the homebrew market. Take advantage by evaluating top sellers — improve on their style or do the complete opposite! Just remember to make it your own. Vintage labels are always a popular design trend for beer bottles.
Large and small breweries alike enjoy adding a classic look to their beers with a label that calls back the good old days, if that's the brand image you're going for.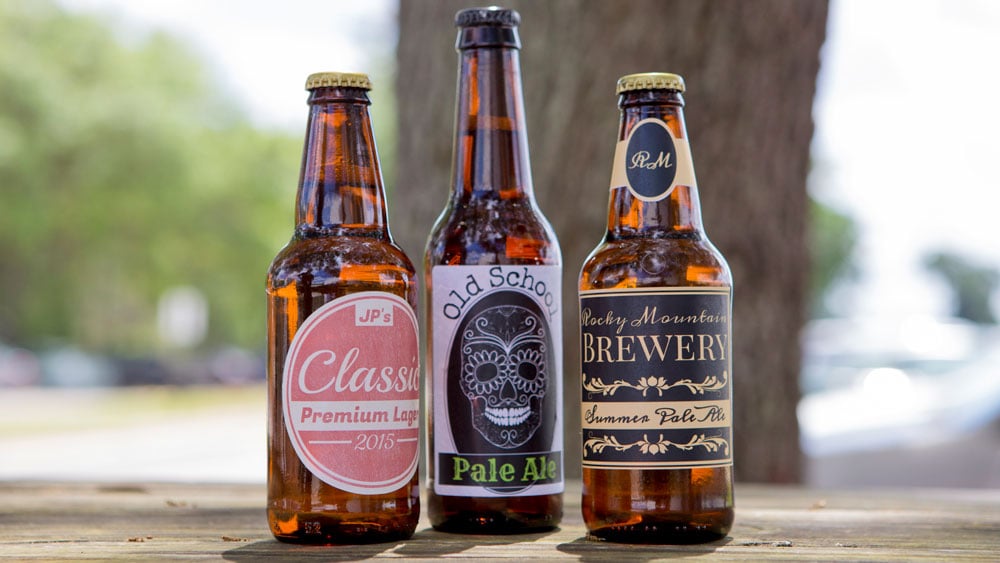 Set the Stage With Your Labels
The label is your chance to tell beer drinkers what to expect, so know what that is. A good place to start is by asking friends or a study group to try your beer, then have them give their first impressions and a description of the taste. You may hear things like "fruity," "crisp," "warm," or "fresh." These are great inspiration words to use when designing your labels!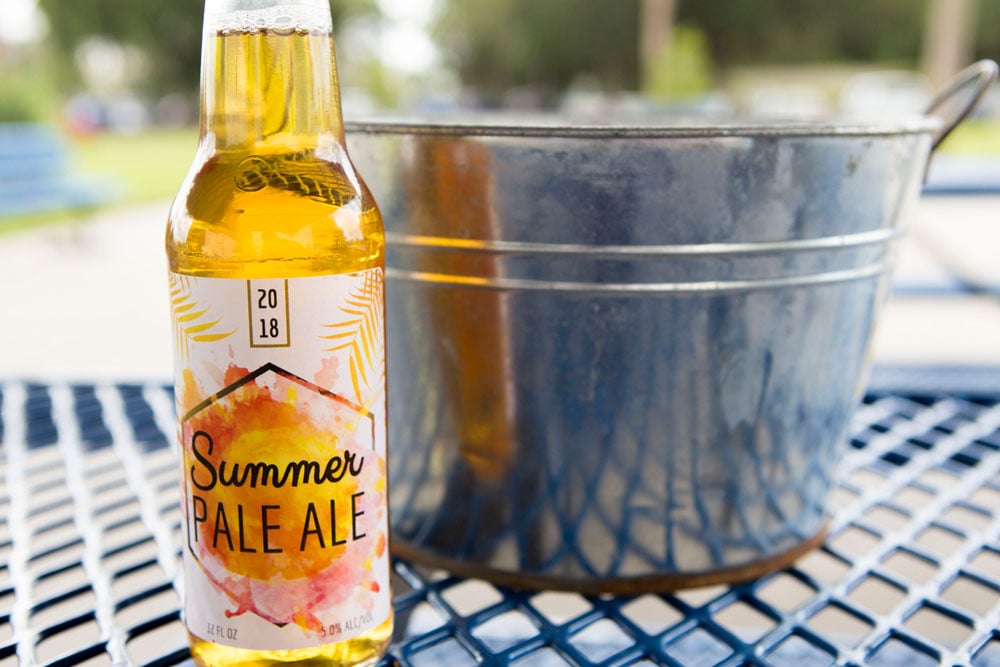 Add Personality
People like it when their brand tells a story, so don't be afraid to tell yours! Use imagery, illustrations, typography, or certain colors to convey your message. Additionally, you can also include your brand story in writing on the label too! Make it funny, charismatic, and engaging, or serious, inspirational, and emotion-evoking — whatever makes sense for your brand!
If you plan on selling different flavors, make buying each one its own experience. Giving character to the different kinds of beer you make will inspire customers to try them all.
Keep Your Target Audience in Mind
Identify your ideal crowd and design a label to connect with that audience. Make sure your design reflects what's important to them. If you want your brand to be synonymous with a "cooler" beer, target that crowd with a modern label.
Be Consistent
If you want people to recognize your brand immediately, stay consistent with your theme. If you plan on individualizing your beer label design to vary by flavor, double check that it still adheres to your branding guidelines.
Don't Forget About the Neck
If you've decided to top off your design with a beer bottle neck label, make sure it matches your bottle label in design to make a stronger impact. This design can be as simple as your logo, company name, product name or colors, or just your brand color(s)!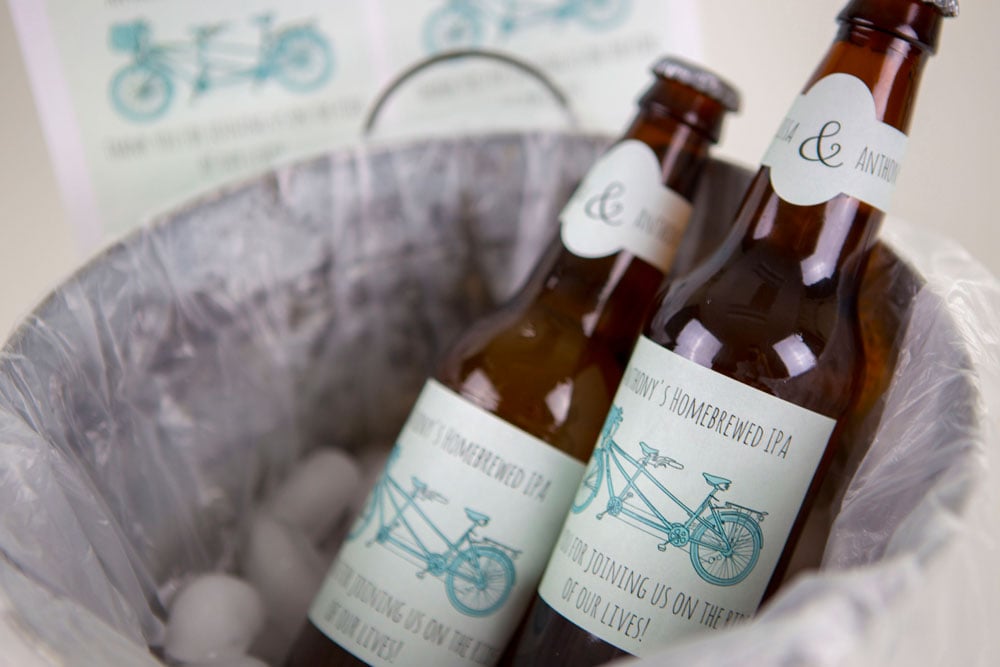 Start With a Pre-Designed Template
Having a creative block? Starting with a pre-designed template is a great starting point for those who want to design their own labels, but wouldn't exactly call themselves an expert artist. Open any of our templates in Maestro Label Designer to customize and make it your own! Here are some of our favorites:
Want to see more options? Check out the rest of our beer bottle label templates.
---
Your label will be the drinker's first introduction to your product. Leave a good first impression. OnlineLabels has the beer bottle labels, materials, and templates you need to get started.
Want your labels professionally printed? Order custom printed beer bottle labels today. Just send your design to us and we'll do the hard part for you.
Or, do you need printed craft beer labels for a large scale order? Shop our enterprise solutions custom craft beer labels today.
---