3 Ways To Make Your Mail Packages Stand Out To Enhance Customer Experience and Loyalty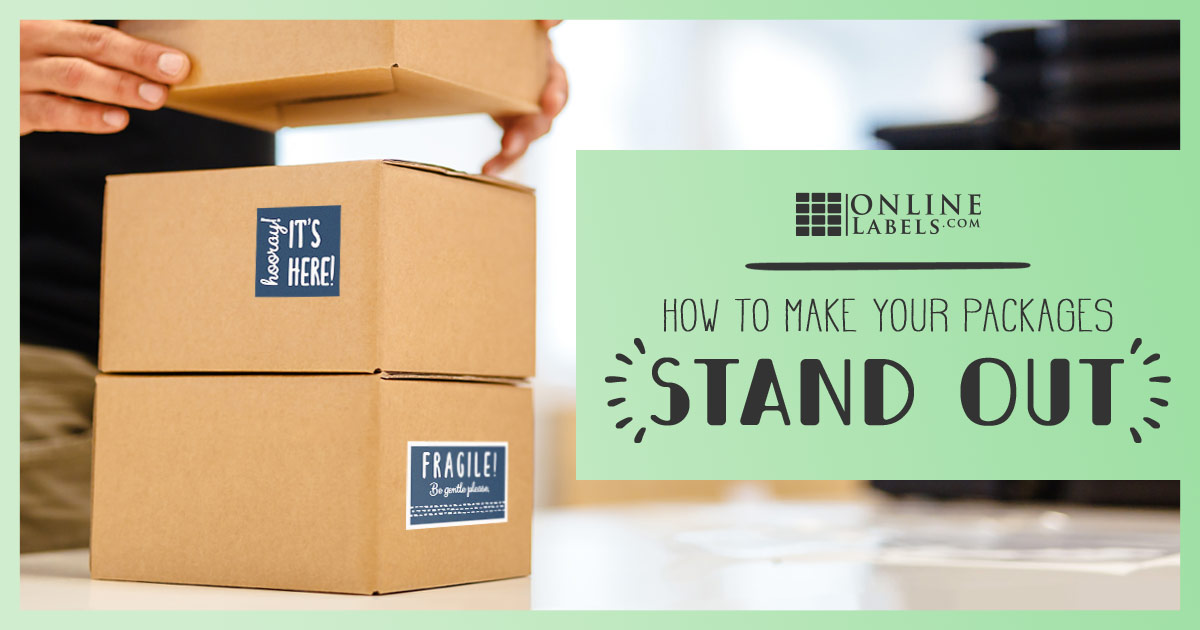 The customer experience often goes beyond clicking 'submit order' on a website. Capturing and maintaining a customer's attention (and loyalty) continues on as they receive their much-anticipated package from your warehouse. And with online shopping continuing to skyrocket, it's so crucial that little details which help enhance customers' shopping experience are not overlooked.
Personalizing shipping boxes with custom labels and stickers representing your business is an easy way to extend customer appreciation, encourage engagement on your social media and show that your company cares about the items arriving safely.
Here are three easy ways you can use labels to enhance your packages for an overall better customer experience.
Encourage a 'Like' or 'Follow'
It's no secret that when it comes to promoting any business, social media plays a huge role. It's an easy and free way to reach current and potential customers, so taking advantage of this makes total sense.
Whether your audiences are mainly on Instagram, Pinterest or TikTok, sharing valuable content and engaging with them can increase your sales, trustability and overall brand awareness among followers. Taking it a step further, social media creates the opportunity to establish relationships and engage with customers directly better than ever before. In fact, nearly 80% of consumers say they'd be willing to purchase from a company after having a positive experience with them on social media. So the power of these platforms shows in the numbers. Take advantage of it!
We have crafted ready-made designs, like this, "Let's Connect!" one, to encourage your customers to follow your content and interact with your brand on social media.
Show Your Customer Appreciation
When you order from a small business, an actual person does a little happy dance. Ain't this the truth?!
According to the Small Business Administration (SBA), small businesses make up 99.9% of all U.S. businesses, creating 1.5 million jobs each year. Now that's a lot of happy dancing!
When customers choose to support a small business, oftentimes they do this on purpose — they know the positive impact it makes on small-business owners, its employees and the local economy. Show your customer appreciation with a label — like this one — showing how much their purchase means to you. A simple 'thank you' always goes a long way, and customers like to know their choice to support YOUR business is appreciated.
BONUS: Inserts also take part in the overall "unboxing" experience. If you want to take it a step further, you can even consider including a customer loyalty card or other packaging inserts to increase customer loyalty and sales. Learn more on how to increase customer loyalty and sales with package inserts.
Keep the Merch Safe With Adequate Labels
With any fragile package, it's better to be safe than sorry. Including warning and package handling labels on your package not only informs the carrier to handle it with care, but also shows the customer you took the time to ensure their items arrive intact.
With billions of packages being delivered each year, more than 11% arrive damaged or are misdelivered (that's a lot when we're talking about billions!). While there's nothing we can do about a carrier accidentally delivering a customer package to the wrong address, we can do our part in ensuring the items inside the package arrive safely by including some type of notice on the package noting its contents are fragile.
We offer pre-printed "fragile" labels that can easily be placed on your packages to remind carriers to handle them with care. You can even customize this adorable "fragile" label — size, color and verbiage — to better fit your overall brand.
---
Think of your mail packaging as another form of marketing space — it adds a personal touch and helps tell a story about your brand. Each label should have a purpose, and if you can make each one consistent with your branding, even better!
Also keep in mind that we're living in a social media era. So if your box really is memorable, your customers will naturally want to rave about it on their social platforms! A Dotcom Distribution study found that 40% of consumers will share an image of packaging on social media if it was unique or branded. In fact, there are thousands of unsolicited customer unboxing videos, and 35% of consumers report they view unboxing videos, so it's clearly a top referral strategy!
We've written a whole article on how to create a memorable unboxing experience, covering everything from choosing a container or packaging type, to designing the packages' interior to give it more personality.
To learn more, visit our articles page for information on printing, designing, using and applying labels for your small business. Happy labeling!
---