How to Create a Memorable Unboxing Experience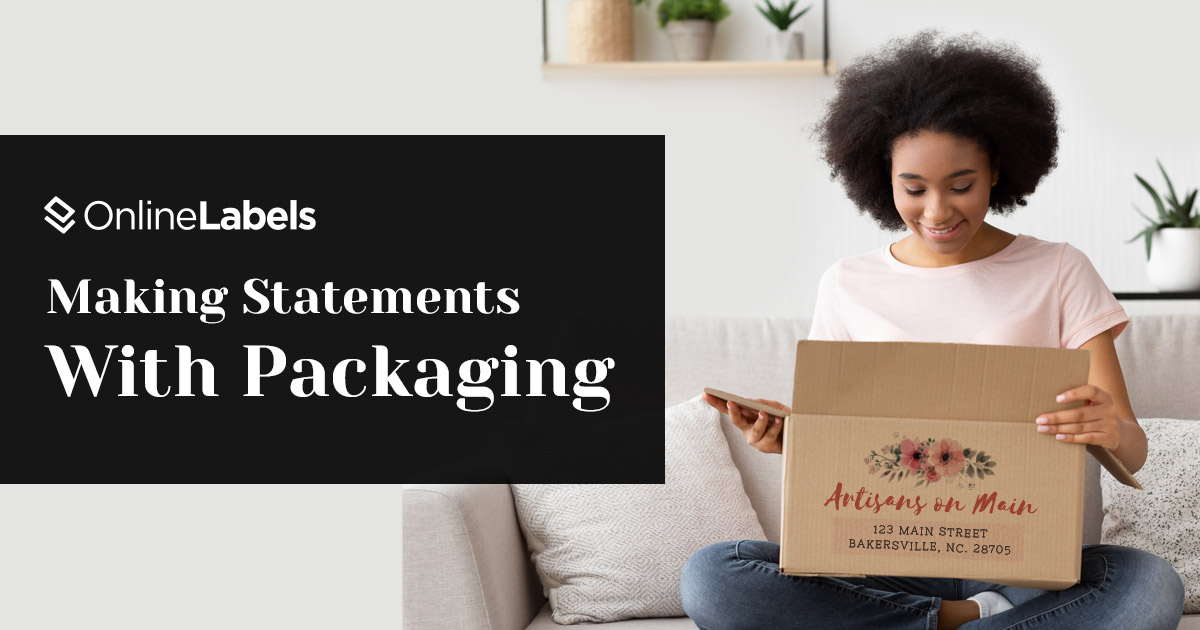 If you're a business owner with a shippable ecommerce product, chances are you know your way around a box. But, have you ever thought about what it's like for your customers to open up that box?
That moment is what's called an unboxing experience. When your customers open up the box containing your product, it's their first impression of you and your business. And as with all first impressions, it's a valuable opportunity to present yourself and make a lasting impact.
The stats support the importance of this first impression. 61% of customers say they're more likely to repeat a purchase if it came in premium packaging. 50% of shoppers will recommend your product if it comes in gift-like or branded packaging. And 49% of consumers are willing to pay a little more for branded packages!
That's why in this article we're going to teach you how to create a unique and memorable unboxing experience for your business.
We'll start by thinking outside the box (pun intended) and discussing options for your box's exterior. Then we'll work our way inside the box, going over interior print, packaging, inserts, and goodies. Finally, we'll "put a bow on it" and make the most of your unboxing experience with strategic marketing ideas to grow your business and get everyone talking about your brand.
Thinking Outside The Box: Building The Exterior Container
We begin our guide by focusing on the outside of your packaging box.
Pick Your Container Type
First, decide on your container or packaging type. Depending on your product, you have several options:
A corrugated cardboard box (the classic choice)
A padded mailer (typically bubble-lined)
Mail bags or envelopes (non-padded)
Custom mailer boxes (offered by ecommerce packaging companies)
Back in the day, a standard brown cardboard box was the shipping container of choice. But, you may want to create a prettier first impression with these alternatives. And, you don't necessarily need a box for a unique unboxing experience!
Consider Your Packaging Materials
If your brand values include being eco-friendly, you might choose biodegradable packaging alternatives made from mushroom filament, coconut, or corn. If this is important to you, ask your custom packaging company about their green alternatives.
Custom Packaging Companies
Use a custom packaging company to customize container colors or print your own branding to the box. Company options include:
Branded Boxes Aren't For Everyone
While branded boxes make your product stand out, your customer may not always appreciate it. If they've purchased your product as a surprise gift for someone in their home who might accidentally see the box, or if they're concerned about "porch pirates," your customers may prefer non-branded boxes or the option to purchase gift wrapping.
Container Costs
While your container can create a great first impression, it's not always the cheapest. Custom printed boxes can range from $5-$25 per box and often require a minimum order of 500+. That's $2,500 to $12,500 in minimum box costs you might be looking at!
If you're able to swing the costs of custom printed boxes, they can be well worth the investment. They'll help impress your customers, build your brand, and inspire share-worthy unboxing photos for effective word-of-mouth marketing.
If you're not able to invest just yet, consider cheaper container alternatives. You can find plain mailing boxes for as little as $0.39 and custom-printed padded mailers range from $0.25–$3.
There are plenty of other ways to build memorable unboxing experiences outside of the outside of your package. So let's dive inside!
Thinking Inside The Box: Crafting The Container's Interior
Here, we'll walk you through how to create an inside-of-the-box experience your customers will look forward to every time they buy from you.
Protect Your Product With Class
Every package needs to be protected with basic shipping materials like filler, cushioning, and wrapping. But these basics don't have to be boring! Here are interior packaging ideas to impress.
Protective box filler and cushioning: packing peanuts, foam inserts, air pillows, or bubble wrap are all traditional options, but they're not always the most visually appealing. Consider alternatives like colored or naturally tan crinkle paper or shaped packing peanuts, like these star-shaped packing peanuts used by Lush!
Product wrapping: Shrink wrap is a traditional wrapping option. Instead, make your products pop by wrapping them elegantly in good old fashioned tissue paper. Use colored or custom-printed tissue paper and seal the wrapping with a branded sticker or tape. Your customer will feel like a kid ripping through tissue paper on Christmas day!
Product presentation and arrangement: Make your products stand out and feel like a real gift by presenting them carefully arranged, instead of stuffed, in their box. You can use materials like crinkle paper, tissue paper, or cardboard inserts to hold products together in place.
Liven Up The Logistics
Logistical shipping materials like your packing slip and company inserts can usually be pretty boring. Liven them up instead!
Packing slip, invoice, or receipt: Customize these documents with your brand colors and design. You might also add a coupon code or slip the document into an elegant envelope for your customer to open when they're ready.
Package Inserts: We've written a whole article about how to design and brand your package inserts. Don't be afraid to "think outside the box" for these!
Be Generous With The Goodies!
Building an amazing unboxing experience is all about going above and beyond what your customer expects to receive and surprising them with little delights like these.
Stickers: People think stickers are fun and they're a great way to spread brand awareness. Simply throw in a sticker with your brand logo or an inspirational message, or use them to seal packaging. For more tips, we've written a whole article on using stickers for brand marketing.
Written Inspiration: Print inspirational quotes, mottos, or slogans on the exterior of your box or packaging, on tissue paper, on stickers, or printed inserts. People will keep or share on social media, and they'll be thinking of YOU.
Surprise samples: Throw in a little extra that your customer is likely to love. For example, if they purchased a bath bomb, throw in a small scented tealight candle to inspire a relaxing bath. You can also partner with another business to provide samples to mutually benefit you both.
Personalized Notes: Handwritten or printed notes show customers they're more than just a number to you. And you're a real person, too! Clothing curation subscription box, StitchFix, does a great job of this by including printed notes to every customer from their stylist.
Educational materials: Include helpful instructions, top tips, a monthly company newsletter, or recent blog. People love reading useful and interesting information related to their purchase. It helps customers use their product right away and grow more connected to the company. For example, aperitif company, Haus, sends printed newsletters in all its shipments.
The return: If your business model includes the option to return an item immediately, make that return as easy as possible by including a pre-labeled mailbag. This works great for clothes curation or rental services that allow customers to try on clothes and send it back.
Take Full Advantage Of Your Box With Smart Content Marketing
Last but certainly not least, make sure you're getting the word out about your unboxing experience with good content marketing! You can create blogs, videos, emails, and social media posts about how you curate your boxes, what items are included, and how the packaging materials are made. Or, host social media contests asking customers to share pictures and videos to win raffle prizes.
And if your box really is memorable, your customers will naturally want to rave and share on social media! According to Dotcom Distribution, 40% of consumers will share an image of your packaging on social media if it was unique or branded. Search for "unboxing" on Google and you'll find thousands of unsolicited customer unboxing videos. And by the way, 35% of consumers report they view unboxing videos, so it's clearly a top referral strategy!
---
The bottom line of creating an unboxing experience is to make more sales, grow your business, and delight more customers. And you can only do that if people know about your fabulous unboxing experience. So take these tips as inspiration, build a box that highlights your brand, and you'll quickly see the raving unboxing reviews unfold!
---