What is a UPC-A Barcode?
UPCs - Universal Product Codes - are 8/11/12/14-digit numbered barcodes that appear on many products within the United States and Canada. There are five classes of UPC Barcodes: A/B/C/D/E. For the purposes of this guide, we will be describing UPC-A Barcodes, which contain 12-digits, and are the most widely-used UPC barcodes.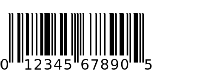 Fun Fact: The first commercial appearance of the UPC was at Marsh's Supermarket in Troy, Ohio. On June 26, 1974, Clyde Dawson pulled a 10-pack of Wrigley's Juicy Fruit gum out of his basket and it was scanned by Sharon Buchanan at 8:01 am. The pack of gum and the receipt are now on display in the Smithsonian Institution.