Why You Should Use Name Tag Stickers at Your Next Event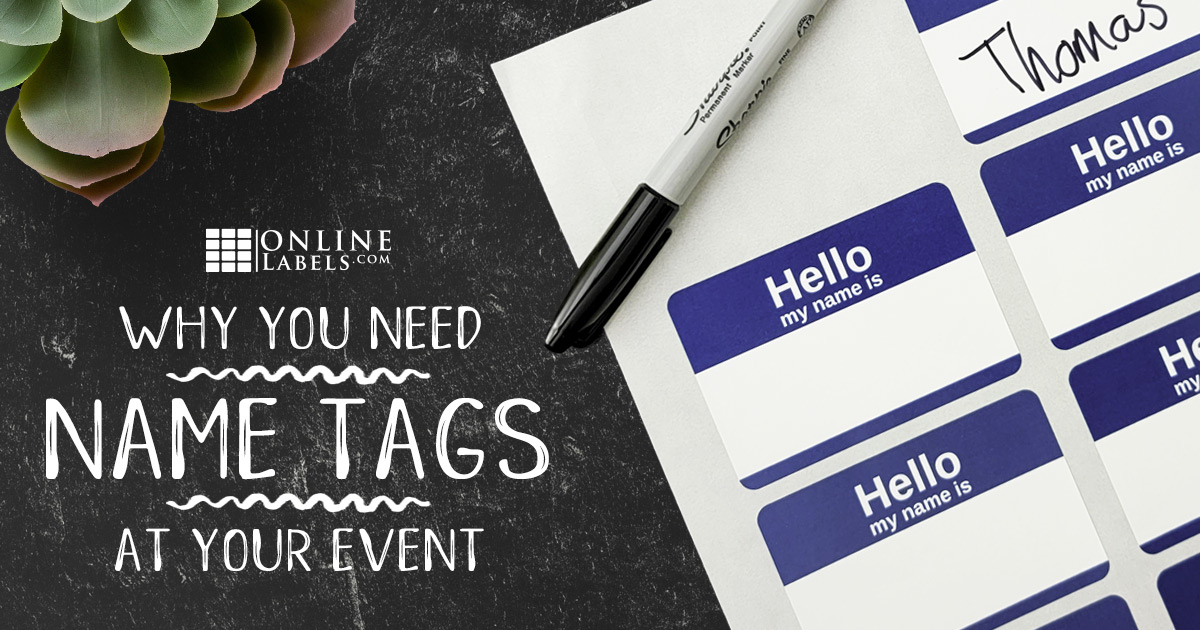 Whether you're hosting a corporate event, team building activity, class reunion, or even a wedding, creating the right vibe and experience for your guests is key. Events large or small find success in the details, and the most important details for any event is one that will connect guests with each other.
So what's the best way to facilitate a connection amongst your guests? Name tags. An incredibly valuable and underrated addition to any event. Keep reading to learnthe benefits of using name tags at your event.
Name Tag Labels Form a Bond Among Your Guests
Name tags aren't just for identification. One of the most positive things to come from wearing a name tag is a sense of unity. Everyone is there for the same purpose, and this sense of togetherness creates a bond.
Many studies show that communication is better when people know someone's name. Guests are likely interacting with others they have not met before, and wearing a name tag instantly breaks down the initial social barrier to start a conversation. Everyone can remain personable and approachable. Better communication will always lead to a better event.
Communication aside, they can also help facilitate a smoother event. For example, if you have a photographer, name tags will make it easier for them to identify key attendees from a pre-supplied shot list. If you have security personnel, name tags make it easier to spot anyone that shouldn't be on the event premises.
They Encourage Conversation and Break the Ice
If your event is a corporate one, strengthen your brand presence by including it on your name tags. By adding your logo or company name (and allowing others a place to include theirs), you're essentially providing free advertising in addition to a conversation starter.
Name tags also come in handy when you have to introduce your new boss to an old associate whose name you've forgotten. They enable hosts to greet each guest by their name and help facilitate smoother greetings, which go a long way in developing relationships.
For non-corporate events, name tags can also instill a sense of connection among guests. Adding checkboxes to wedding name tags eases awkward introductions and creates more comfortable conversation topics. Guests can easily see the person's relation to the couple and chat more fluidly.
Use the Presentation of the Name Tags to Your Advantage
It all comes back to little details making a big difference. If your name tags are pre-printed/pre-written, you can arrange them near the entrance alphabetically or by a category such as company, department, or relation to the host. If guests have to write their own names, make sure a station is set up with enough markers and space not to cause a bottleneck upon entry.
People are curious, their first inclination is likely to look at the name tags to see who is attending. Your guests will be at ease when they see name tags for people they know, as well as people they want to meet socially or for business.
The area around the name tag table is a great place to engage guests as they arrive at your event. You can introduce them to each other as they pick up their name tags and they can strike up a conversation as they enter the room together.
Upgrade Your Next Event
Name tags can enhance so many seemingly small moments within an event that it's a no-brainer. The details matter, and often have a greater impact than we give them credit for. So, what do you have to lose? Make your guests a bit more comfortable and see how name tags can help shape your next event.
Need other stickers and labels for your event? Check out our full selection of pre-printed labels and stickers.
---