8 Best Sticker Paper Materials [Expert Picks for 2023]
The sticker industry is growing with many sticker makers starting their own businesses & and with the market becoming more crowded, it's important that you're using the best sticker paper material available. Even if you're just making stickers for a fun DIY project or for your planner, we want to help you get the best results.
Buying pre-made stickers may seem like the more attractive option since it's easy and convenient, but there are so many benefits to making them yourself. With just some effort and creativity, you unlock complete freedom with your stickers to create exactly what you want: freedom of design, shape, quantity, size, and material. Additionally, you get the feeling of accomplishment when you're proud of your work!
The possibilities are endless with homemade stickers. Some popular uses are stickers for planners or bullet journals, general art stickers for water bottles, laptops, helmets, etc., and promotional stickers for businesses.
Best Sticker Paper Materials Breakdown
Now let's get into the 8 best sticker paper materials. In this section, we'll give you an overview of each material including their strengths and how they compare to other materials, design tips, real life examples, and more!
1. Weatherproof Matte Inkjet

Weatherproof Matte Inkjet (WJ) is our most popular material among sticker makers. It's a thick and durable vinyl-like material; the ideal option for making stickers that last. Our matte materials print vibrant colors. Additionally, the waterfast inkjet coating with WJ absorbs your design quickly, resulting in a beautiful end-product with colors that pop.
Another desirable quality of this material is its weatherproof property and strong adhesive. Printing on this material means waterproof stickers that are resistant to tearing, smearing, and peeling. The same waterfast topcoat that's responsible for producing beautiful colors is also what makes this material waterproof, and works by encapsulating the ink. While this is great for light-to-moderate liquid exposure, your labels may require an extra coat of protective spray or laminate for heavy exposure. Adding a clear gloss overcoat spray is a great option, as it won't affect the vibrancy of the colors.
As the name suggests, this material is compatible with all inkjet printers and won't work on laser printers. If you have a laser printer, we recommend going with either of our laser printable materials which we'll dive into later in this article. Because of the strong adhesive this material features, stickers that are already on a surface won't be easily removable and may even leave a glue residue. Check out our Removable White Matte material if you want your stickers to be easily repositionable!
This is what Amber of YayDay Paper Co. has to say about WJ in her article, "The Best Printable Sticker Paper for your DIY Stickers",
"The absolute best printable sticker paper is the Online Labels Weatherproof Matte Sticker Paper for Inkjet. You may hear people refer to it as 'Unicorn Paper' or 'Unicorn sticker paper.' This printable sticker paper is smooth, which means you can write on it easily! When you print your stickers on this paper, the colors are bright and bold! Lastly, this printable sticker paper is weatherproof and water resistant! If you accidentally get water on to the sticker, you don't need to worry about the colors bleeding or getting blurry."
2. Standard White Matte

Standard White Matte (WX) is our recommended material for cost-effectiveness. Despite it being the most economical option, you won't be skimping on quality. It's bright white and holds ink well, making it great for producing beautiful prints with vibrant colors. Similar to WJ, your stickers won't turn out dull and flat with this material, so it's a great option for full-color designs. The texture of the facestock is like paper, creating a more organic and unfinished look and feel, which could be a strategic design choice depending on your brand.
This material isn't weatherproof, so it's not our top choice for stickers that may be exposed to moisture. However, Standard White Matte is a great foundational material for adding a protective topcoat, which can still give you that desired protection against light-to-moderate liquid exposure. WX also features a strong adhesive.
Overall, WX is a great option due to its affordability, versatility, and quality. Best of all, this material is compatible with both inkjet and laser printers.
Sticker-maker Hannah of The Aesthetics Studio, says,
"My favourite sticker paper is the standard white matte, it prints beautifully and is such great quality. I always get compliments on it."
3. Brown Kraft

Brown Kraft (BK) gives labels and stickers a distinct kraft look, and the material itself is oftentimes an important design element used to convey information. The textured, earthy, brown paper bag finish makes it perfect for highlighting handmade, natural or organic, eco-friendly, rustic, or vintage qualities, and looks flush with paper bags and cardboard boxes.
This material is versatile and is great for a variety of uses, including stickers for invitations and envelope seals, wedding details, party favors, planner/ bullet journal stickers, and gift tags. Although it's important to keep in mind the look and feel this material portrays, and make sure it lines up with your goal for your stickers.
Brown kraft is a paper based material, so it's not weatherproof. Although, similar to other paper-based materials, a topcoat can be added to make it water resistant. BK is both inkjet and laser printer compatible and features a permanent adhesive.
Bear in mind that with brown kraft, colors will look different. They print transparent, so you'll see the brown kraft through the ink or toner, causing colors to look darker and not as vibrant. If color matching and vibrant colors are important to your design, we recommend going with a white material.
4. Glossy Materials

A glossy material would be a great option if you're going for a sleek and premium feel. It's the easiest way to get a guaranteed high-quality, professional look at home. We offer a few glossy materials, but for stickers we recommend White Gloss Inkjet (WG) and Weatherproof Gloss Inkjet (WI), so make sure you have an inkjet printer.
Our white gloss sticker paper can produce photo-quality stickers. The high-shine material is designed to be eye-catching and help colors pop. Created for inkjet printers, this material with a standard permanent adhesive outshines others.
Using a glossy material is also a safe option if you plan on hand cutting your stickers rather than using an electronic cutting machine. The shiny nature of these materials can cause issues with cutting machines, as the sensors have a tough time reading the registration marks on the reflective surface. If hand-cutting is not a practical option for your project, we recommend using a different material, cutting your stickers using an electronic cutting machine, then applying a gloss laminate over the top. Most hardware and craft stores carry great topcoating products for this.
Tip: You may be able to get your glossy paper to register in an electronic cutting machine by placing a small piece of clear matte tape over the registration mark.
A glossy material is a good option for decorative stickers that you want to have an expensive, shiny look. However, it may not be ideal for planner or organization stickers, as they'll be more difficult to write on than matte materials.
This is what Jessica of JessCraftCo has to say about our Weatherproof Gloss Inkjet,
"I was actually introduced to these labels by Jenny Journal's back in 2016 and that is what sparked my interest in using Online Labels. Her stickers would come out so shiny and pigmented & that's the same quality I wanted to see in my shop! In 2020 I decided to create my own stickers and use the same waterproof gloss that Jenny used and it was the same exact high quality print I needed! It was so nice to see my art come to life."
5. Clear Materials
Clear materials are a unique and popular choice for stickers. The surface the sticker is placed on will be visible through the design, therefore affecting the end look. The material itself is an important element in the design and so it needs to be designed with intention. Despite these materials being clear, they both pick up color great, creating vibrant stickers that pop!
We offer clear gloss and clear matte both for inkjet and laser printers. The clear matte and the clear gloss accomplish different looks. The clear gloss is transparent and shiny, and the clear matte has a flat, frosted look that's still see-through. With clear materials, it's important to note that any white in your design will not print, and will just be clear.
Whether you go with a clear material on inkjet or laser should predominantly depend on what printer you already have at home, as you'll get the same look whether you go with inkjet or laser. However, if having weatherproof stickers is important to you, then we recommend our clear laser materials, as the inkjet materials aren't weatherproof. Similar to our Standard White Matte (WX) though, you can add a protective topcoat to the clear inkjet materials and still get a similar weatherproof effect.
For a more in-depth runthrough on the advantages and disadvantages of inkjet and laser printers, check out Do I Need an Inkjet or Laser Printer?
Mikayla, owner of MadeItMikayla, uses our Clear Matte for Inkjet material for her stickers and says,
"I love the frosty transparency that it gives, and it's perfect for decorating journals and planners with handmade stickers"
Sticker makers Desi and Adrii of UbyUs use our Clear Gloss Laser (CL) material to make beautiful clear stickers with foil detail. Note that a laser material is required for the sticker foiling process (we explain this more in the next section). Here's what Desi and Adrii have to say about CL,
"I have found, after testing a lot of sticker papers, that the OL177CL works best for the foiling process. This paper has a great affinity for laser toner and its glossy finish repels the foil in unprinted areas beautifully."
6. Laser Printable Materials

For the most durable, heavy-duty stickers that can withstand extreme conditions, our best offerings are Weatherproof Polyester Laser (LP) or Weatherproof Vinyl Laser (LV); LP being a vinyl-like material, and LV being true vinyl. They're resistant to water, oil, and even chemicals, adhere to almost any surface, including metal, plastic, and glass, and are tear-resistant and smudge-proof.
Both materials have a facesheet that falls between gloss and matte, and are designed specifically for laser printers. LV is a specialized material that is best-suited for those who are looking exclusively for a vinyl material with oil and chemical resistant properties. LP is more common among all products and uses, and features a bright white facesheet and semi-gloss top coat that makes artwork pop.
It's important to note that the permanent adhesive on either material won't peel up with the sticker once it's removed from a surface. So your stickers won't be going anywhere!
A laser printer compatible material, like our LP or LV, is also necessary for sticker foiling (if you use a laminator), which is a popular feature on planner and bullet journal stickers. This is because the toner in a laser printer heats up and acts as a glue for the foil to stick to.
7. Removable White Matte

Removable White Matte (WR) is ideal for planner and organization stickers. It's non-yellowing, paper-based matte, and can be easily removed and repositioned without leaving a sticky residue behind. This material features the same bright white facesheet as our standard white matte material, and is also compatible with both inkjet and laser printers for ultimate printing flexibility.
The difference between WR and Standard White Matte, is the easy-off adhesive. With that being said, this isn't our recommended universal material, as it really shines when used in certain contexts. It's great for planners and bullet journals, file folders, temporary craft projects, office organization and kitchen organization, price tag labels, and barcode labels.
8. Recycled White Matte

Our Recycled White Matte (RX) material is made from 100% post-consumer waste (PCW). Post-consumer waste consists of recycled materials like milk cartons, books, old mail, and magazines, making this a more eco-friendly alternative to our other white materials.
Despite it being made of recycled materials, it features a bright white face sheet that looks similar to our other white materials. The non-glossy finish of RX complements full-color designs and will pop against any background.
RX is compatible with both laser and inkjet printers, and features a permanent adhesive that sticks to most materials.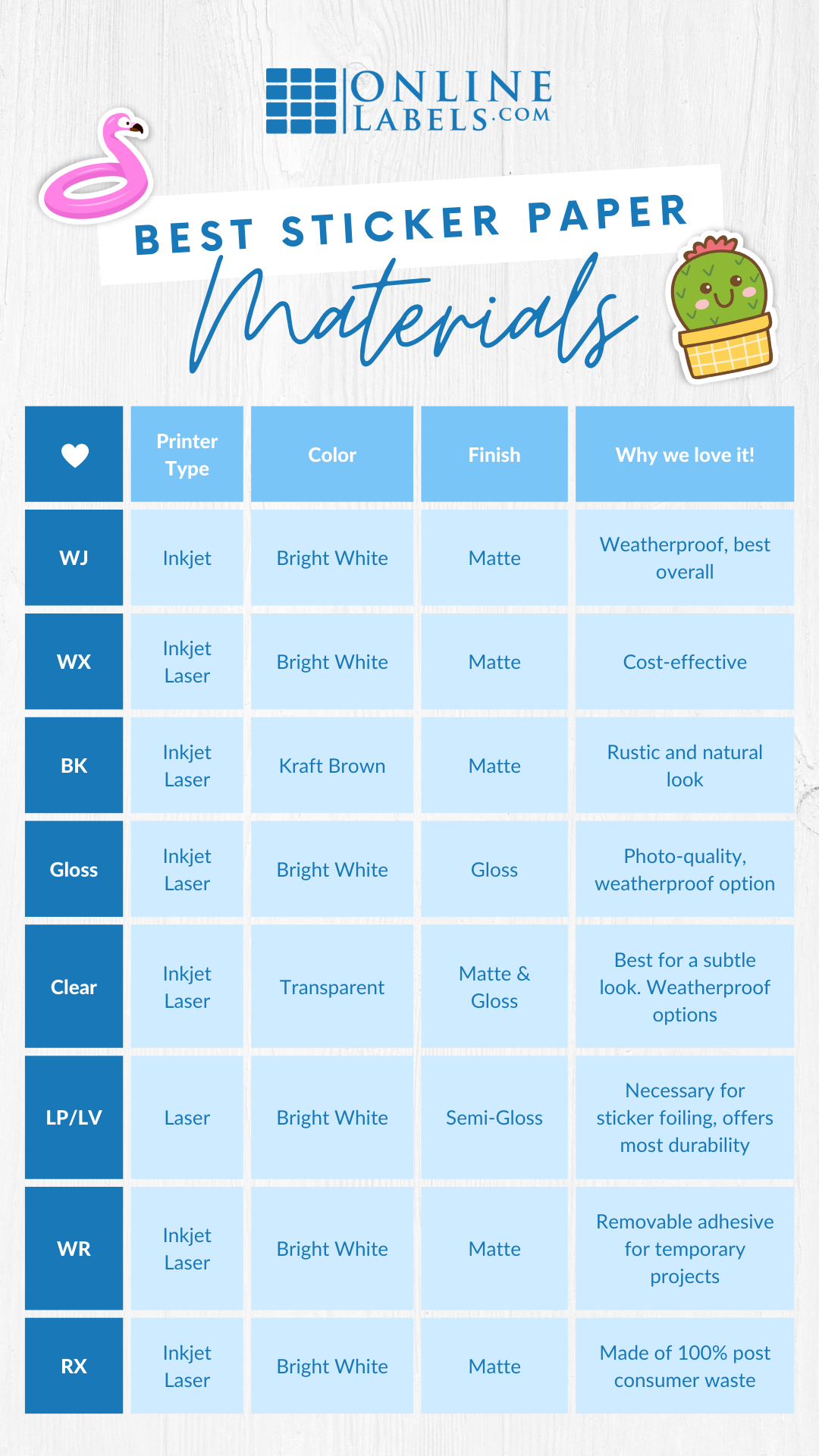 Browse all sticker paper materials
---
Whether you're making stickers to sell, for a personal project, to promote a business, or to gift to friends, we hope this rundown of the best sticker paper materials gets you started off on the right foot. Once you choose a material, check out our cut settings guide! Also be sure to browse the rest of our sticker paper materials and our sticker making resources library.
If you're looking for next steps, check out this full tutorial for making custom stickers and these sticker examples for design inspiration.
Would you rather have us print your stickers for you? Shop custom stickers.
Love what you made using our materials? Share it in our Customer Ideas gallery.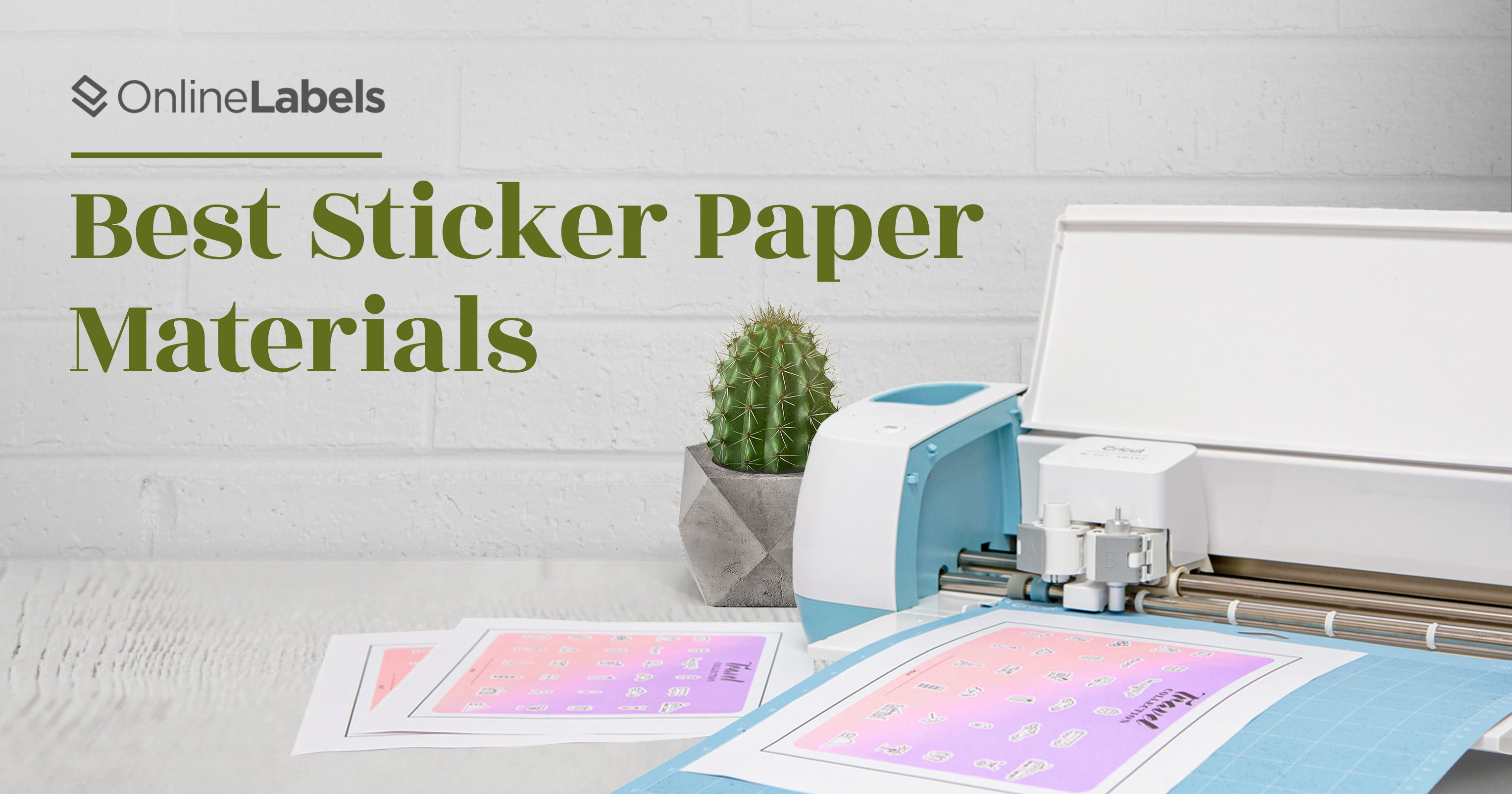 ---