3 Secrets to Last-Minute Holiday Sales Success for Your Small Business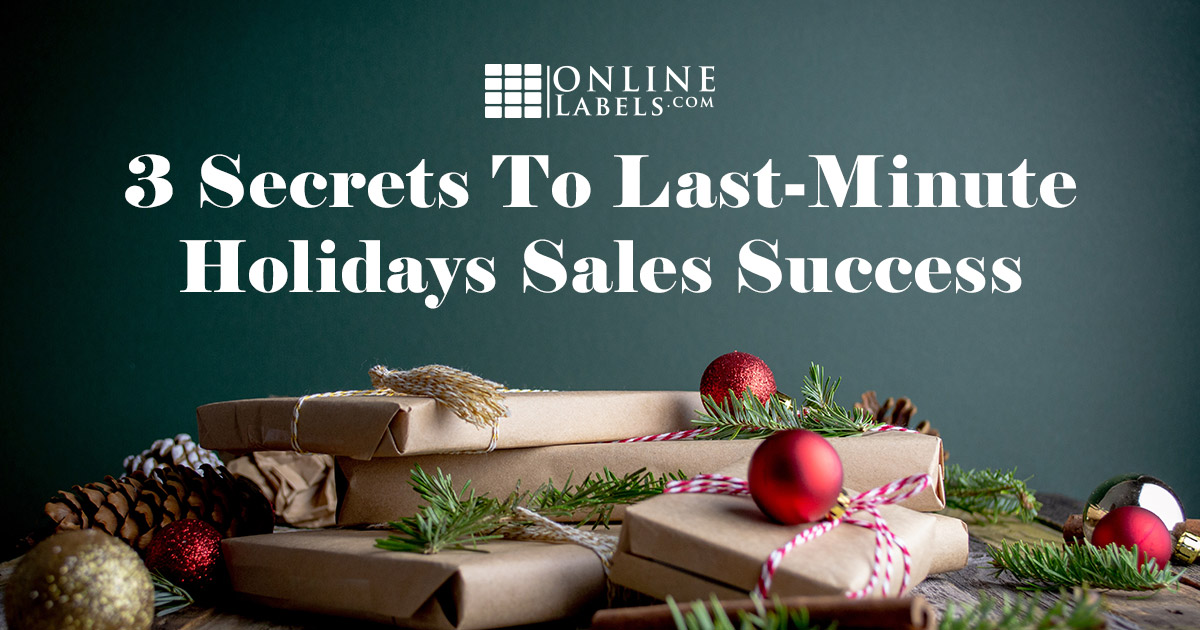 In an ideal world, you would be fully prepared to promote your business' holiday sales months ahead of time. In the real world, though, you might be pulling your hair about how to market your holiday sales last-minute, two weeks before Christmas.
Not to fear! While holiday sales start early with Black Friday, Small Business Saturday, and Cyber Monday, those aren't the only big shopping days of the season. Shopping service and payment provider Klarna found that 79 percent of shoppers left their holiday shopping to the last minute and planned to finish buying gifts within two weeks of Christmas. So if you feel like you've waited too long to start those holiday sales, don't worry! This is a great way to target those last-minute holiday shoppers.
This frazzled majority of last minute shoppers has inspired additional shopping holidays like Free Shipping Day on December 14th and Super Saturday on the Saturday before Christmas.
Whether holiday sales aren't going as well as you'd hoped, you didn't quite fully prepare, or you'd simply like to do better, we've got some holiday hacks for you. If you'd like to end 2021 with a bang and maximize revenue, read on to learn the best tips and tricks to market your last-minute holiday sales.
(Quickly) Prepare Before You Promote
Before following our top marketing tips below, run through this quick checklist to make sure you're ready for an influx of holiday sales:
1. Email All The Way
Email marketing is still the best channel to promote your deals. With an average ROI of 4200%, you'll want to prioritize email as the number one method to communicate holiday sales.
Follow these guidelines for hit holiday emails:
Use your subject lines to draw attention and entice the reader to open your email. It helps not to summarize the entire email in the subject line. Focus on inspiring excitement or curiosity in your subscribers, instead.
Personalize your emails by including customer names or by sending offers that match their past purchases and/or interests.
Point to one main call-to-action (CTA) per email. You may have dozens of holiday offers, but each email should focus on ONE action you want your reader to take.
Look for opportunities to include "social proof" in your emails with testimonials, reviews, customer unboxing videos, and the like.
Take a content-first, value-first approach to email. For example, for every 1 email that purely promotes an offer, you could send 3 emails that provide helpful content. Content can look like blog posts, product reviews, gift guides, etc. More content ideas below!
Add a seasonal footer to your holiday emails that calls out gift cards and/or your holiday landing page.
Make sure you have abandoned cart sequences in place. If you don't already, this one simple step can increase your conversion rates 3-5%!
2. Social Media Sleighs
While you'll have a holly, jolly sale with email, social media can give you a seasonal boost.
Follow these guidelines to spread the holiday cheer through social media:
Run a simple holiday contest or giveaway! It can be a photo or caption contest, with a prize of a gift card, discount, or free product.
Post content that helps your customer shop. Photos, reviews, and feature descriptions of your top selling products, visual gift guides, inventory updates, and more.
Team up with local and partner businesses by cross-promoting.
Run a virtual charity fundraiser. Not only do you get to give back to your community, you get to share that with your customers, truly sharing the holiday spirit.
Don't forget to use holiday hashtags like:



#sale #specialoffer #holidays #holidayshopping #holidaysale #holidaysavings #happyholidays #merrychristmas #christmasdeals #christmasgift #christmasgiftideas #christmasgiftguide #christmasgiftbox #christmasgiftsforher #christmasgiftsforhim #christmasgiveaway #christmascontest #xmassale #boxingdaysales #happynewyear #newyearsale #newyearresolutions

3. Tis The Season Of Giving

Whether you promote through email or social media, all efforts should focus on giving back to your customers. You can do this by crafting content that helps them finish crossing off their gift list, or simply by making it clear which of your products make the best gifts for whom.

Here are our best tips for giving back to your customers this holiday season:

Give the gift of gift guides. Let's face it, buying Christmas gifts for loved ones is an anxiety-riddled maze. Gift guides are a low-effort, high-reward piece of content your customers will be grateful for. Simply craft guides for different types of people - different genders, ages, interests, hobbies, price-points, color schemes, etc. You can even name your guides, like "For the tween girl who has it all" or "The Fearless Leader" or "The Bougie Bride's Bubble Bath Basics."
Highlight the year's top products, features, and reviews. People are doing their due diligence on gifts anyway, so they'll appreciate you helping with their buyer's research. You could even send an email series or post a social media series highlighting one top product per email (think "The 12 days of Christmas").
Bundle gifts for easier gift-giving. Simply put two or more complimentary gifts together and slightly lower the price from what you'd charge individually. It's a win-win - you make more sales, and your customer crosses more gifts off their list.
Subscriptions are the gift that keeps on giving. Almost any business can bundle products and/or services into a subscription model now. Not only does it make for a great gift, but it's also a year-round generator for your business. If this seems like a good option for your customers, make sure to include a gift option and offer subscriptions for 3, 6, 9, or 12 months for different price points.
Offer a free gift! It is Christmastime, after all. Your free gift can be for the gift giver or the giftee, as small as a pair of earrings or a chocolate bar. You can choose to offer it to all your customers, or a loyal subsection. Whatever you decide, a gift shows gratitude and can bring in more shoppers.
Play Secret Santa with flash sales. Great if you have specific merchandise you'd like to fly out the door, these short, limited-time sales can last as little as an hour or 2 days. They typically offer steep discounts and oftentimes free shipping. You can advertise a surprise flash sale on email and social media, offering a gift to gift-shoppers everywhere!
Remind shoppers of their true urgency. Do this by posting countdown timers and making it clear how much time shoppers have left to ship by Christmas or take advantage of a flash sale. Buyers are more likely to buy immediately instead of abandoning their carts.
Don't forget gift cards. Any store can offer a gift card or certificate, and it makes for an easy gift. This is especially wonderful if you're a seasonal business and winter isn't your peak selling time, or if supply chain issues in 2021 are interfering with seasonal stock.
Have fun with it! Remember the holiday season is all about joy and giving. Regardless of where you're at with your holiday sale, don't forget to enjoy the time you have with your family, friends, staff, and customers.
Last but certainly not least, remember all you have to be thankful for. Carry an attitude of gratitude this season and we promise your entire experience will go more smoothly.

Spread The Holiday Sales Cheer

As you can see, the holiday sales season isn't over until it's over. There's still plenty of time in the last two weeks before Christmas to host a very merry sale. We hope these tips have given you inspiration for one last push. Need to stock up on shipping labels before the holidays hit? Check out our collection of shipping labels and product packaging inserts.
---