This is a high gloss label for my coffee product for use on a glossy black bag. I print the labels with my Brother TN-331 color laser printer. Does a great job on all our coffee products! We used photo shop to design the label than we arranged 3 fronts and three backs on the online label product. It works great and no leftover labels lying around.
We use photoshop to design the label for the coffee bags and then we just changed the color band and the print to distinguish the different varieties of coffee. This way we can always use the logo, the same label, and have an unlimited choice of color bands for the coffee.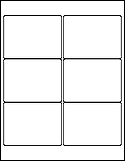 OL500WS
Ready to inspire?
Share your label creation!