I make Money soap (all natural soap with money hidden inside), lip balms, lotions, reed diffusers, perfumes, and other hand crafted items to sell on etsy and local fairs. I use OnlineLabels for all my labels. Great products, fast shipping, easy to create unique great looking labels.
Adding a printed dotted line lets the customer know there is a perforation in the label. Leave a tiny blank edge at either the top of bottom of the label for the overlap as you wrap it around the tube.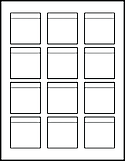 OL663WJ
Ready to inspire?
Share your label creation!