Why You Should Use Jar Seals for Your Products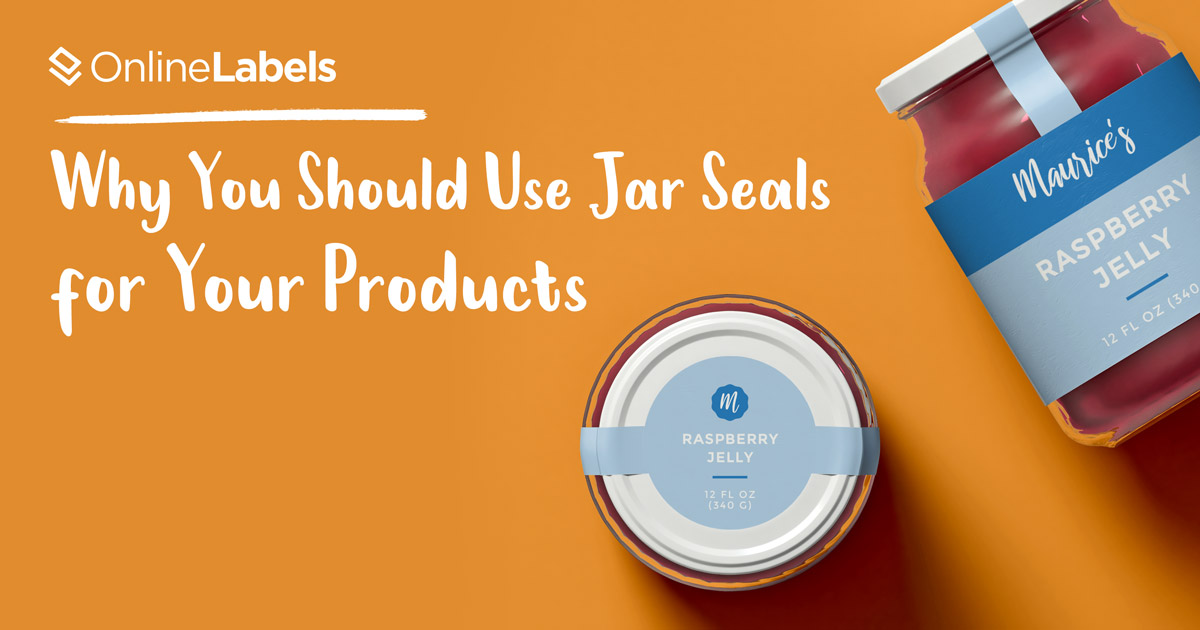 Jar strips or lollipop seals are a simple way to create stylish, tamper-evident packaging. It shows your customers that you care about their safety, value their trust, and want to guarantee a positive customer experience. Let's dive into the benefits of using jar seals on your products for both you and your customers.
What is tamper-evident packaging?
Tamper-evident packaging (TEP) shows if any of your products have been opened before purchase and provides a worry-free experience to ensure nothing has been added or removed. Broken tamper-evident seals alert you and customers to potential product tampering so that the item can be disposed of.
Jar seals are just one type of tamper-evident packaging, along with tamper-evident closures and linings and heat shrink bands. Tamper-evident packaging is common across many industries, including food and beverage, cosmetics, bath and body, pharmaceutical, electronics, and more.
While most industries are not required by law to provide tamper-resistant packaging, taking the extra step shows customers that you care about their interaction with your goods and that you put in the extra effort to protect them.
A Simple Way To Keep Contents Fresh and Safe
One of the benefits of jar seals is that they're a simple way to keep your contents fresh and safe. Jar seals wrap around the top of your product with a strap that can be applied from one side of your jar to the other. Once applied, they deter people from opening your product.
Most tampering is due to nosey customers trying to check what's inside, either to smell, feel, or see the product. Depending on your product, this could spoil the contents, shorten shelf-life, or create spillage! In the worst case scenario, people may also open your product to steal the contents or sabotage the product. In these cases, jar seals help identify theft or potential safety hazards.
If your product is susceptible to any of these issues, a simple jar or lollipop strip can alert you and your customers to already opened products. Unlike other tamper-evident packaging methods like heat shrink bands or blister packaging, jar seals don't require special manufacturing. You can simply order seals at your favorite labels store, apply your own printed design, and stick them on your existing product packaging.
Give Your Customers Confidence in Your Product
While tamper-evident seals have a variety of advantages, the most important is to ensure the safety and security of products for your customers. Jar seals show your consumers that you care about their safety, value their trust, and want to guarantee a positive customer experience.
Since you are most likely not required by law to use tamper-evident packaging, jar seals show you are willing to go through the added expense and effort to guarantee your customer's safety. Sending this message can go a long way in building customer loyalty and provide them with peace of mind about your products. What better way to build your business than putting your customers first?
Up the Aesthetics of Your Packaging
Lastly, jar seals can add to your product's style! Decorative jar seals have been gaining rapid popularity across a variety of industries over the years, and for good reason. They can be customized with your own branding and design, adding to the overall aesthetic and professionalism of your packaging. Use the same label color, background, and design to help your jar seal blend in – or choose something completely different to help it stand out!
This extra label space also gives you more room to promote your brand, provide ingredients, offer recipes, direct people to your social media, and more – anything extra you feel would add value to your customers. Just keep in mind that jar seals may be removed after a customer opens your product, so it shouldn't include any information critical to the use of your product.
You can purchase jar seals either blank or printed, and in various colors and materials to suit your product and brand style.
Your Next Step in Professional Packaging
Jar seals provide business owners with simple, easy-to-use tamper-evident packaging. They help keep your products safe and fresh, send a signal to your customers that you value their safety, and provide extra design space for appealing branding.
Ready to take the leap? Shop jar seals!
---