Top 3 Benefits to Using a Minimalist Design in Your Candle Labels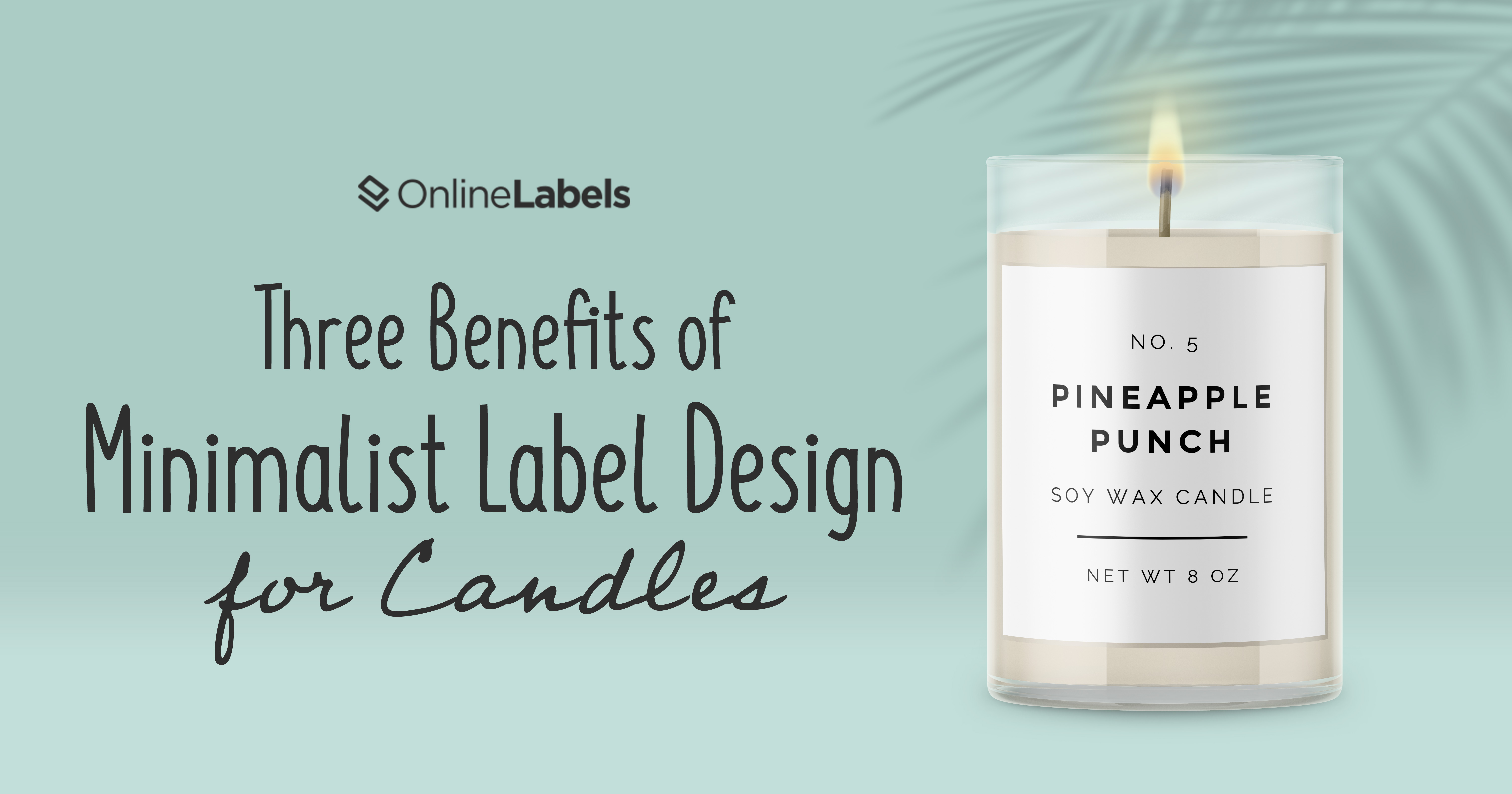 "Less is more."
"Keep it short and sweet."
"Be straight and to the point."
These are phrases heard across multiple industries — including sales, journalism, etc. — and for good reason. The more you say, the more likely people are to drift off, lose interest or even change their minds about purchasing something, so keeping things simple has proven to work and is for the best.
As we navigate through an era of information overload, the minimalist movement has increased in popularity for its simplicity. In recent years, people have embraced minimalism across many aspects, like interior design, web design, logo design… shoot, even closet design! So why should candle label design be any different?
If you haven't considered a minimalistic look for your candle labels, here are three reasons why you may want to.
Easier To Design
From logo redesigns to upgraded packaging designs, you've probably noticed big-name brands — like Starbucks, Olive Garden, MasterCard and Nissan — ditch the flashy, overly detailed look for a cleaner, more minimalist look. And if you're just starting your candle business and planning to design your own logo and label, this trend will make the design process a lot easier for you!
In times past, it was common to see logos accompanied by some sort of artwork; Starbucks has a mermaid while Wendy's has a little girl. But to be frank, you don't even need artistic skill to design a professional-looking, minimalist logo or label for your candle company.
Nowadays, many businesses' icons are just the name of the company; what sets it apart is the font(s) and typography. A good example of this is Publix or Bath & Body Works. Notice that neither of these logos have an icon — it's the design of the company name that sets it apart.
So play around with different fonts to see which one best represents the feel you want for your candle company. And if your business name consists of more than one word, you can even consider using multiple fonts, like CocoBee Company did, and playing around with the placement of each word.
A good place to start designing your logo is with programs like Canva or, if you're feeling up for the challenge, Adobe Illustrator. Websites like dafont.com offer a library of unique (and free!) downloadable fonts, which comes in handy if you're looking to stay away from the more traditional fonts available. To learn more about using fonts for your brand, check out this article about choosing the perfect font.
Once you're ready to start the next step of designing your minimalist candle label, the Maestro Label Designer — created exclusively for Online Labels customers — includes blank and pre-designed templates for hundreds of label sizes, configurations and more. Here are some tips on how to choose the visual hierarchy of your design when creating your label.
Saves You Money
Printing your candle labels at home? We guarantee a minimalist label design will save you money in the long run, especially if it mainly consists of text on a mostly unprinted label.
Including the basic information of your product on an all-white label — like your logo, candle scent, warnings, etc. — will save you a significant amount of money when it comes to purchasing ink and toner for your printer… and we all know how expensive that can get. If your brand style requires a pop of color, opt for including it on some of the fonts versus designing the background of the label in color. Notice how our customer, SlowBound, incorporates color in their label while still keeping a minimalistic look.
Not to mention, you'd also save on graphic design fees if you opt to design your own label!
Quickly Conveys What Your Brand Is About
It's no secret that consumers judge products (and whether or not they're interested in buying it) within the first few seconds of seeing it on the shelf. But don't underestimate the power of a simple label. Whether you're aiming for a clean, earthy or sophisticated look for your candles, a minimalist label design can convey your brand's style and message directly while telling your (potential) customer — in just those few seconds — what your brand represents and the incredible scent of your candle! It tells your story clearly and efficiently.
Once you've created the design for your label, another fun part is choosing an innovative way to label your candle products. And no matter which method you choose to display your candle product info, rest assured that a minimalistic design is sure to efficiently capture your brand's personality all while saving you money in the long run.
Want more inspiration for your candle business? See label experts review candle packaging, explore great candle labels, and browse candle label templates.
Looking for a place to start learning how to make candles? Check out our Startup Academy video and article on how to start your own candle business from home.
---