How To Use OSHA or ISO Safety Signs in the Workplace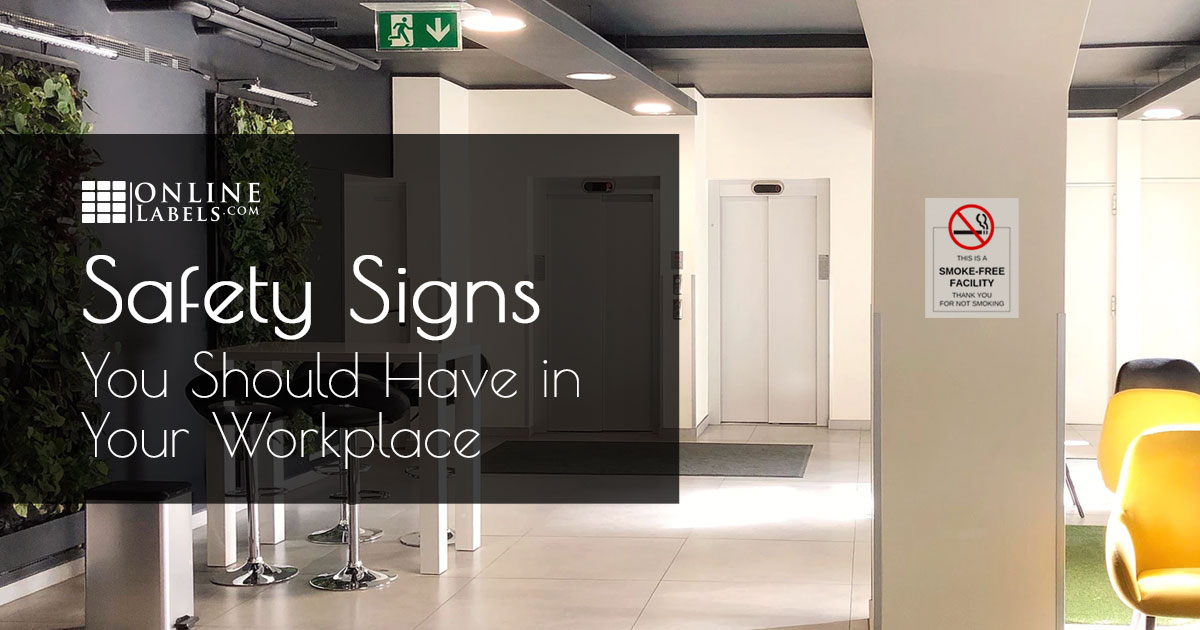 Safety signs in the workplace are used to make sure everyone is aware of potential hazards and fully equipped to handle an emergency. Whether your workplace is a warehouse, store, office, or other location, this communication is essential.
We'll walk you through how to use these safety signs and the basics of what you need to know, from understanding your legal requirements to when and where to post signs in your workplace.
Legal Signage Requirements
A couple key authorities dictate the requirements in using safety signs. It's helpful to become familiar with these regulatory organizations and their standards.
If you work in the U.S., the Occupational Safety and Health Administration (OSHA) outlines how and when to use safety signs. OSHA is a government agency that sets safety standards for private sector employers and their employees in all 50 states. OSHA 1910.145 is the administration's document providing specifications for accident prevention signs and tags.
Outside and inside the U.S., signage requirements are also provided by the International Organization for Standardization (ISO), a non-governmental worldwide federation based in Geneva, Switzerland.
The processes used to create OnlineLabels.com safety signs have been certified to OSHA standards, ISO 9001:2015 standards, which specifies requirements for an effective quality management system (QMS), and ISO14001:2015 standards, which specifies requirements for an effective environmental management system (EMS).
These standards also describe how, where, and when to use your safety signs. Let's dive into what you need to know.
How To Use the Different Types of Signs
OSHA requires different signs for different circumstances:
| Type of Sign | Required Appearance | When To Use It |
| --- | --- | --- |
| DANGER | Red, white, and black, often preceded by a caution symbol | To indicate that death or serious injury is almost certain to occur if the hazard is not avoided. |
| WARNING | Orange with black letters often preceded by a caution symbol | To describe a hazard that may result in death or serious injury, but where the overall risk is not severe enough to need a danger sign |
| CAUTION | Yellow with black letters often preceded by a caution symbol | To indicate that a hazard may result in minor to moderate injuries and to caution against unsafe actions. |
| FIRE SAFETY | Red with white letters | To signify the location of emergency equipment, such as fire extinguishers and fire exits. |
| GENERAL SAFETY | Green with white letters | To offer broad safety-related messages, typically relating to health, medical equipment, sanitation, first aid, housekeeping, and other general safety measures. |
| NOTICE | Blue with white letters | To communicate general information about a machine, building, area, or piece of equipment and to outline procedures, maintenance information, instructions, rules, occupancy restrictions, and other directions unrelated to personal injuries. |
When To Post Signs
Your first step in using signage properly in the workplace is to identify when and where signage is necessary.
The OSHA standards points out that safety signs:
"Shall be used as a means to prevent accidental injury or illness to employees who are exposed to hazardous or potentially hazardous conditions, equipment or operations which are out of the ordinary, unexpected or not readily apparent."
Start by figuring out where those "out of the ordinary, unexpected or not readily apparent" hazards are in and around your facility.
Here are different types of hazards to look out for:
Dangerous machinery or moving vehicles
Areas with a risk of falling objects
Uneven or slippery surfaces
Sources of extreme heat, open flames, or flammable material
Toxic or caustic chemicals
Potentially dangerous fumes or a lack of breathable air
Sharp objects
And here are other types of safety signs you may need to communicate important information:
Now that you've identified all the hazards that could warrant a safety sign, decide on which hazards should get a safety sign.
Posting too many signs is a common pitfall. Too many signs can be overwhelming and counterproductive, causing employees to ignore them because the signage overload blends together.
This is why it's important to adhere to OSHA's instruction of identifying "out of the ordinary, unexpected or not readily apparent" hazards, not simply every hazard you can find.
Where To Place Signs
Once you've documented all the identifiable hazards and safety information you need to communicate in your facility, it's time to place your signs.
OSHA standards say signs must be placed "as close as safely possible" to the nearby hazard. The sign should be easily seen up close, at a distance, and from different angles, and there should be nothing obstructing the view of the sign.
Follow these guidelines for best placement:
Signs must be placed close enough to the hazard to be relevant to the hazard.
Workers should be able to clearly see and read signs from a safe distance of at least 5 feet away. They shouldn't have to enter a potentially dangerous area to see the sign.
The sign itself shouldn't cause a hazard. The sign shouldn't have any sharp edges or splinters, or obstruct the view of a potential hazard.
Signs need to be placed at a normal point of view, generally at eye level in appropriate lighting so that it's easy to see.
When & How to Make Your Own Customized Safety Signs
While there are plenty of general safety signs on the market for you, sometimes you may need a customized safety sign for your workplace.
For example, maybe you have specific instructions for handling hazardous equipment unique to your industry or maybe multiple languages are used in your workplace. In this case, it's essential to feature signage in whatever language(s) are being spoken, and that may require customization.
Luckily, OSHA allows for custom signs, as long as they're compliant with the regulations we've outlined above.
The sign's colors and symbols should indicate the level of alertness required, such as Danger, Warning, Caution, or Notice. The sign should include the necessary graphic safety symbol with any additional messaging below. Signs throughout your facility should be consistent in their design to avoid confusion.
If you need customized safety signs for your workplace and have your safety sign design ready to print, we're happy to help with our Custom Labels printing service. You can also design your own from scratch using our Maestro Label Designer. If you need help with your Custom Labels order, send us an email or call us at 1-888-575-2235.
A Final Note About Using Safety Signs in the Workplace
Safety signs play a crucial role in the workplace, telling workers and sometimes customers what dangers are present, how to avoid them, and how to handle emergency situations.
To optimize safety in your workplace, make sure you're maintaining your safety signage by reviewing them regularly and making updates or improvements when needed. Also be sure to clean them regularly and replace them as they wear down. Schedule regular evaluations of your safety signage plan and adjust it every time a new hazard is introduced.
Above all, your signage should be a representation of the safety practices that are implemented in your workplace. Remember, when it comes to safety, preparation is key.
---
Ready to apply what you learned and get the proper signage required by OSHA or ISO? Check out our standard safety sticker options or choose from our wide array of Pre-Designed Label Templates and customize it to suit your workplace safety needs.
---