How to Turn Your Photos into Stickers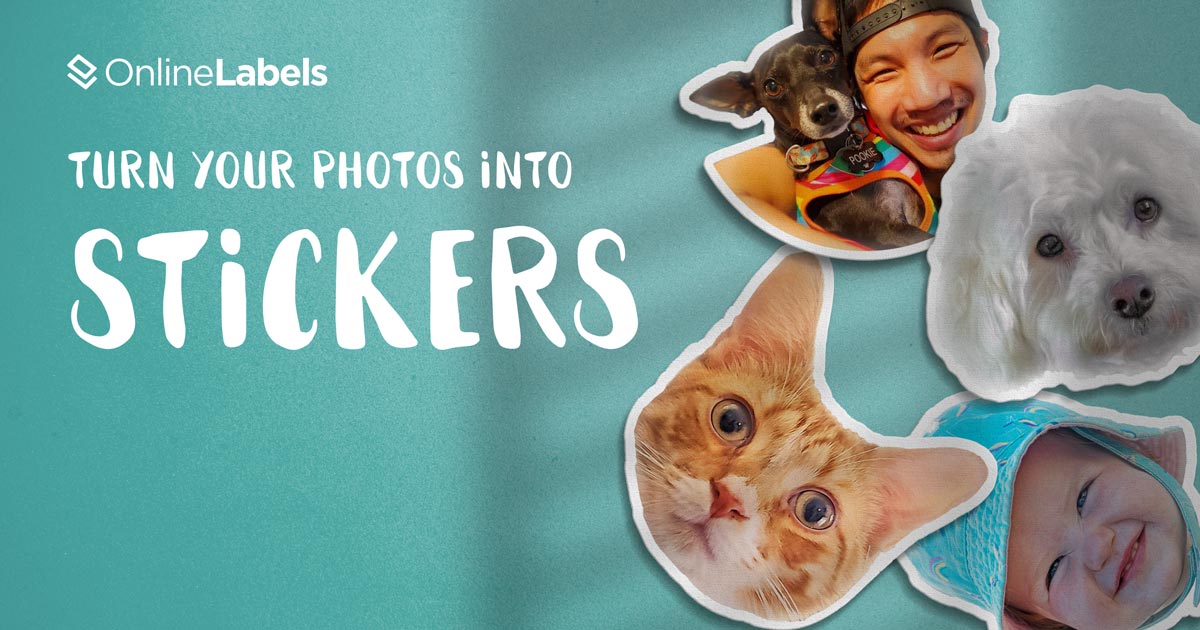 In the age of smartphones and social media, photos have become an integral part of our lives. We capture and share every special moment, from birthdays and vacations to everyday adventures. And with so many people jump starting their own small businesses, stickers are also a creative way to establish brand recognition.
So whether you're looking to cherish and share these memories beyond the screen or use stickers as a mode of brand awareness, look no further than custom photo stickers, and turn your photos into versatile, stickable art that can be used in countless ways, including:
Business Promotion: Increase brand recognition, promote products/services and engage with customers with customizable die-cut stickers.
DIY Decor: Transform plain glass vases, candle holders, furniture or water bottles with personalized photo stickers.
Laptop and Phone Personalization: Give your gadgets a makeover by applying photo stickers to their surfaces. It's a fantastic way to make your devices stand out
Gifts and Greeting Cards: Create one-of-a-kind greeting cards or gift tags by attaching photo stickers to them, adding a heartfelt touch to your presents.
Scrapbooking: Add a personal touch to your scrapbook by incorporating photo stickers that capture the essence of each memory.
Party Favors: Design unique party favors or personalized party decor using photo stickers for your next event or party.
The versatility is limitless. No matter what your vision is, here's how you can design and print your own custom photo stickers!
How to Design Photo Stickers
The great news is, if you're just uploading a photo to be turned into a sticker, there isn't much design work needed! You can simply upload your photo during our custom sticker process.
You may find that you want to embellish your photos with a few design tweaks, however.
To design your photo stickers, you'll need access to graphic design software or websites that allow you to create custom images.
Popular options include Adobe Photoshop – a professional-grade software offers advanced editing capabilities; Canva and PicMonkey – two user-friendly online design platforms offering a wide range of templates and tools to enhance your photo stickers; and Snapfish – an all-in-one solution where you can design and order photo stickers directly from the website.
Alternatively, our design program, Maestro Label Designer, is the easiest and most efficient way to design labels for professional and self-printing online. And when ordering stickers from OnlineLabels, this exclusive online design platform is free to use!
Once you've selected your design software or website, follow these tips to ensure your custom photo stickers are on their "A" game:
Ensure the photos you choose are high-resolution for the best print quality. We recommend a resolution of at least 300 dpi.
Add text or additional details to personalize your stickers further. Maestro Label Designer offers customizable templates and design elements to make your stickers extra unique.
Adjust the size and format of your sticker design to fit your intended application. Consider the size of your laptop, journal or gift tag, and make sure your sticker design is compatible. OnlineLabels offers a variety of sizes and shapes — available in weatherproof matte, white matte and more – for your sticker projects. Find the right label size for your project with these printable label tools.
Save your completed design as a high-resolution image file to ensure quality when printing. Make sure to save your sticker file as either .ai, .eps, .png, .jpg, .jpeg, .gif, or .pdf.
For additional insight, check out the 8 common mistakes to avoid when designing stickers.
Bring Your Stickers To Life: Print Your Stickers Professionally or At Home
Now that you have your design ready, it's time to decide how you want to print your photo stickers:
Printing at Home: If you have a good quality color printer or electronic cutting machine at home, you can print your stickers on sticker paper once you've saved your design. Going this route gives you immediate gratification with physical copies of your sticker designs in minutes! While no two printers are the same, our label printing alignment guide addresses common label printing problems and their solutions to help you get a great print every time.
Online Printing Services: If you'd rather leave the printing to the professionals, OnlineLabels is here to help. Our site allows you to upload your design, choose your sticker material and size, and have the stickers shipped directly to your doorstep.
---
Custom photo stickers offer a fantastic way to bring your cherished memories life – or even keep your business top of mind! No matter how you plan to use your next batch of custom designed photo stickers, OnlineLabels has you covered.
---