How To Get Custom Shrink Sleeve Labels — What You Need To Know
Shrink sleeve labels are a popular choice for packaging products, especially in the food and beverage industry. But what are they, how do you get them, and why are they so popular?
In this article, we'll talk about all things shrink sleeves, including benefits of shrink sleeves, how they differ from traditional labels, different types, how to get them, and more.
What are shrink sleeves?
Shrink sleeves are a special type of flexible packaging that's applied to the outside of the container in a similar way to a traditional label.
However, unlike traditional labels, shrink sleeves are a heat-shrinkable film sleeve made out of polyethylene terephthalate glycol (PETG) or polyvinyl chloride (PVC) that's slipped over the entire product or a portion of it, then shrunk to fit tightly around the container using heat. This allows for full 360 degree coverage for graphics and information.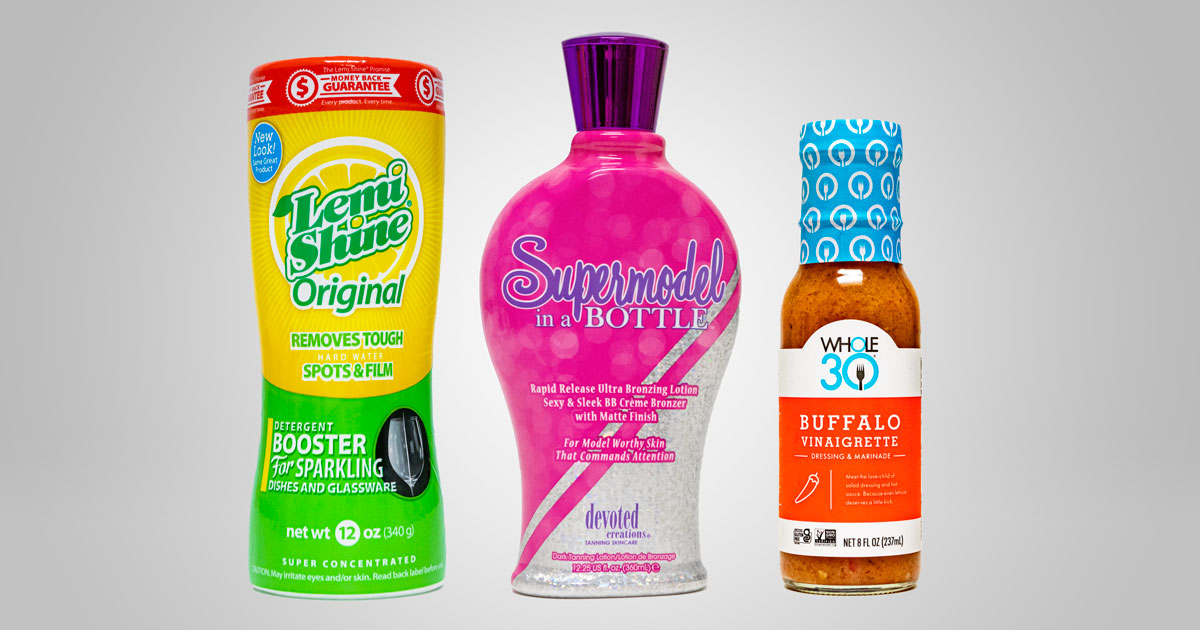 How are shrink sleeves printed?
Shrink sleeves differ from traditional labels in that rather than the ink being printed on the outside of the label, it's printed on the inside. It's printed in reverse, so the top layer or graphic is printed first, and the base layer is printed last. Because the ink is printed on the inside of the label, shrink sleeves are durable and extremely water-resistant.
To apply a shrink sleeve to a product, the sleeve is placed over the container either manually or automatically. The product is then sent through a specialized heat tunnel designed for shrink sleeves, which uses steam or radiant heat to shrink the film snugly around the product.
Shrink Sleeve Labels vs. Traditional Labels
A major difference between shrink sleeves and traditional labels is the material they're made of. Shrink sleeves are made from heat-shrinkable film that shrinks to fit snugly around the product, whereas traditional labels are made from a range of diverse materials, like paper and vinyl, and are applied to the product using pressure to activate the adhesive on the backside of the label. Traditional labels are typically situated on rolls featuring a liner that's discarded after the label is applied to the product.
One benefit of shrink sleeves is the 360 degree coverage as mentioned previously. Since the sleeve conforms to the entire surface area of the container, there's a lot more room for information, branding, and creativity. Traditional labels only provide partial coverage of the product. They're typically applied to the front or back of a container, leaving the sides and top exposed. This can make it more difficult to convey important information about the product.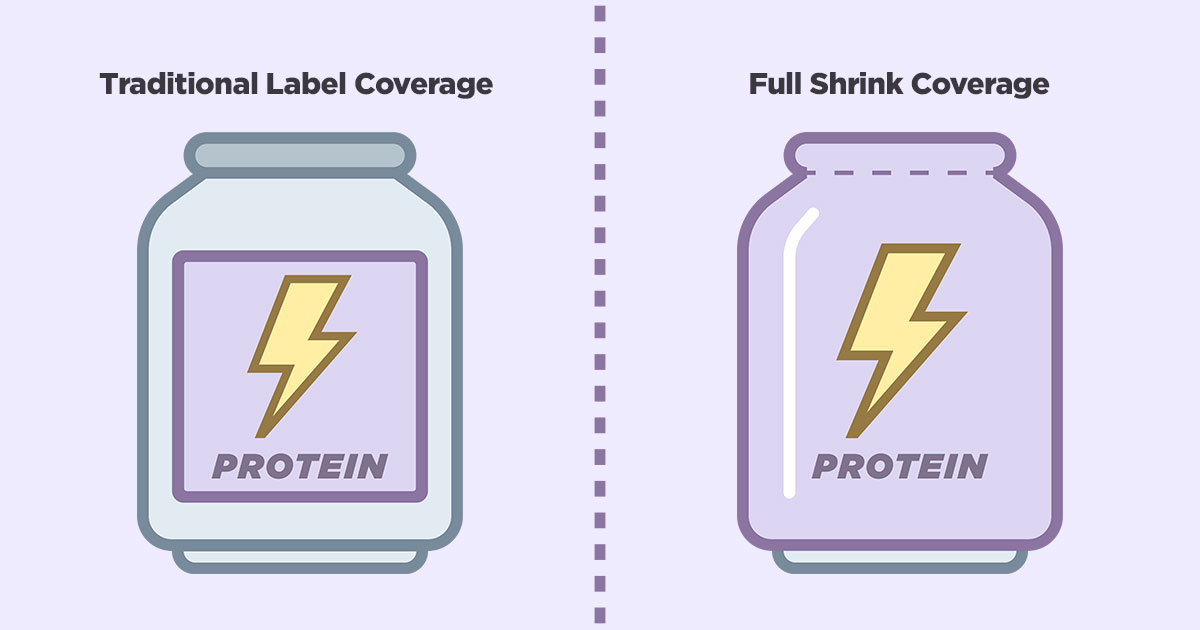 Another advantage of shrink sleeves is their ability to conform to irregularly-shaped containers. Traditional labels are limited to flat or slightly curved surfaces, but shrink sleeves can be applied to pretty much any shape.
While some label materials are highly durable, shrink sleeves give them a run for their money with guaranteed protection against water, tampering, abrasion, and much more. This makes shrink sleeves the ideal option for products being stored in wet or other unfavorable environments, as well as products capable of leaking. They're also a highly effective way to add a layer of tamper-evidence to your products.
However, shrink sleeves do have some drawbacks. There's an initial cost to create and set up sleeves for production, and they can be more expensive to produce than traditional labels, especially in smaller quantities. They require specialized machinery to apply them correctly in a consistent way, which can be achieved either by working with a co-packer that handles your labeling, or by purchasing your own applicator and specialized heat tunnel to apply them in-house.
Different Types of Shrink Sleeves
There are several types of shrink sleeve products available, including:
Full-body sleeves: These cover the entire product and are often used for packaging beverages, such as bottles and cans.
Neck bands: These are applied to the neck of a bottle and are commonly used for labeling personal care products, such as shampoos and conditioners.
Tamper-evident bands: These are applied to the top or bottom of a product and are used to create a seal that indicates if a product has been opened.
Multi-pack sleeves: These are used to bundle multiple products together, such as cans or bottles in a multi-pack.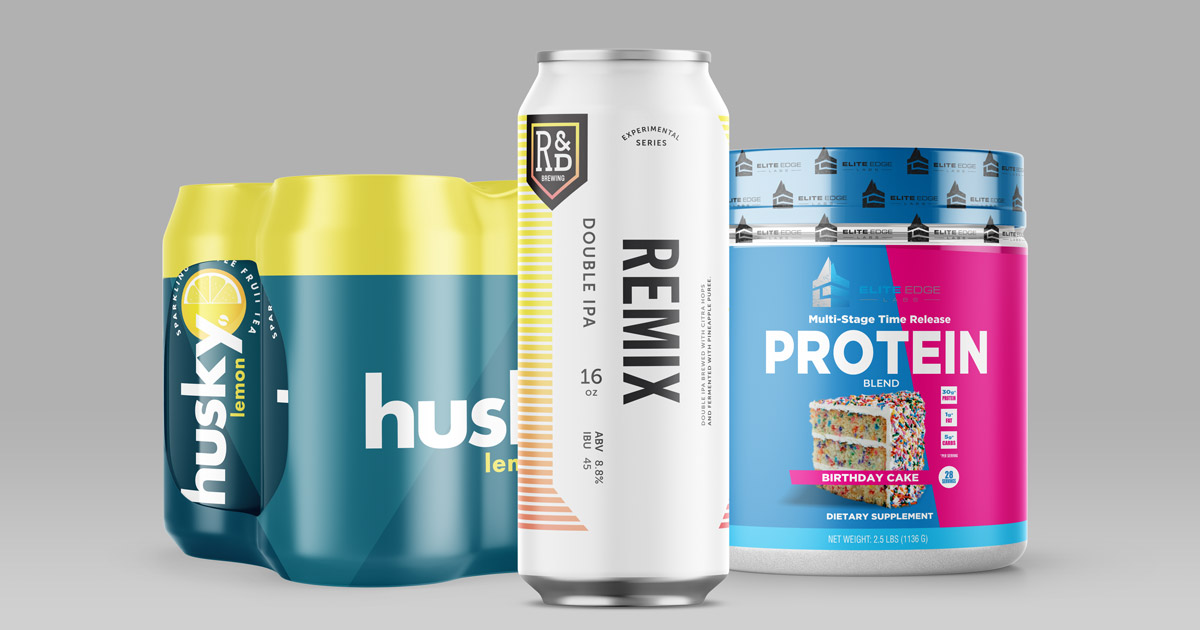 What is the shrink sleeve ordering process?
First, let's establish what businesses shrink sleeves are for. If you have access to a shrink sleeve-specialized heat tunnel, are willing to invest in one, or work with a co-packer, then shrink sleeves could be a good option for your business.
Ready to order shrink sleeves? Here's how it goes:
You submit to us the dimensions of your product container, and we'll send you a quote based on those. There are three measurements needed to determine the sleeve size: circumference of the container at the widest point, circumference of the container at the narrowest point, and the height of the container, including the cap if the shrink sleeve will cover that too. To take the height measurement, use a measuring tape and follow the contour of the bottle. If you have any questions, our experts can walk you through the measurement process — just give us a call!
You'll send us container samples which we'll laser-scan and hand-measure to get the precise measurements. We'll then run a test sample of the shrink sleeve.
We'll verify the correct material for your application and finalize pricing with you, then create physical grid test sleeves for you to test and verify sizing in the actual application environment.
You'll revise or approve the grids.
We'll get to work creating the shrink sleeves you envisioned!
---
We hope this article was helpful for you as you consider upgrading to shrink sleeves for your business.
Ready to take the leap? Get a quote for custom shrink sleeve labels today! Intrested in other premium labeling solutions? Learn more about our capabilities.
---