What You Need To Know To Get Started With Bar Soap Packaging
It's no secret that the key to a lasting first impression is to use beautiful packaging. This holds true for any product, but especially artisan soaps and other handcrafted items. Because your packaging will be in many cases the first thing your potential customers see, it needs to grab their attention and reflect quality. But don't forget that it also provides a way to display and protect your product, which is especially important if you're shipping or selling at a market or pop-up. Your soap labels and packaging should complement your product, reinforce branding and in turn, help to increase sales.
But how exactly do you design packaging that pops off the shelves or tables? You've landed in the right place as we're breaking down everything from materials to common types of soap packaging if you're looking to step your game up a notch.
Checklist to Consider Before Diving In
There are a few things we should do and consider before jumping into the designing process.
Measure your product(s): Before you can start exploring your many options, consider what you're working with. Determine the exact size, shape, and weight of your soap product. If it comes in various sizes, note them all as you'll want to purchase packaging that's just right for each of them. Avoid purchasing a one-package-fits-all as it can cause more harm than good.
Define how your ideal customers will buy your product: Will they purchase online? If so, you'll want to consider materials that will keep your soap well protected (from transit and temperatures) so it can arrive in mint condition. Will they purchase at a market or pop-up? Think of what stands out best in a crowd of competition and truly reflects everything your brand stands for. The answers to these questions play a large role in determining which soap packaging is ideal for your business.
Use quality materials: You know the old adage, "quality over quantity", and that sure is true in this industry. Not all cardboard or plastic is created equal. Spend time researching and comparing the grade of materials from different suppliers. Don't forget to make sure they are compliant with environmental regulations and standards!
Determine your budget: While you want to make sure you're using quality packaging materials that protect your product, you also want to make sure you're staying within your budget. Compare pricing from different suppliers and opt for placing bulk orders even if it means storing some until your higher demand times of year.
Common Types of Soap Packaging
As we're sure you can imagine, there are a variety of soap packaging options available. The most common materials used are plastic, cardboard and paperboard but they aren't the only ones. If you have the budget and it aligns with your brand, you might even consider cloth, silk, leather or even plant-based materials! First and foremost, take your time researching and allow yourself to be inspired.
Sleeve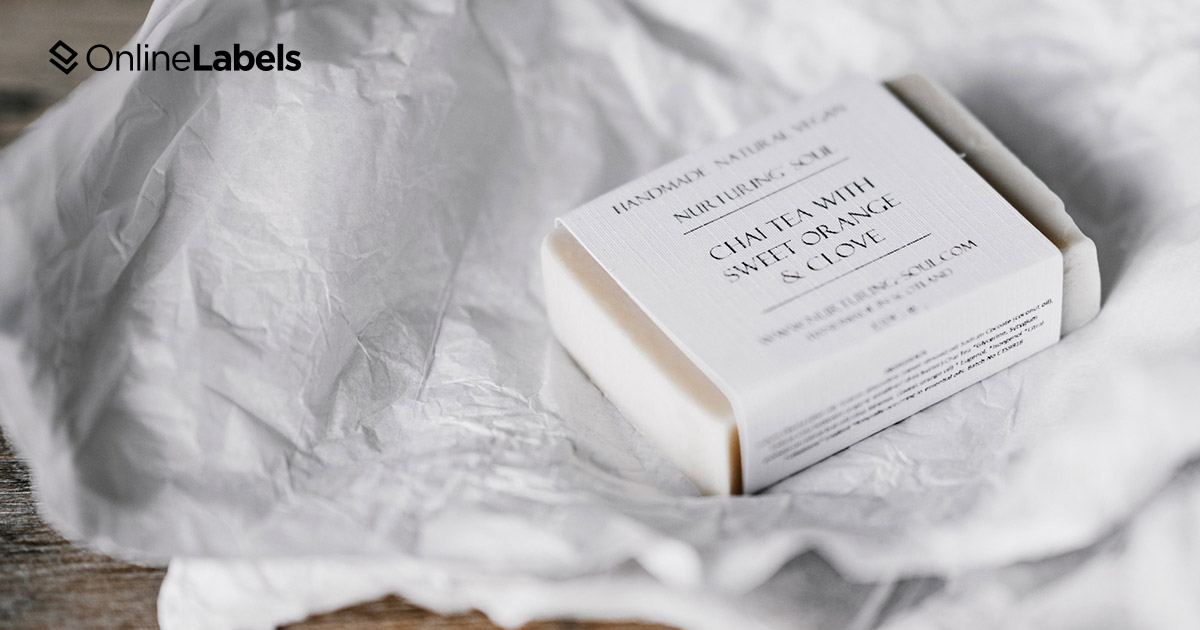 This type of packaging is a simple piece of cardboard or paper that wraps around the soap either vertically or horizontally. The sleeve can have your desired design printed directly onto it or a custom label can be applied on top of a plain sleeve. This option is simple, clean, and cost-effective, but your product will still be partially exposed.
Holster boxes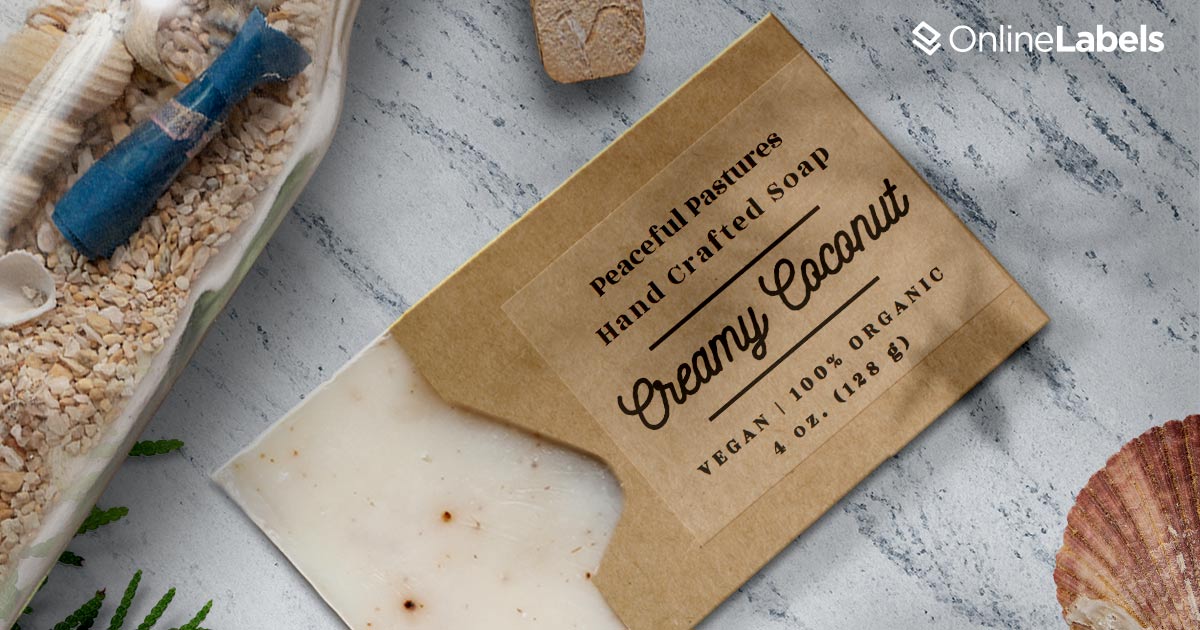 Similar to sleeves but rather than wrapped around the soap, they cover either a portion of the top or bottom of the product. The type of material you use is totally up to you!
Plastic or craft paper wrapping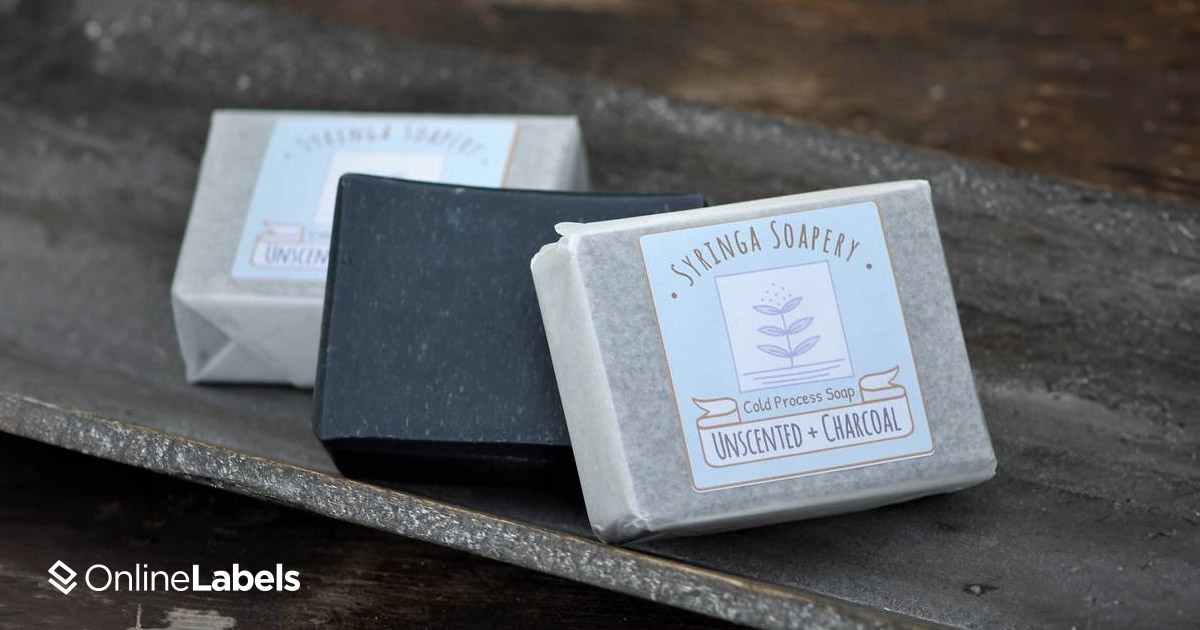 If you still want to keep things simple but protected from the elements, you can opt for plastic or craft wrapping—clear, brown, or colored. As with a sleeve, you can pop your label right on top of it. It's a lightweight option, however, it doesn't give your customers the opportunity to smell the product unless part of the plastic/paper is left open.
Full cover, custom printed boxes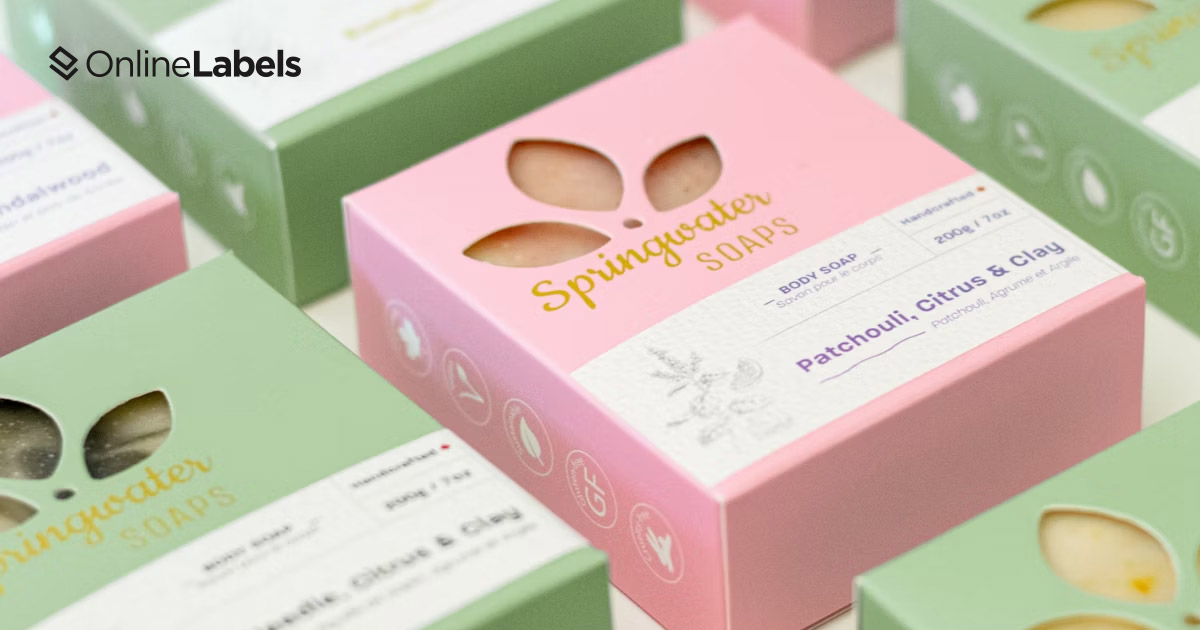 These can be made in any shape, size, material, color, or cut-out that you're looking for. Your logo, ingredients, and designs can also be printed directly on the box. Because of these factors, they work exceptionally well on protecting your product and capturing attention, but they tend to be the most expensive. You may also need to consider void fill for the box so the soap bar doesn't move around.
Plain boxes with labels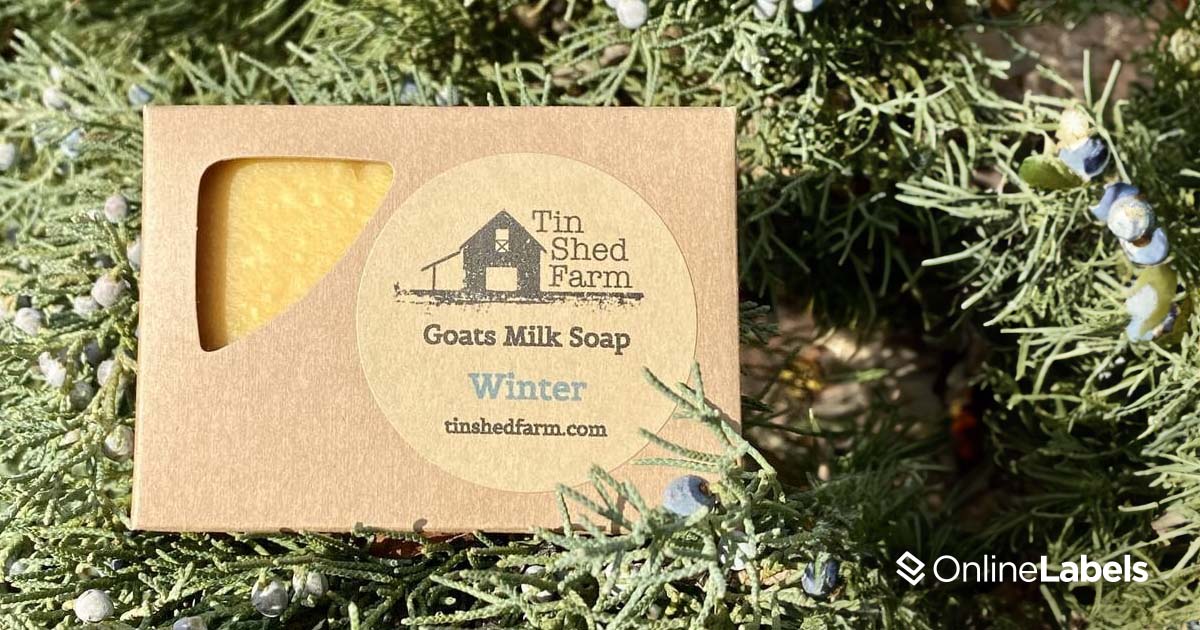 If you don't need all the bells and whistles that custom boxes offer, but still think boxes are the best avenue for your product, you can just purchase plain boxes and add your own label.
Specialty fabric bags or wrapping: You have quite a few different variations with this option. You can choose a fabric to wrap around your soap, and add ribbon or unique string to tie around it. Or you can go the bag route which allows your customer to save it and re-use it!
---
Any of these options can be customized and unique but it's important that you're choosing the one that is the overall right fit for your business. The packaging is just step one. When you're ready for the next step and to get even more creative, shop our soap labels.
---