DIY Graduation Mason Jar Party Gifts / Favors + Free Printable
Throwing a graduation party? Here are some fun ideas for your special graduate and party guests.
What better way to say "Congrats" to a grad than a mason jar filled with money? Cha-Ching! Or pass out some of these adorable graduation mason jars filled with candy as party favors. They double as cute centerpieces, too.
You make both of the jars the same way. All you have to do is fill one with cash for the grad and the other with candy for the guests.
This idea will be loved by everyone from preschool grads to high-schoolers, college, and PHD students!
Supplies
Step-by-Step Instructions
Step 1: Cut Out The Pieces
With your black cardstock, cut out three 5/8" strips and three 3.5" squares.
Don't have a ruler handy? Download our free printable ruler.
Step 2: Start The Lid
Apply glue (or glue dots) to the outside of the Mason jar lid. Wrap one of your black cardstock strips around the lid. Snip off the excess.
Step 3: Add The Cap
Apply glue (or glue dots) to the top of the jar lid. Place your cardstock square on top.
Step 4: Make The Tassel
Use embroidery thread to make a tassel, or use the one you bought.
Find out how to make a tassel.
Step 5: Fill The Jar
Fill your jar with candy or money.
If you're giving money in the jar, roll each bill and tie it together with ribbon. I chose white ribbon to make the money the star of the show.
Step 6: Print The Templates
Download and print out the free graduation labels below.
Step 7: Connect The Tassel
Connect your embroidery tassel to the top of the graduation cap using a label. Cut off any excess thread.
Step 8: Decorate Your Jar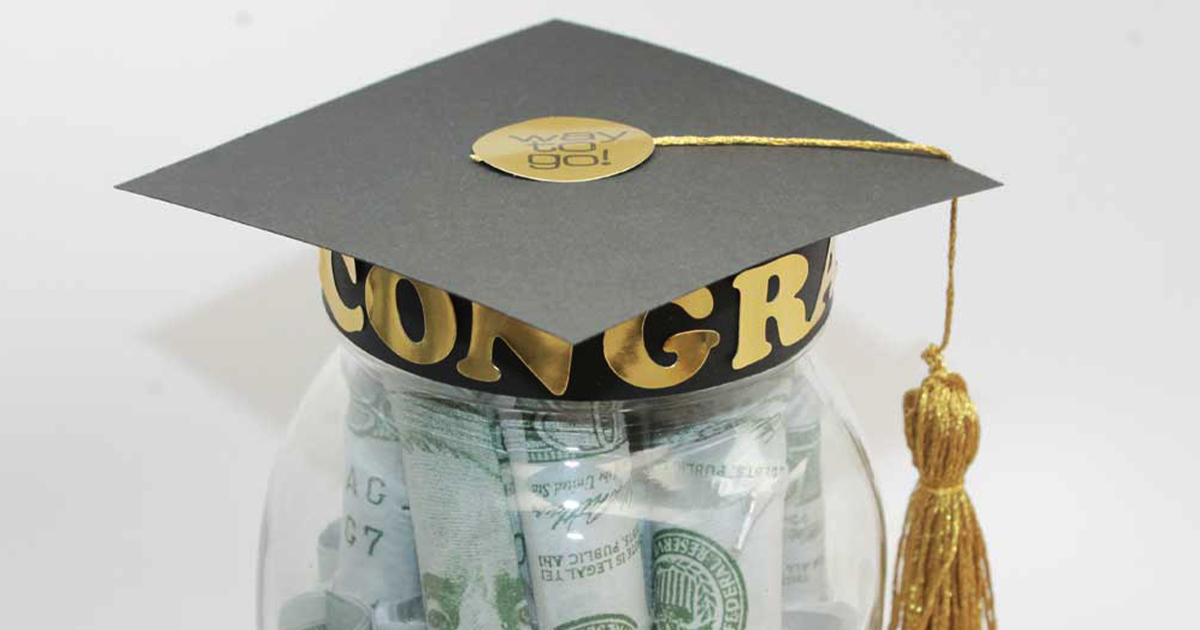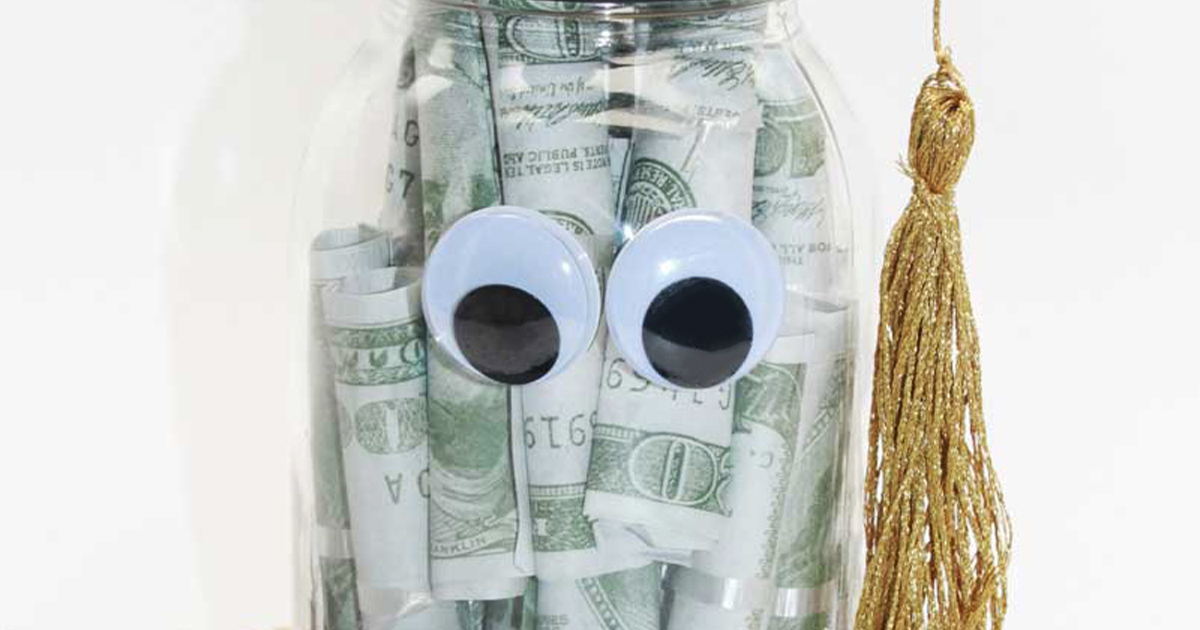 Spell out congrats by sticking the alphabet labels around the rim of the cap.
You may also want to give your jar some personality with some stick on googly eyes. This is especially fun for the preschool graduates.
Finished Product
---
Go shower your recent graduate with love, gifts, and party favors! For more projects, visit our full selection of printable graduation templates.
---