How to Build a Brand You're Passionate About: Noomi Customer Spotlight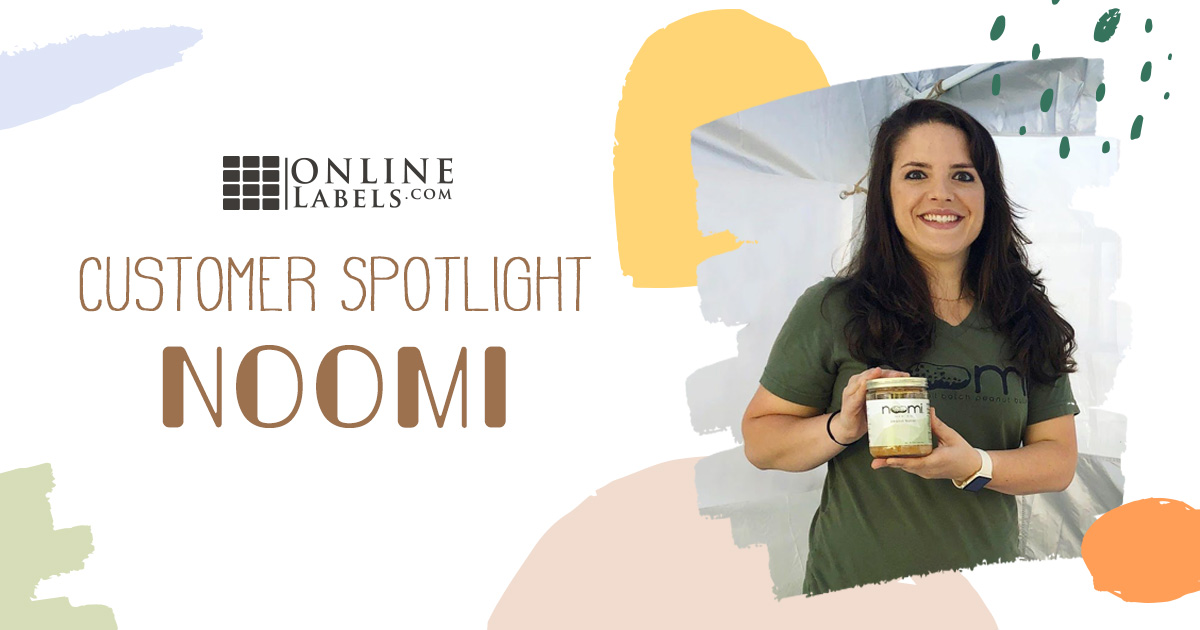 Krystina Murawski was inspired to launch her organic peanut butter company and lifestyle brand, Noomi® [new-me], when her college bestie texted her out of the blue one fateful day in January 2018.
Krystina's friend wanted to start a food truck. That inspired Krystina to commit to her long-held dream of creating and selling her own peanut butter. So they agreed to hold each other accountable.
Six months later, Krystina had a tested, in-market product and a fully operational brand and company. She made over 100 recipes, using 25 different peanut types, before finding her signature peanut butter blend—recipe number 100. Now, she remains totally nuts (all puns intended) about running her company while balancing a full-time job, until the day she can take Noomi full-time!
Here, we bottle up Krystina's passion and drive for your benefit through an exclusive interview. Read on to learn how she's grown her business from her 8-foot galley kitchen origins, how she builds a brand that touches lives beyond peanut butter, and how you can build your own dream brand, too.
What's the vision behind Noomi and what sets it apart from other peanut butter brands?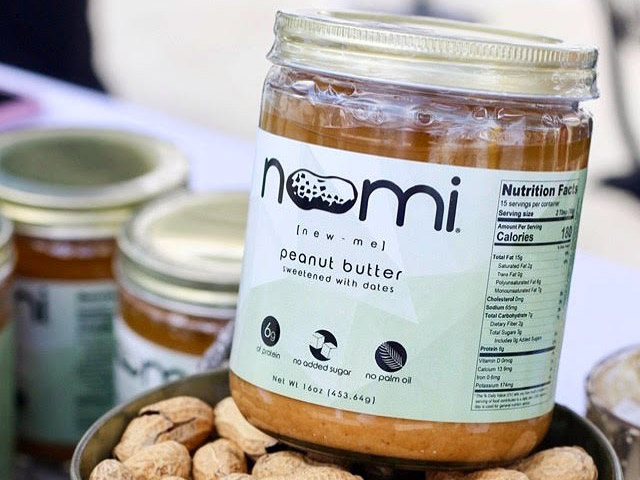 The vision behind Noomi is to inspire people to pursue their passions and find their "new me."
It started with a dream to build my own small business that goes back to this entrepreneurial spirit I've had ever since I was a kid. My dad became an entrepreneur after losing his job; he launched his own healthcare business, which has been incredibly successful. His entrepreneurial journey has always been embedded in me, and the success of both of my parents—who have built everything they have today—has inspired me to pursue my own passion too.
That's the fire I want to spark and pass on to others who engage with the Noomi brand. That doing what you love is absolutely possible! It's just about having the courage to start. We're all about peanut butter, of course, but the broader mission is to empower people to follow their dreams.
Noomi's signature blend of sofi™ Award-winning organic peanut butter is a sustainable, clean label product that's better for people and the environment. And that's really important to us and our customers. It's made with just five ingredients, sweetened with dates, and contains no added sugar. From the start, I stayed true to not using ingredients that are harmful to the environment, like palm oil, which is a common stabilizer used in nut butters to increase shelf-stableness. This is a huge differentiator that sets Noomi organic peanut butter apart in its category. I actively chose not to use any palm oil, hydrogenated vegetable oils, or preservatives in the product I created, and I never compromised on quality in the process.
Noomi peanut butter is extremely shelf stable, and is a minimal separation product, with much less oil separation than other organic and all natural nut butters. The whole dates that are blended in contribute to its truly unique texture and taste too. It also contains lower fat overall, and a more balanced blend of polyunsaturated and monounsaturated fats than other brands.
I used to tell people, "What do I have to do...make over 100 recipes before I find the one?!" And funny enough, it was my 100th recipe that was "the one."
How do you approach branding? How did you start, and what are you doing to build the brand now?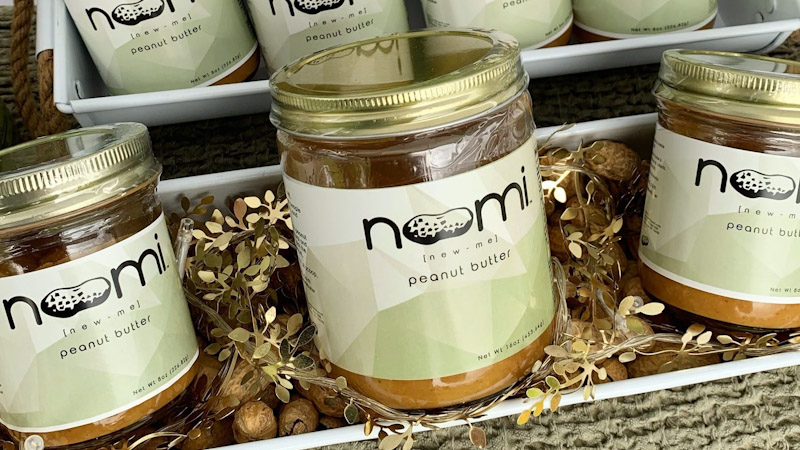 Branding is everything. It started from the day I had the idea to pursue my unnamed peanut butter company at the time. I was casually telling a friend about the business concept and the name "Noomi." I didn't realize she had a graphic design background, but she believed in what I was trying to build, and offered to make my logo for me. I told her, "I want a modern, yet whimsical design that also conveys moving forward." And we agreed on a peanut element of some sort too.
The end result is exactly what I wanted, from the playful dot over the "i," to the encyclopedic pronunciation of "[new-me]," to the "100" in the small peanut on every jar (an ode to the 100th recipe). The branding is simple and clean, speaking to the minimal and healthy ingredients that Noomi peanut butter is made with. The sage green color conveys organic; the elegant black and white offers a modern feel; and the shiny gold lid and other metallic accents emit a dazzling and "specialty" vibe.
When it comes to branding, I don't really believe in sacrifices. For example, we're working through a national glass shortage right now, and for over a year, my larger, 16oz jars were completely out of stock. I could've perhaps found a different style of my larger jar (when glass jars were fleetingly available), but it wouldn't "go" with my 8oz jar; I want my two size jars to look like they're part of the same family. So I wait, or I find other ways to source what I need.
Part of running a business means staying true to your values, and learning how to be creative and adapt to whatever's thrown your way. To me, it doesn't mean compromising on my brand; it means thinking differently about how to achieve the same goals.
My focus now is on building brand awareness, and a deeper understanding of who our company is, through our mission, vision, values, and most of all, story. I'm always applying for awards and recognition to get the Noomi name out there. In fact, as of this March, Noomi is certified as a Women's Business Enterprise (WBE) through the Women's Business Enterprise National Council (WBENC), the nation's largest third party certifier of businesses owned and operated by women in the U.S. I am incredibly proud of this accomplishment and everything it symbolizes as a small (but growing!) one woman owned and run business.
My networking and marketing efforts are bigger than ever this year. I've been doing collaborations with other women-owned businesses, publishing more coupon codes, staying active on social media, and am expanding my farmers market involvement to strengthen Noomi's local presence. With my wholesale partnerships also continuing to grow, 2021 is off to a great start in sales, and it keeps me energized and motivated by what lies ahead for Noomi.
I'm committed to building the Noomi brand name, so people come to know our peanut butter, before expanding into other products or product lines. And my 110% laser focus on solely making peanut butter has been invaluable to Noomi's growth thus far.
Why did you choose OnlineLabels.com over other branding options?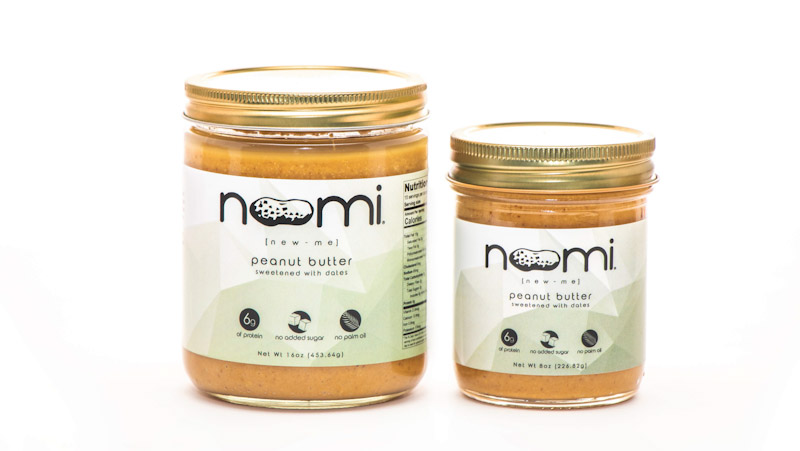 I definitely did some recon on different label brands first. My original labels were die-cut from a boutique agency in Queens, NY that a fellow farmers market vendor recommended. The labels were beautiful, but they were papery and not truly oil and weather resistant for a nut butter jar. Die-cut labels are also extremely cost-prohibitive, and it didn't help that I was printing lower volumes to start off with.
You learn very quickly that "the food business is a business of pennies" (as my mentor once told me), and any sort of savings is huge, so I looked for higher-quality, lower-cost alternatives.
Other vendors at farmers markets recommended OnlineLabels.com. They had a ton of different sizes and styles, so I found labels with the features I needed at an affordable price. I started using the weatherproof polyester laser labels, which have held up against inclement weather and the oils in my peanut butter. The customer service and printing has also been great!!
Plus, the $10 off coupons I get through the email list are always a nice added bonus when it's time to restock.
How do you stay motivated when things get tough?
If you read anything about Noomi, I always say I'm a 110% or nothing sort of person. Meaning, if you love something as much as I love peanut butter, you'll work fervently to keep your dreams alive. I believe in myself, and the brand I'm building, and I can see that my friends, family, and Noomies (Noomi fans) believe in me too; it's incredibly motivating. Sometimes all it takes is a simple, in-person reaction from that first spoonful of Noomi peanut butter to remind me that I've created a product that people really love. And I just know I have to keep going.
The "110% all in" mentality is the mindset Noomi was founded upon. Yes, the essence of Noomi is peanut butter. That's what we do! But I want people to pick up a jar and say, "Hey, did you hear the story of this girl? She made over 100 recipes before finding the perfect peanut butter. I'm going to go after my dreams too!" It sounds cheesy, I know, but we all need that encouragement and ways to feed that underlying belief in ourselves. I want Noomi to be the inspiration someone needs to pursue their MBA, to open their own restaurant, to learn a new language, or whatever it is they want to do. There is no dream too big or too small. Every jar is meant to be an exchange of motivation to do what you love and realize it's possible.
What advice do you have for other entrepreneurs or food businesses that are just starting out?
Focus on what you're passionate about. People often tell me I should sell almond and cashew butter. While I love nut butters, my one true love is peanut butter (obviously), so I actively decided to make that my focus and never looked back. I always listen to feedback from my customers; feedback is incredibly valuable. But just remember to trust your gut when it comes to building your brand and business.
Relationships are the cornerstone of success, so don't stop building them! Network and find a mentor. Meet new people, talk to them, ask questions, and seek guidance if they've been in your shoes. You'll learn, you'll grow, you'll overcome challenges, and you'll be even more ready for the next one. I'm grateful for the mentorship I've had with Leslie Lampert of Ladle of Love throughout my Noomi journey because it's helped me to keep moving forward and get to where I am today.
Finally, never give up! Believe in yourself and your passion and know that you're capable of something big. Because you truly are.
How can readers learn more about you and Noomi, and scoop up a jar of that perfect peanut butter?!
You can visit noomibrand.com to learn more!
And, for a limited time only, exclusive for Online Labels readers, use code "OL-15" for 15% off your total order in Noomi's online store. Grab a jar and get ready to experience PB on a whole nutter level; I can't wait to hear what you think!
---
Browse all of our small business resources to learn more ways to grow your brand.
---