Choosing the Right Soap Label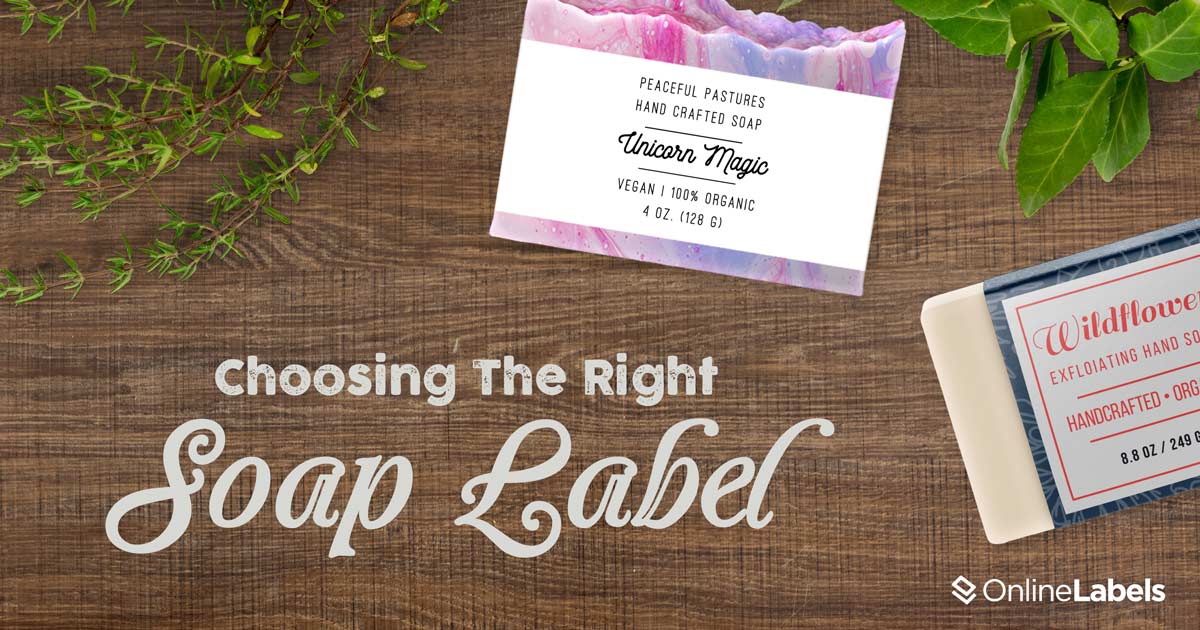 The soap industry is rapidly growing, with more and more entrepreneurs starting handmade soap businesses. If you're looking to start your own, one thing that will help you stand out from the competition is professional-quality soap labels.
In this article, we'll help you get started by going over what size, shape and material we think work best, and tips for applying your labels.
Before you can jump into creating your soap labels, you should figure out how you want your soap bars to be packaged. The good news is there are quite a few different options when considering the type of packaging and label you want on your soap. And of course, there's plenty of room to get creative.
Many soap makers opt for a "naked" look. Keeping the soap package-free saves money and time. A wrap-around label is most effective in this case as the label will be able to adhere to itself. If you're worried about your soap being exposed, textured wrap, clear plastic wrap, soap boxes, and pouches will provide your soap the protection it needs.
You can check out wholesale sites like Bulk Apothecary for a variety of soap packaging options.
What size should a soap label be?
Now that you've picked out your packaging, it's time to find your labels.
You'll first need to determine the labeling area of your soap or soap packaging. If you need help finding those dimensions, you can download our free printable ruler.
Once you have your measurements, you can search for your ideal label on our labels by size page. You'll see the best matches we have for your labeling area. You can also browse our soap labels, which includes unique shapes, or our wrap-around labels for some other common soap label shapes and sizes.
What is the best label material for soap making?
Unlike most bath and body products, a soap label will likely be removed before the bar is used. Because of this, choosing a weatherproof label isn't necessarily a must. Our most popular material for soap labels is our standard white matte. Think of this material as the ideal blank canvas that will allow your design to be in the spotlight. For a more modern look, look at our white gloss inkjet or laser labels.
Brown kraft labels are also extremely popular with soap makers. It's great for highlighting organic, homemade, or eco-friendly properties of a product or brand. This material works best if you use a generous amount of negative space in your label design.
How do I apply my soap label?
When it comes to applying your label, make sure your soap bar or packaging is clear of debris before applying the label. Wrap-around labels can be difficult to apply straight. One solid way to ensure a great application is by starting from the middle and working your way out to the sides, adhering the ends together.
---
Whether you're getting ready to label products for your handmade soap business, or creating a personalized label for a gift, we hope these tips will help you create professional-looking soap labels.
---