Beginner's Guide to Wine Label Requirements for 2023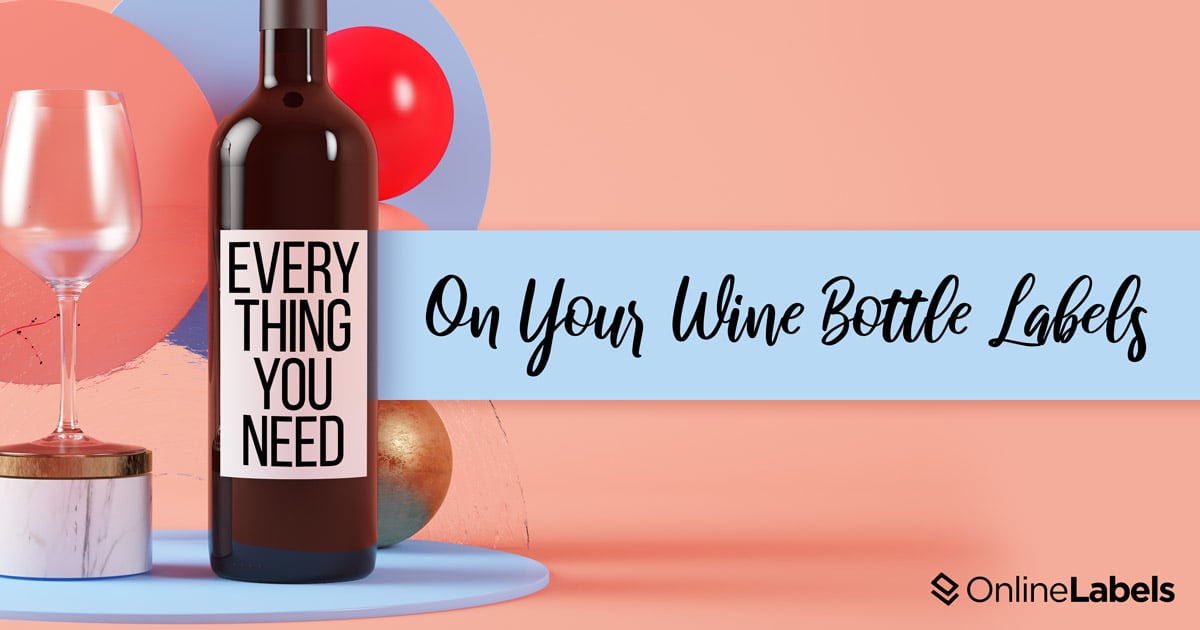 Before any product that you want to sell hits the market, it's crucial that you're in compliance with any federal and state regulations applicable to your item. When it comes to wine, there are specific guidelines for what you must include on your domestic wine bottle labels.
There's a lot to know, but don't be intimidated by all the information. Just follow along, and you'll see that it's all laid out clearly. So let's get into it.
Please note that this guide is not comprehensive. Make sure you do your own research, and use the links throughout to read more in depth on each requirement as well as other specifics that were not included.
Which guidelines do I need to follow?
Wine is defined by the Federal Alcohol Administration Act (FAA Act) as containing more than 7% alcohol by volume, and therefore the labels are subject to the guidelines laid out by the FAA Act and are regulated by the Alcohol and Tobacco Tax and Trade Bureau (TTB).
If your wine contains less than 7% alcohol (diluted wines and ciders), your labels are subject to the requirements imposed by the Federal Food, Drug, and Cosmetic Act and Fair Packaging and Labeling Act as expressed in Title 21 of the code of Federal Regulations.
In this article, we'll be dealing with wines that contain more than 7% alcohol by volume.
Overview of Requirements for Wine Labels
According to the FAA Act, wines containing over 7% alcohol must have the following information:
Required information on the brand label:
Required information on any label:

Appellation of Origin (mandatory in certain circumstances)
Brand Name
Class or Type Designation
Percentage of Foreign Wine (if applicable)

Alcohol Content
Color Ingredient Disclosures (if applicable)
Health Warning Statement
Name and Address
Net Contents
Sulfite Declaration
The label on your wine bottle that displays your brand name. This doesn't need to be a front or customer-facing label.
The geographical area in which the fruit was grown. To use an appellation of origin, your wine needs to meet certain production requirements. Also, if your wine label includes any of the following information, you're required to have an appellation of origin:
Vintage date
Varietal designation
Type designation of varietal significance
Semi-generic designation
An "estate bottled" claim
A product name qualified with the word "brand" under the requirements of 27 CFR 4.39(j).
TTB subscribes to rules made by appellation organizations around the world. If you declare your appellation of origin to be an American Viticultural Area (AVA), like Napa Valley for example, 85% of the fruit used to make the wine must be from that region.
The brand name is the name that your wine is marketed as, and it's usually the most prominent information on the brand label. If your wine isn't sold under a brand name, then the bottler, packer, or importer, as seen on the brand label, will be treated as the brand name.
The required type size is a minimum of 2 mm for containers larger than 187 mL, and a minimum of 1 mm for containers of 187 mL or less.
It also needs to be legible under ordinary conditions, set on a contrasting background, and needs to stand out among other information on the label.
Another important requirement laid out by the TTB is that the brand name can't create a misleading impression about the age, origin, identity, or any other characteristic of the wine.
This refers to the kind of wine based on the standards of identity.
Class - The broad category "wine" is divided into classes which are general but defined categories. For example, "Grape Wine" and "Citrus Wine."
Type - Under the classes are specific and defined types of wine. For example, "Moscato" is a type of "Grape Wine" and "Orange Wine" is a specific type of "Citrus Wine."
The percentage and origin of foreign wine (for example, "20% Grape Wine from France") must be included on the label.
This is the numerical value on your wine label indicating the percentage by volume of alcohol in the wine. For wines with over 14% alcohol content, this statement is mandatory to include on your labels, and it can appear as a specific number or as a range. For wines containing 7 to 14 percent alcohol, this statement is optional if the mandatory type designation is "table wine" or "light wine" and appears on the brand label.
Other important requirements to note:
The alcohol content, whether a specific number or a range, must appear as a percentage
You can abbreviate the words "alcohol" and "volume" to "alc." and "vol."
The words or abbreviations can be lowercase or capital letter
The numerical value may precede the term "alcohol" or "alc."
For bottles or containers that are 5 liters or less, the required type size is 1 mm and a max of 3 mm. The type size applies to each value in the statement
TTB gives some examples statements:
ALCOHOL ___% BY VOLUME
___% Alc. by Vol.
___% to ___% alcohol by volume
ALC. ___% TO ___% BY VOL.
One last thing to note about alcohol content — TTB allows a tolerance if you don't know the exact percentage of alcohol:
Plus or minus 1% for wines with over 14% alcohol by volume (example: Labeling your wine with "20% ALC. BY VOL." so long as the actual alcohol content doesn't exceed 21% or fall below 19%), or
Plus or minus 1.5% for wines with less than 14% alcohol by volume
For ranges, the range can't exceed 2 percentage points if the wine contains more than 14% alcohol by volume (example: "15%-17% ALC. BY VOL."), or
3 percentage points if the wine has less than 14% alcohol by volume
If your wine contains any of the following color additives, your label needs to include the phrase, "Contains [color additive name]":
FD&C Yellow No. 5
Cochineal extract
Carmine
The following statement is required to appear on any label on your wine bottle:
"GOVERNMENT WARNING: (1) According to the Surgeon General, women should not drink alcoholic beverages during pregnancy because of the risk of birth defects. (2) Consumption of alcoholic beverages impairs your ability to drive a car or operate machinery, and may cause health problems."
The words, "Government Warning" need to be bolded and capitalized.
For American wine, the name and address statement should consist of the name of the bottler or packer, as well as the address (city and state) as shown on the basic permit, preceded by the phrase "Bottled by" or Packed by." "Produced by" and "Vinted by" are also acceptable options if accurate.
For imported wine, this should consist of the name of the importer and the address of the importer's principal place of business, as shown on the basic permit.
This indicates how much wine is in the bottle or container. This can appear on a label on the front, back, or side of the container, and/or be blown or branded into the bottle itself.
The net contents statement needs to indicate the exact amount contained in the bottle, with limited tolerances provided in CFR 4.37(d).
Sulfites are common preservatives used in winemaking. Some people have a sensitivity to them, so including a sulfite declaration is required for their safety and wellbeing.
The statement, "Contains Sulfates" informs consumers that your wine contains sulfites or sulfiting agents, and is required where sulfur oxide or a sulfiting agent is detected at 10 or more parts per million (ppm).
Labels that don't include a sulfite declaration won't be approved by TTB unless the applicant has done a sulfite analysis conducted by a TTB laboratory, with results showing that the wine contains less than 10 ppm sulfur dioxide.
How do I get my wine label approved?
Now that you've created your labels and have all the correct information in place, here comes the real test. Prior to bottling your wine, you need to submit an image of your label to TTB for review to obtain a Certificate of Label Approval (COLA), or a Certificate of Exemption from Label Approval. Once you submit your application to TTB, it takes 1 day for your label to be processed.
The purpose of the COLA is to ensure that the bottle is properly labeled and in accordance with the FAA Act. For more about COLAs, be sure to read over the COLA FAQs located on TTB's website.
Once you have your COLA, you can make certain allowable changes to your approved labels, like deleting non-mandatory label information, repositioning information, and changing the color of the background and text elements.
Are the requirements different if I only sell in my state?
As previously mentioned, winemakers can also apply for a Certificate of Exemption from Label Approval, which is needed to cover wine that won't be sold in interstate commerce (bottled wine that's sold exclusively in the state that it was bottled).
Wines that are sold only in the state of bottling and are covered by a certificate of exemption are still responsible for following these mandatory labeling requirements:
Must include "For sale in [name of State where bottles] only." There isn't a specified type size and it can be on any label on the container.
Any alcoholic beverage must contain a health warning statement, so your diluted wines still need to include this.
Name and address of the location the wine was bottled or packed
Brand name (if it's different from the name of the bottling location)
Alcohol content as percent by volume or in a format described in 27 CFR 4.36 and 4.38(b)(3)
Net contents of the container
Designation of the kind of wine
---
We hope this was the jump start you needed to create your wine labels. Don't be overwhelmed by all the information — you can pretty much get all your questions answered on TTB's website. For further research, their Wine Labeling page is a good place to start.
Ready to create professional-quality wine labels? Shop our selection of wine bottle labels and find the perfect size for you!
---