Since my business involves making my product by hand, I wanted to find a label that would allow me to also add a handmade touch to it. I found your product and was instantly inspired to use them for my branding and packaging! I commissioned an artist to design a stamp for my business which I now use to stamp each individual label to give my packaging that handmade yet professional touch I wanted!
These labels were hand stamped, so I guess my hand was the "printer" rather than a traditional computer printer. :)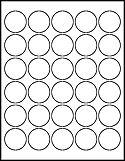 OL2088BK
Ready to inspire?
Share your label creation!