Wine and Mini Champagne Bottle Labels to Enhance Your Next Event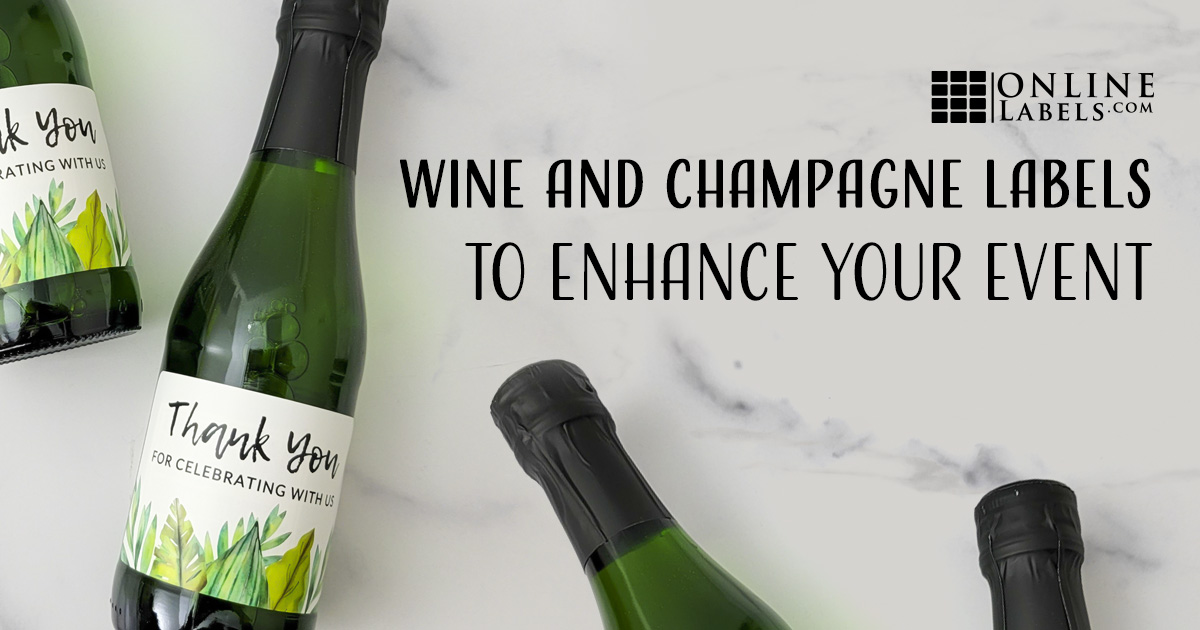 Champagnes and wines are special drinks that are often used to celebrate something or someone. So, you drink them at celebrations, but have you ever thought to give them as gifts for the receiver to enjoy on their own time?
A mini champagne or a bottle of wine make for thoughtful and exciting gifts. Just add a meaningful label to make it more special— and we've got you covered on those. All of our wine and champagne bottle labels are printed on weatherproof material, so you don't have to worry about ice or water damage.
Our pre-printed stickers are super easy to use — just order your favorite design and we'll send them over to you, then all that's left to do is just peel and stick. Although we recommend removing the original label on the bottle, then thoroughly cleaning and drying the area before applying your label.
Keep reading to see our favorite wine and champagne bottle labels for different occasions.
What's the occasion?
Bridesmaid Proposal
Bridesmaid proposals are fun because you can get as creative as you want and make it special for your future bridesmaid! Proposing with a bottle of wine will make her feel like you're so excited to have her be a part of your big day.
These elegant wine bottle labels feature a floral design with muted pink accents and the text, "I can't say 'I do' without you," and "Will you be my bridesmaid?"
This design also includes a special label for the maid of honor.
This bridesmaid proposal wine label is simple but effective as it's straight to the point. It includes a white background with the text, "Will you be my bridesmaid?" in black.
This classy white label would look especially nice against a light pink bottle of rosé.
These delicate bridesmaid proposal wine bottle labels are sure to wow your future bridal party.
The design mixes geometric and natural elements for a satisfying contrast. It features the text, "Will you be my Bridesmaid? I can't say 'I do' without you" with pink and green accents.
This design also includes a special label for the maid of honor.
Marriage Firsts
Put these marriage firsts labels on a few nice bottles of wine and you have yourself a creative gift for your newlywed friends. Encourage them to celebrate the little moments, and the not-so-little moments by sharing a glass of wine together.
These labels feature a floral design, with a wine label to celebrate their first anniversary, first Valentine's Day, first big purchase, and even a label for a bottle to share after they've made it through their first fight.
These snazzy marriage firsts wine bottle labels would look nice on any wine bottle, but would look especially classy against a black or deep red background.
This pack includes a wine label for first anniversary, first big purchase, first Valentine's Day, and first Christmas to help your newlywed friends celebrate their first year of marriage milestones.
Party Favor
Giving guests their very own miniature bottle of champagne encourages them to get involved in the celebration in the most unforgettable way, whether it's for a wedding, birthday party, or other type of party.
These labels are simple but add a nice personalized touch to the champagne bottles, and are the perfect way to thank your guests for celebrating with you.
These pre-printed labels make it easy to add a thoughtful touch to a wine or champagne gift for someone special.
---
Need stickers for something else? Check out our full selection of pre-printed stickers for an easy and inexpensive way to add a thoughtful detail to almost any gift.
---