Why Have A Brand Story (and How to Share it)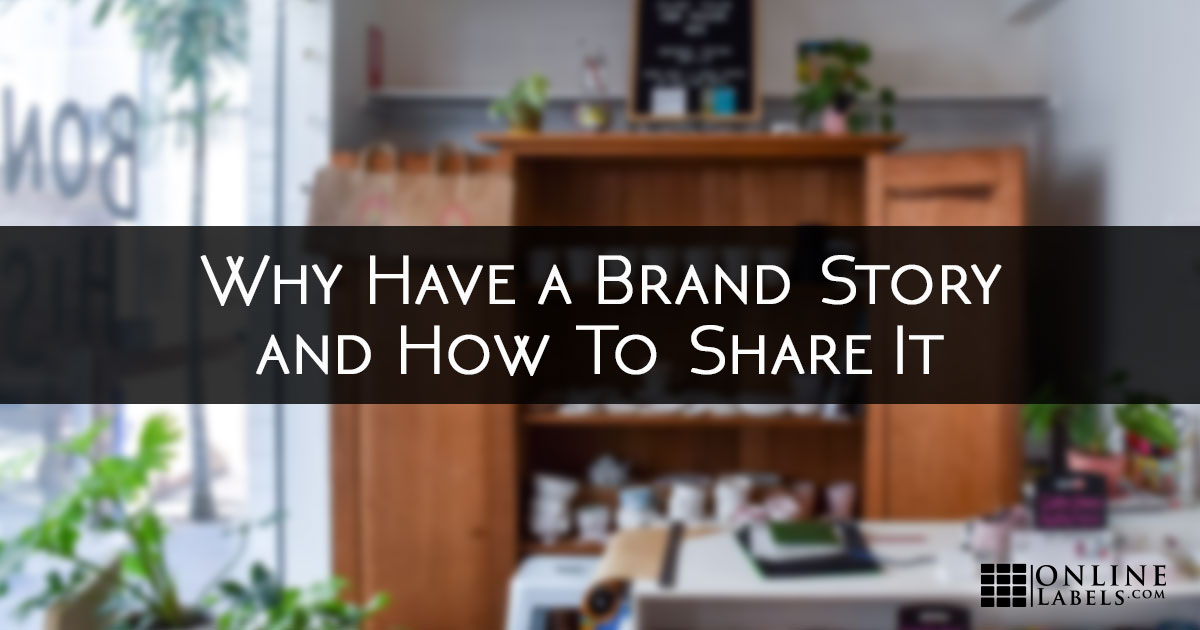 Every business has a story waiting to be told. They just don't always know how to tell it.
Many business owners think people aren't interested in that story, or that it's better not to shine a light on how it took many years and hardships to get to where they are now. That couldn't be further from the truth! Consumers want to know your story and how your company came to be. By learning who you are and what you stand for, they begin to trust and know that you understand their wants and needs.
What is your brand story?
HubSpot defines it best, "A brand story recounts the series of events that sparked your company's inception and expresses how that narrative still drives your mission today."
For the family owned pizzeria, their story started when their grandparents moved to New York from Italy and it was all family hands-on deck perfecting recipes before and after hours since the day the first shop opened. A lot changed since their first store opened but grandma's recipes stayed the same.
For the herbalist and entrepreneur, it's the years of struggling with her own health to cataloging her journey and discovering the power of herbs to now a best-selling herbal formula e-commerce brand helping others facing the same challenges.
I can keep sharing the stories of some of my favorite brands that have resonated so well with me but let's jump into yours!
How to Tell and Write Your Brand Story
Before they're written down on paper, these stories aren't always short and sweet. So, to tell the narrative of how your business came to be in a way that's simple but still impactful, we've outlined some steps for you to follow.
Know Who You're Talking to
What's a good story if you're telling it to the wrong audience? You started your company for a reason and with a specific person (or people) in mind. These people are your target audience and you should always pretend that you're talking directly to them over a cup of coffee.
Ask Yourself Questions
Before you can begin sharing your across different mediums, you must really define it. Let's start by answering some questions, honestly. The answers don't need to be perfect.
What product or service do you provide?
Who do you provide it for?
How do you do it?
What makes you different than competitors and unique?
What (or who) inspired you to get started?
Did you face any challenges or problems along the way?
What change are you aiming to make?
Answering these questions about who you are and what you do will help you develop a story that will resonate with the right audience.
Be Authentic and Intentional
Don't stress about telling a "good" story or being overly formal. Pretend you're talking to an old friend you haven't seen in years. Be vulnerable and share your challenges and failures, but don't create them if you haven't faced them. An honest, transparent story will resonate more than a perfect one.
Craft and Cut
At this point, you've probably got a lot to work with. It's time to scale back. Make sure the story is engaging and takes your customers on a journey with a clear start, action and outcome—just like some of your favorite books.
Where Your Story Should Live
This part might seem daunting but it's rewarding and your customers are looking forward to it. Here are a few places your stories can live.
Website: Dedicate an "About" or "Our Story" page on your website to you and your story. Here you can tell the longer version of your story (make sure it's still focused and doesn't change) because you have infinite space. Be sure to use photos to take it even further. They can be of the people who make up your brand or even the people who inspire you.
Social media: The coolest part about the digital world we live in? Your ability to show up, whenever and wherever you want to connect with your audience. Well, as long as you have WIFI. Consumers love to actually see the real people behind the brand. Create a brand story video that lives on your social channels and YouTube. Hop on Instagram Stories to tell your story (dock it in your Highlights) and don't stop showing up week after week to keep sharing. When you do, it creates real connections and fosters your relationships with your audience.
Product labels: Just like people want to know about the product (ingredients, facts, etc.), they also want to know who made it and why. Share your shortened version of your brand story on your product label. This can be your mission and why. Your labels alone help tell your story too with the use of your brand colors, logo, fonts, etc.
Packaging: You can have some fun with this one. Everything from your void fill to your stickers can reflect your brand and help to tell your story. Take it a step further and include a personalized note (maybe it has a photo of you and your team) in the package thanking them for their purchase and being a part of your community/family (stay true to yourself when crafting this).
---
Telling the story of your brand never has to end. As your business grows and changes, so does your story and you should never stop telling it. Ready to let your product labels tell your story? Order custom printed logo labels today.
---