Spruce Up Your Next Event Using Hershey's Kisses Stickers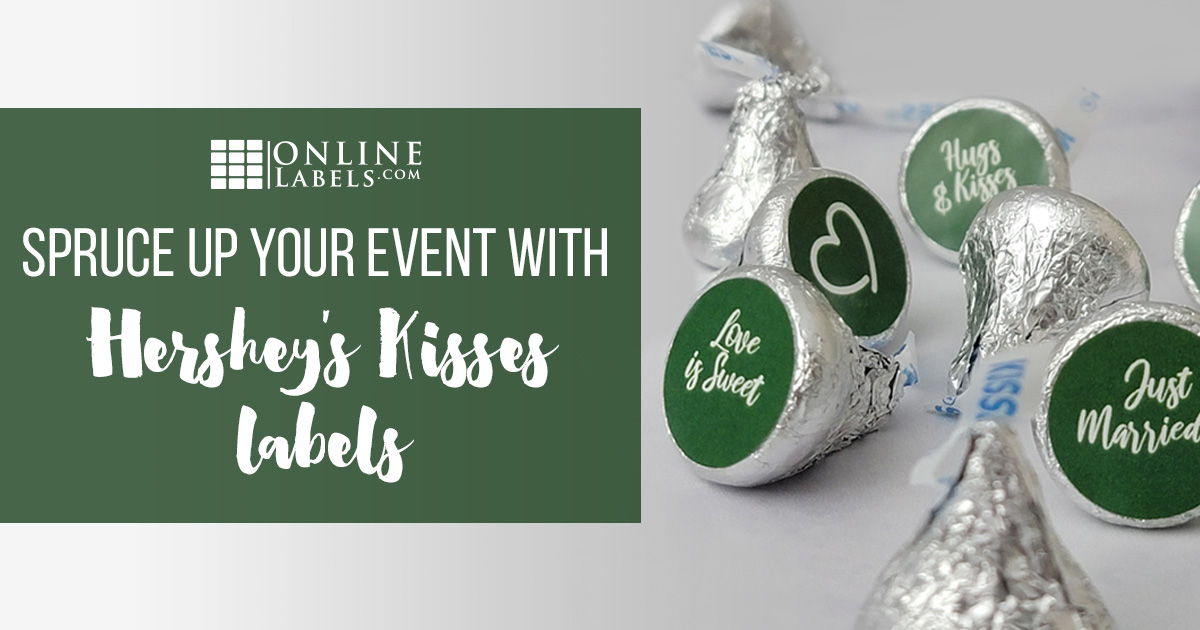 You don't have to hire an event planner to have a professional-looking affair, and you don't even have to spend an arm and a leg on decorations that'll wow your guests. You can easily achieve your desired look, and the secret is all in the details.
There are many thoughtful touches you can add to your event to spruce it up and impress your guests, but in this article we'll focus on using Hershey's Kisses labels.
These small, circular stickers fit perfectly on other small candies too— think Rolos, Lifesavers, Reese's Miniature Cups, and small lollipops. These candies are cheap and having them at your event creates an opportunity to add another thoughtful detail for guests or an easy way to tie your theme together.
Where To Put Them at Your Event
Get creative with placing these candies. Think about when you would want your guests to enjoy them.
If you want your guests to snack on them throughout the event, scatter them on tables or fill mason jars and place them on the tables. You can also scatter the candy on the food table where guests serve themselves, or similarly, the dessert table.
Another option is sending your guests home with the candies as party favors. Hand out baggies that include these candies and some other small favors, or have a designated table where guests create their own party favor bag. This would work great with a variety of small candy options so guests can pick and choose.
These 0.75 inch circle stickers are also the perfect size to stick on water bottle caps for an extra little detail.
Keep reading below to see our top design choices for different events.
What's the occasion?
Wedding
These stickers, coming in three different colors, are perfectly simple. They feature a mix of five different designs including a heart, and the phrases, "Just Married," "Hugs & Kisses," "Thank You," and "Love is Sweet."
This design works for most wedding themes and will fit in with almost any decorations. The simple black and white design with the soft script font makes for a beautifully elegant touch.
Birthday Party
Use these stickers at a 50th, 60th, or 70th birthday party. Who says you're too old to party? Add a stylish flare to small candies with these extravagant stickers.
Check out these small candy bar labels that complement these designs:
Baby Shower/Sprinkle or Gender Reveal
These "oh baby" stickers are the perfect addition to your baby shower, whether you're having a baby boy or girl. You can also use these at a gender reveal party to get guests extra excited for the big reveal.
If you want a more playful set of stickers for small candies, you'll love these adorable sets that include different baby icons.
Once again, these come in both pink and blue, so they're perfect for baby showers and sprinkles, as well as gender reveals.
Didn't go down the classic blue/ pink baby shower route? Check out these adorable gender-neutral bumble bee stickers that'll leave your guests as happy as can bee. These would go great with an animal theme or even just a springtime baby shower.
You need these "a little yummy for your tummy" stickers at your boy's baby shower. The design features a cute baby bear with a blue bowtie.
---
We hope you consider using Hershey's Kisses stickers at your next event. It's a simple, easy addition that is sure to leave your guests impressed by your attention to detail.
Need other event stickers? Check out our selection of pre-printed stickers for more professionally designed stickers.
---