8 Professional Ways To Package & Display Products Using Labels
There's one thing in common among a nationally known business, a small business in a downtown area, and an online Etsy shop: they all need product labels.
When creating products for a business, it isn't just the product itself that helps create a sale. It's also the branding and presentation of the product that will ultimately help increase repeat customers.
Through the use of labels, businesses have the opportunity to create unique product displays that are 100% custom and affordable.
In today's post, I'll be sharing several ways a business can incorporate product labels in packaging and displays. They'll work for in-store setups or online-based businesses.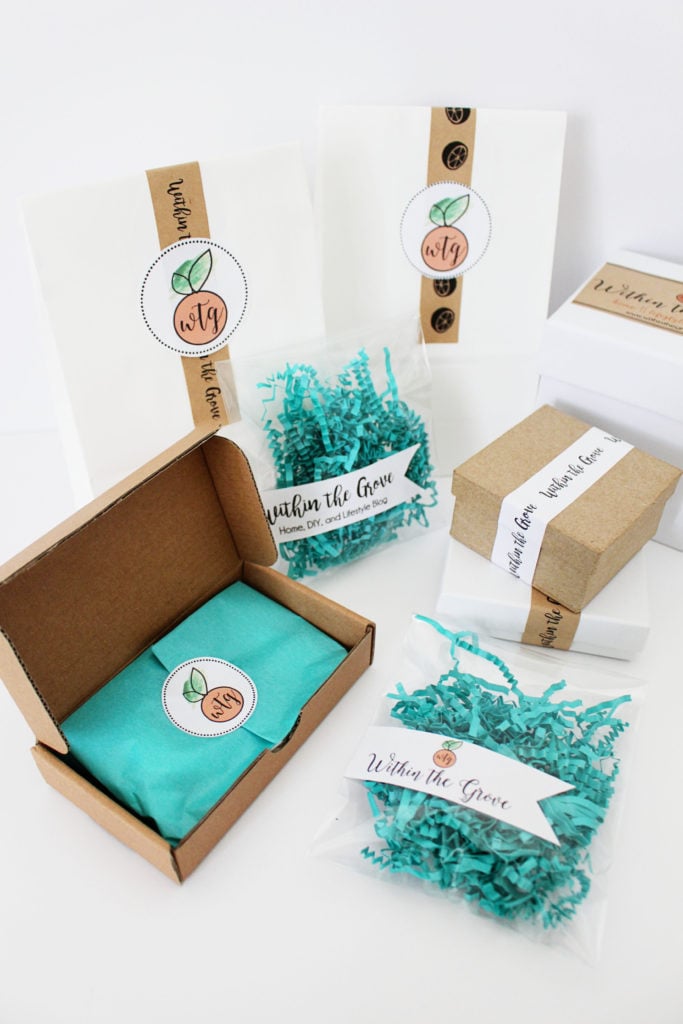 Bag Label Seals & Closures
When products have to be placed in a paper bag, add appeal to the bag by using your business' branding. This helps make it look professional and seal the bag for safe transport.
Two different labels were used to create this look. I made two versions of the rectangular label, one with a logo tiled across the length of the label and the other with the company brand mark. The second one is a round label with the business logo front and center.
Labels Used
Paper Sack Label Seals & Closures
Any extra detail that a business can place on a paper sack will instantly gain the attention of a customer.
For this particular paper sack, simply place your logo label on the front of the paper sack. I added a motivational quote to get the customer more excited for what's inside!
Create a label like that with your own quote, or with links to your social media.
Labels Used
Clear Bag Labels
Clear bags are an eye-catching and professional way to display products. They provide a fun way to show store products while also adding a store logo or the description of the product to the bag.
When a customer leaves the store with a beautifully packaged product, it will also give the business advertisement outside of the store or website.
Using a flag label is one of my favorite ways to do just that!
Labels Used
Large Box Labels
This product box shows is for a candle making kit. By adding a large label, it not only seals the box but also provides a way to display the store and product information.
If the product cannot be seen through the packaging, add a label that describes the contents. It's also the perfect way to package a product so that consumers can purchase an item and immediately give it as a gift.
Labels Used
Labels For Boxes With Removable Lids
Securing products within the box can be difficult if the box doesn't seal on its own. By using a rectangular label, a business can simply wrap it around the box to secure the lid.
In this example, I added the store name. Once again, if this product is given as a gift, the recipient will know where the gift came from. Great for spreading information about your business!
Labels Used
Labels For Assorted Box Shapes & Sizes
Add your store logo, product information, or a simple sentence to motivate the buyer. Different types of labels can help.
Add a circle label to the top of any box that displays a logo. Use a large label to place along the edge of a box that will display more of a business' branding and seal the box at the same time.
Labels Used
Inside Flap Box Labels
Keep the branding of a business going even on the inside of a box! When consumers open a product they just purchased, let them get excited all over again.
A label on the inside of the box lid is the perfect opportunity to say thank you for their purchase, to add the store logo, and to show the consumer where they can see more online or on social media.
By adding a little tissue and sealing the tissue with a label, your presentation will be top-notch. This is especially important when shipping an item to a customer.
Labels Used
---
The extra few seconds it takes to add labels to your products has huge benefits as a business owner (namely perceived value). Products will look more professional, labels will help complete the look, it's free advertising, and it continues the branding of your business.
To create business labels for your own products, shop OnlineLabels.com for the internet's largest selection of labels.
We recommend sending your design to us and ordering your labels custom printed on rolls. Roll labels are more cost effective at a higher label quantity, so by ordering a larger quantity, you save time in the future, streamlining your packaging and branding process.
When it's time to start designing, head on over to Maestro Label Designer. From there, you can upload your logo, add text, and include other content to give your products a distinguished look.
Need a little help with the designing process? Find more inspiration in our Customer Ideas gallery.
If you're looking for other labels for your small business, check out our Pre-Printed Business Labels.
---