7 Ways to Label Bath Bombs to Gain Exposure and Sales
You can find amazing bath bombs all over the internet and even within local shops. They have customers coming back time and time again. If you're looking to break into the market or improve your product labels & packaging, we have some labeling tips you don't want to miss!
Here are a few ways that you can label your bath bomb products with a design that allows them to stand out for a potential increase in sales and exposure.
Individual Boxes
When selling individual bath bombs, place each in a clear box. Attach a label to the top of the box that provides the product details and let the box do the rest! It's an eye-catching and gorgeous way to put your bath bombs on display during an event, pop-up shop, or at your store.
Supplies
Printable Tags
If boxes aren't a part of your branding, how about trying a clear bag? Close and seal the bag by tying a tag right above the bath bomb with the product information. This is a great way for customers to also keep the bath bomb details for future purchases by being able to remove the tag.
Supplies
Plastic Wrap Packaging
For simple packaging, use a clear wrap to seal your bath bombs and place a label on each one. The look of a label going all around the bath bomb will certainly catch the eye of customers. This also allows you to place multiple bath bombs in a bowl when displaying them on a table.
Supplies
Boxed Set
Some customers only buy a few at a time while others want as many as they can get their hands on. Provide a boxed set of bath bombs for those that like to go home with a variety. Wrap each bath bomb in tissue paper and place the name of the bath bomb on top using a label.
Excitement for this product will intensify as soon as the customer opens their box. It's almost like picking out your favorite chocolate but you don't have to look under the lid to see which one you picked.
Supplies
Bonus 1: Promote Re-Orders
For those customers that order a boxed set, make it easy for them to re-order through smart labeling. What exactly do I mean? Attach a label to the box underneath each bath bomb. This will help the customers remember which bath bombs they loved and inspire them to re-order.
No more forgetting favorite smells and wondering which one they picked after taking the labeled tissue off the bath bomb.
Supplies
Bonus 2: Free Printables
Like what you saw in the article? Download the free templates and use them for your own business!
Don't forget to customize the templates before putting them to use. We offer tips to make them your own in our article, Personalizing Pre-Designed Templates.
View all bath bomb label templates
Bonus 3: Side-by-Sides
Decide what bath bomb packaging option is right for you by looking through our photos and jotting down your thoughts!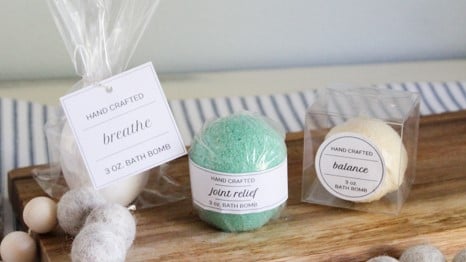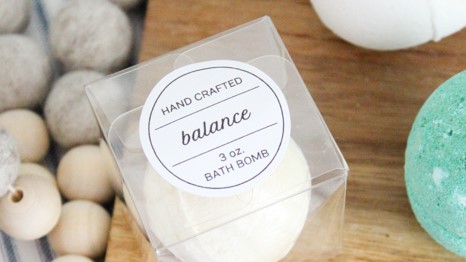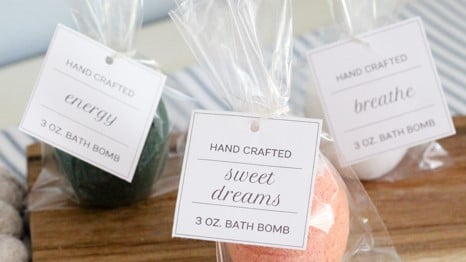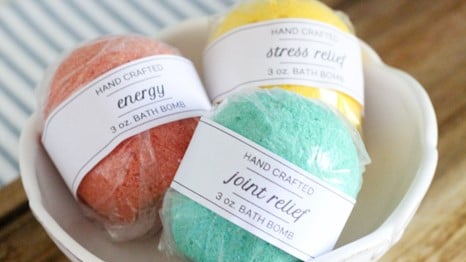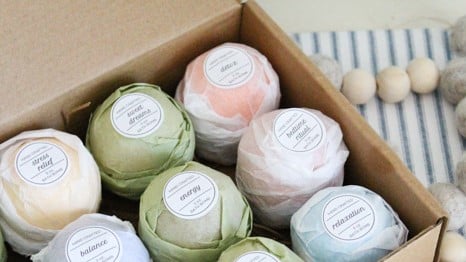 ---
Although these ideas are specifically showcasing bath bomb labels, challenge yourself to think of how you can apply these packaging ideas for your own product.
For more small business advice specific to the beauty industry, check out our article on starting a skincare brand.
---