How to Write a Job Listing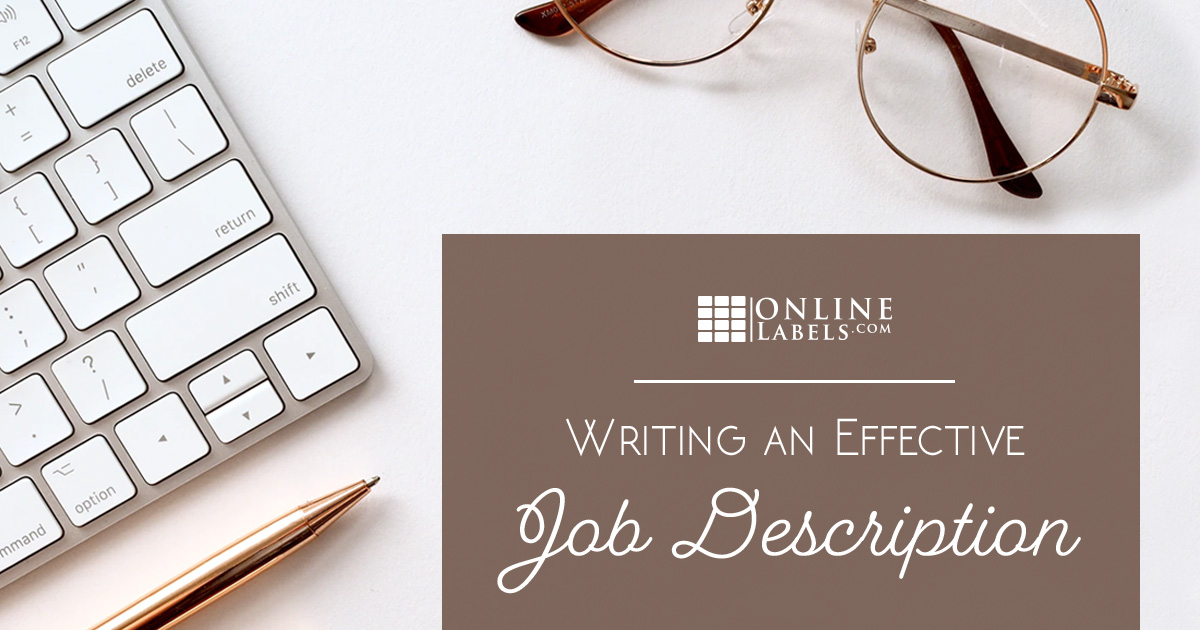 Crafting a compelling job description is essential for attracting the most qualified candidates. If you're hiring your very first employee, start here: When to Hire Your First Employee.
The key to writing an effective job description is striking the perfect balance between providing enough detail so candidates understand the role and your company while keeping your description concise and clear.
What is a job description?
A job description summarizes the responsibilities, activities, qualifications, and skills for an open position. It should include important company details such as company mission, culture, and an overview of benefits it provides to employees. It may also specify the department of the company, to whom the position reports, and salary range.
An effective job description will provide enough detail for candidates to determine if they're qualified for the position and get a sense of the company culture. Let's break down the sections so you can create a concise yet compelling description.
Job Title
Get specific. Clear job titles are more effective than general ones, so be specific using key phrases that accurately describe the role. Think about how you search on Google —the more detailed your words, the closer you get to the answer you're looking for.
Pro tip: avoid internal lingo that may confuse the job seeker. Stick to standard titles and experience levels and avoid fluffy ones (example "Senior Marketing Manager" rather than "VI Brand Experience Cultivator"). The clearer your need is, the better chance you'll find the right fit.
Job Summary
Start strong. You want to grab attention right away with clear expectations for the position and an overview of your company. What makes your company unique? What makes you a great employer to work for? Your job description is an introduction to your company and helps a candidate determine if you're the right fit for them just as much as you want to find the right fit for your company.
Pro tip: Include an exact job location or clearly state if working remotely is an option. This ties back to thinking in terms of how you Google something (keywords) and helps you optimize your job posting so it appears higher in search results for those it's most applicable to.
Responsibilities
Outline expectations. These would be core responsibilities and day-to-day activities of the position. Emphasize any duties that may be unique to your organization and clearly state the skills needed to perform them. For example, if you're hiring a Social Media Manager role, the position may require photography skills or planning giveaway events. It's important you include these details to ensure candidates understand the requirements and can determine if they're qualified.
Pro tip: Specify how the position fits into the organization. State who the role reports to and how the person will function within your company to help candidates see how the role impacts the business big-picture.
Qualifications
Include hard and soft skills. Qualifications should include key background information (also known as hard skills) such as education, previous job experience, and any technical skills or certifications required. You should also include soft skills like communication, time management, problem-solving, and personality traits that you feel are important for a successful hire.
Pro tip: Keep your list concise. While you may feel listing every requirement for an ideal hire will help narrow down the search, the opposite is actually true. Including too many qualifications is more likely to dissuade potential candidates. A good balance is to identify the must-haves vs nice-to-have skills and qualifications to encourage a more diverse set of applicants.
Benefits
Cover top perks and benefits. Candidates are looking for their best fit or opportunity, so think in terms of "what's in it for them?" Some examples could be medical, dental and vision coverage, flexible work hours, bonuses, paid time off, the list goes on.
Pro tip: Include a salary range. Quality applicants look for opportunities that meet their salary needs which aren't always easy to find. This gives you a great opportunity to stand out from other employers and help attract best-fit candidates.
Job Listing Examples
Now that we've broken down the framework of a job description, let's piece it back together. Here are three fleshed-out examples to help you finalize the process when crafting your own. Happy candidate hunting!
Sample Administrative Manager
Our Administrative Manager position is responsible for the administrative, operational, and financial support of the organization. The duties of this role include long-term strategic planning, overseeing daily operations, managing and delegating tasks to staff, and managing personnel for our team.
Responsibilities
The primary duty of an Administrative Manager is to ensure support functions within the organization are effective and efficient. Some of the day-to-day duties and responsibilities may include:
Hiring, training, and managing staff
Delegating tasks and monitoring daily operations
Acting as a liaison between employees and management
Developing and promoting policies for employees
Managing staff and workflows
Negotiating contracts and agreements with vendors
Qualifications
The skills and qualifications required for an Administrative Manager include:
Bachelor's degree
Experience evaluating, onboarding, training, supervising, and motivating employees
Strong communication, leadership, and time management skills
Proficiency in relevant software programs
Critical thinking, interpersonal, and problem-solving skills
Strong analytical, organizational, and multitasking abilities
At least two years of experience in an administrative position
Extra: Facility Management Professional (FMP) certification or Certified Facility Manager (CFM) certification.
Benefits
This is a full-time position with the following benefits:
Medical, dental, and vision
401k with company matching
Paid vacation and sick time
Option to work remotely
Business casual work environment
Salary range: $60,000 - $70,000
Sample Analyst
We're looking for a skilled Analyst to handle data operations and report on data interpretation. The duties of this role include working closely with management, who use the reported data to make strategic changes and improvements in the company.
Responsibilities
The primary duty of an Analyst is checking trends and patterns to determine the direction the business needs to take to maximize profits or run efficiently. Some of the day-to-day duties and responsibilities may include:
Gathering and analyzing data
Interpreting gathered data
Submitting reports to the relevant department heads and management
Finding patterns and trends in the analyzed data
Helping the management and other teams draw business goals and needs
Establishing new data gathering and analysis techniques within the organization
Formulating procedural manuals for all departments
Contribute to designing technical solutions for IT and business systems
Qualifications
The skills and qualifications required for an Analyst include:
At least four years' experience as an Analyst in an established organization
5+ years' experience in data mining
Strong analytical skills
Proficiency in SQL and no-SQL
Proficiency in mathematics with the skill to translate complex mathematical information into understandable reports
Strong oral and written communication skills
Report writing and presentation skills
Extra: Professional in Business Analysis (PBA) certification, Agile Analysis Certification (AAC), and Certified Business Analysis Professional (CBAP)
Benefits
This is a full-time position with the following benefits:
Medical, dental, and vision
401k with company matching
Paid vacation and sick time
Option to work remotely
Quarterly 'Bring your pet to the office week'
Salary range: $70,000 - $80,000
Candidates with higher qualifications may qualify for a bonus subject to the company's terms and conditions
Sample Brand Strategist
We are looking for a skilled and solutions-oriented Brand Strategist with a strong analytical mind to craft compelling brand stories and strategies. The duties of this role include conducting extensive research, analyzing findings, making recommendations, presenting to clients, and briefing creatives.
Responsibilities
The primary duty of a Brand Strategist is strategic thinking to uncover consumer insights that inform campaigns, asset creation, and brand storytelling. Some of the day-to-day duties and responsibilities may include:
Conducting extensive primary and secondary research
Staying up-to-date on consumer research and market trends
Analyzing research, data, and trends
Creating competitive reviews and situational analyses
Identifying insights, challenges, and opportunities
Developing brand architecture, positioning, and strategy
Writing compelling brand stories
Meeting and presenting to clients
Briefing and collaborating with creative teams
Leading ideation and brainstorming sessions
Qualifications
The skills and qualifications required for a Brand Strategist include:
Degree in business, marketing, branding, communication, or related field
Previous experience as a brand strategist or similar role
Excellent communication skills, both verbal and written
Experience leading client meetings
Analytical and problem-solving mindset
Creative and compelling storyteller
Strong research skills
Strategic thinker
Excellent presentation skills
Benefits
This is a full-time position with the following benefits:
Medical, dental, and vision
401k with company matching
Paid vacation and sick time
Option to work remotely
Monthly catered team lunches
Salary range: $50,000 - $60,000
---
You can check out all of our small business articles for more entrepreneurial tips. If you have questions for our team on choosing the right label for your business, for your project, you can reach out at 1-888-575-2235 or send us an email.
---