Easy Ways To Display Your Product Pricing in Stores and Markets
Here's a fact: Customers are more likely to make a purchase if they're aware of its cost, according to Harvard Business Review. So when displaying your products at a market or shop, don't leave your customers guessing about the price — use price tag labels!
Many people (myself included) don't want to have to ask for a price when browsing around — especially since it can create a sense of pressure when deciding whether or not it's a price we're willing to pay, and make the interaction awkward if we decide not to make the purchase. That's why pricing your products clearly can be essential to making a sale.
Luckily, there is no one way to price your products. There are so many creative ways to display your product prices in stores and markets – the key is to choose one that fits your style and brand well. And how you choose to price your items will largely depend on the type of product and variety you offer. Here are some of our favorite ways to consider.
Display Prices by Product Style
If you have a wide variety of products that can be organized into several categories, this pricing method could work for you.
Say you're selling handmade bath products at a craft fair. You can place separate price displays for hand soaps, body scrubs, loofah, etc. on the table along with each item type. This option is cost effective and easy for your customers to identify when shopping at your booth or store.
You can use picture frames, hanging chalkboards, wooden signs, self-standing cardboards and even table tent cards to display the prices in each section, and it doesn't have to be expensive. A quick trip to the dollar store can get you the materials you need to make something super presentable. Add in a little brand personality using your brand colors and typography to make your display look more professional.
We created this trendy table tent template for this method! The text is customizable to suit your needs.
Use One Big Sign for all Items
If you sell only a handful of products – say, less than 10 – you may be better off displaying your prices on one big sign. Not only is this more environmentally friendly, but it's one-step-and-done to set up in your booth. Not to mention it saves you the enormous amount of time that it'd take to price each item individually.
Plus, with some creative design, the sign can add extra character to your booth or shop!
Price Your Products Individually
While it's a little more work, pricing your products individually can be beneficial if you offer a wide variety of items at multiple price points. It makes it easier for your customers to identify the price quickly without having to reference a board filled with prices for tens of products.
Depending on your product(s) and overall look you're hoping to achieve, you can choose to use hang tags or small labels to display the price. If you want the price to be a little more subtle, you can simply incorporate the price into your label design – whether it's for bath & body products, food & drink goods, etc. If you decide to go this route, skip the hassle of printing and let us do it for you with custom labels!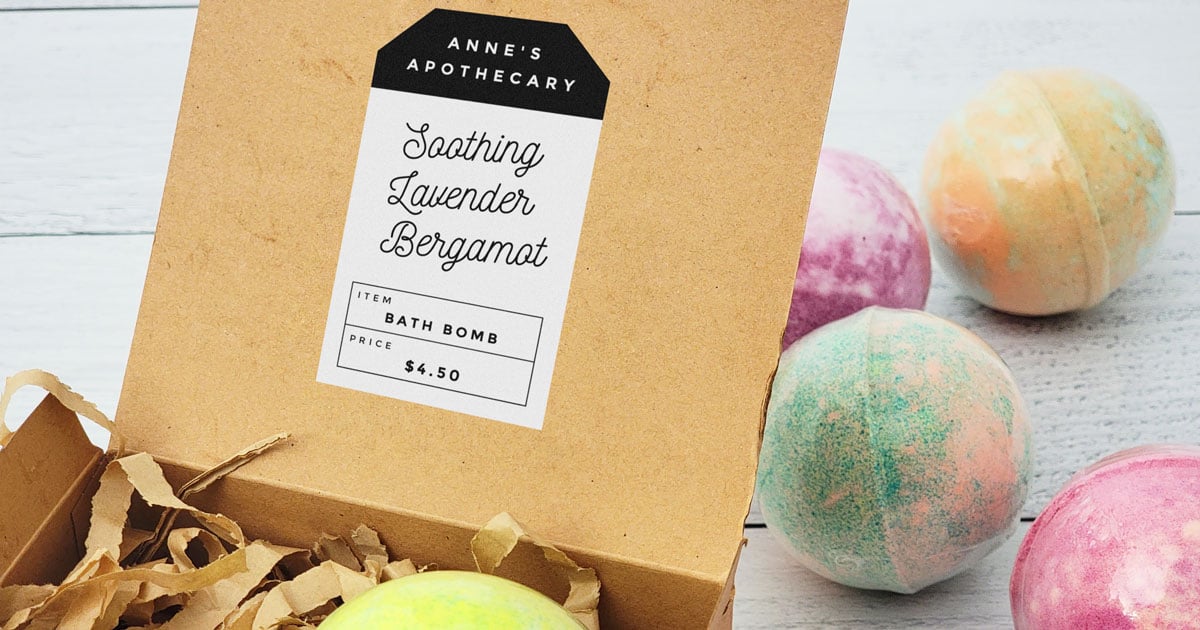 Think Outside the Box
If you're super crafty and want to go the extra mile, price your products using materials beyond labels!
Create your own tags using wooden materials, shrink plastic, chalkboard stickers and more. The possibilities are literally endless!
Here are some ideas our Online Labels creative team whipped up!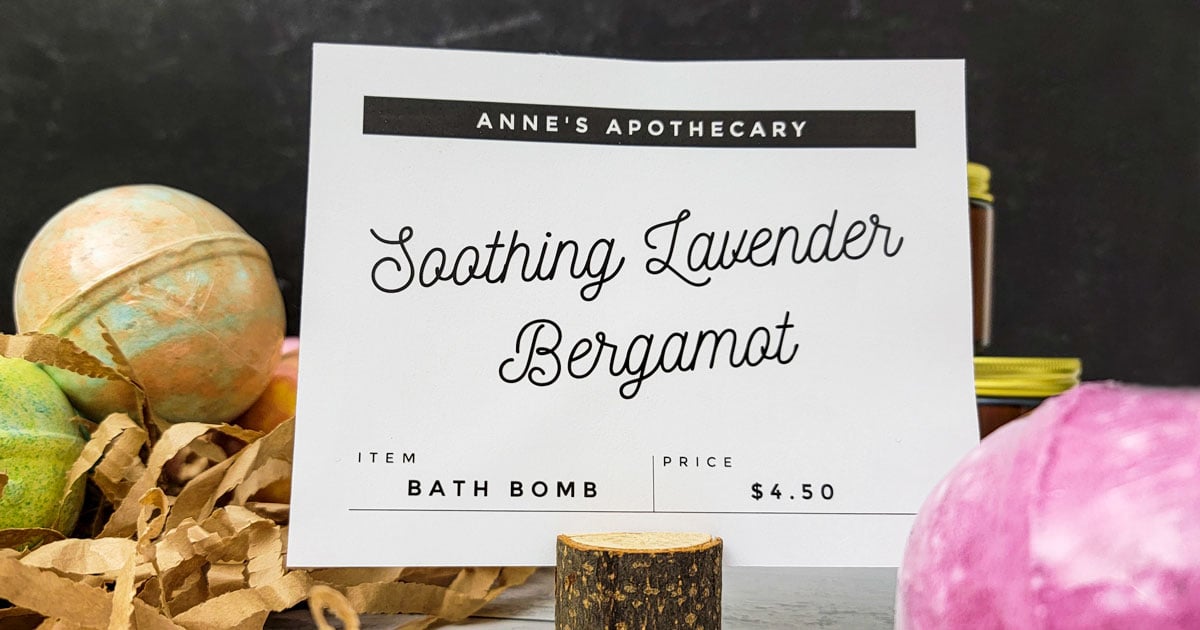 Start by designing your own custom price labels using the OnlineLabels.com's Maestro Label Designer® (or use our customizable pre-designed template used in our example!). Once printed, stick them onto a base of your choice. In this example, we placed the label on cardstock before inserting it into a wooden place card stand. It's relatively easy to make and gives your booth a little bit of extra sophistication!
There's no correct way to do price tags or price signage — do whatever works for your business! We already mentioned using a large sign to display prices for a handful of products, but doing a smaller tabletop version of this can be just as effective!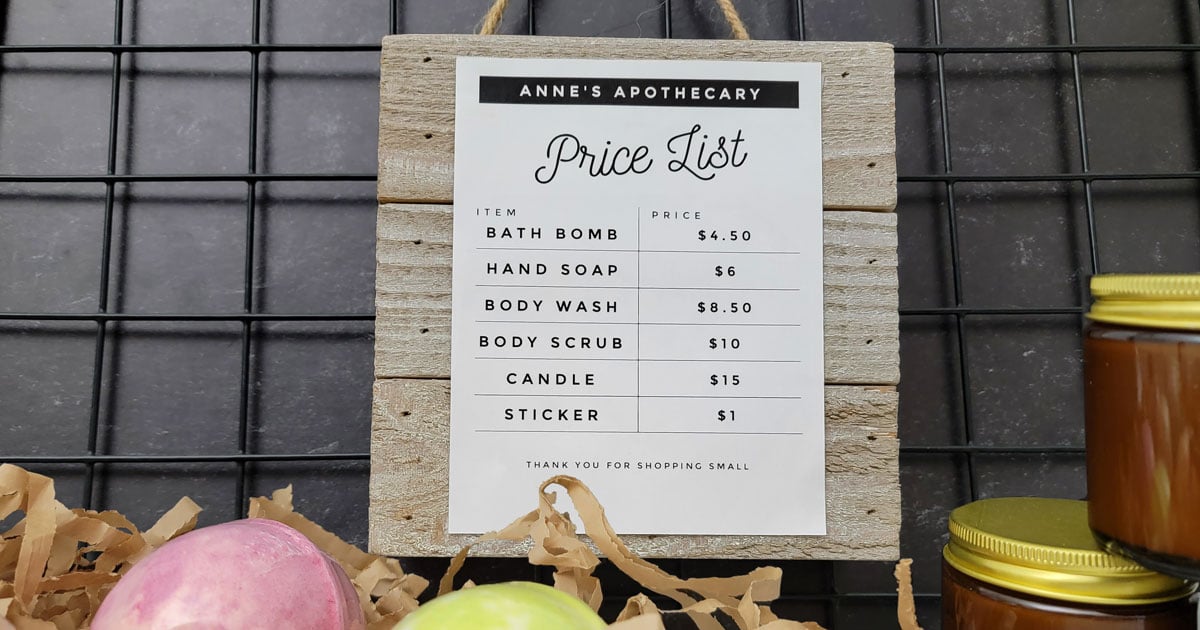 If you want your price signage to include more than just the name of the item and its price, add a visual aid showing the different styles or sizes of items you offer along with their price. This option works really well if you sell a line of the same style of product — like (different sizes of) candles, (different types of) soaps, or (different styles of) jewelry.
Design your signage on brand — using your brand colors and typography — to make your business look even more professional! For this method, you could even use our pre-designed template shown above as a base where you can add in the visual aids and change the colors to match your brand.
While going the "outside the box" route may put a bit of a dent in your profit margin, the customization of signage will definitely make your booth and products stand out which can ultimately result in more sales.
---
Use price tags and displays as an opportunity to showcase your creativity. It's one more way you can make your products more attractive and your booth more appealing.
Not sure if you've priced your products correctly? Use our free Product Pricing & Profit Margin Calculator to help you find a fair price for your product to turn your entrepreneurial idea into a profitable small business! Learn more on how to price your products.
Browse our price tag labels for all your product pricing needs, including small circle and rectangle labels, cardstock tags, and barball labels.
Do you plan on placing price tag stickers on the products themselves? Consider using custom removable labels on rolls! These easy-to-remove labels will make customers happy, while saving you the headache of printing labels yourself.
---