Answering Your Questions About our Sticker Paper & Silhouette Cutting Machines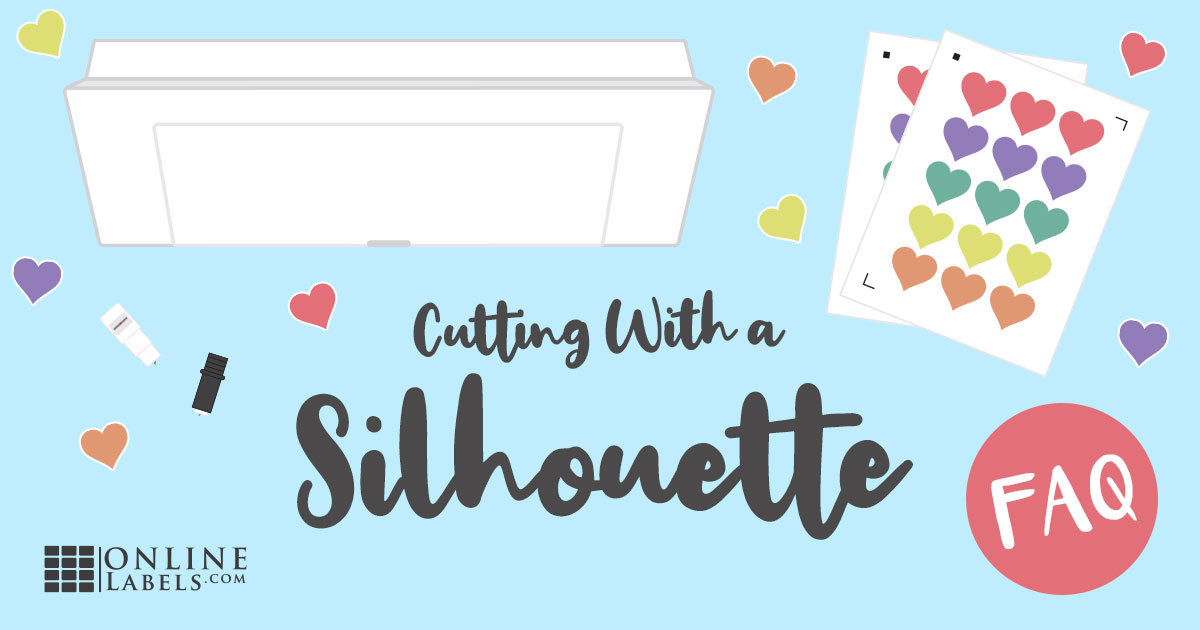 Silhouette cutting machines can be very valuable tools for a lot of crafters and small business owners. Using our sticker paper, you can put your own custom sticker designs and even make product labels.
Here are some of the questions we get asked the most when it comes to using Silhouette machines with our sticker paper.
I keep getting a registration error with glossy materials. How do I solve this?
Getting a registration error when using glossy sticker paper is a common issue when you use a Silhouette Cameo® machine.
The sensors of the Silhouette machine have trouble reading the registration marks of the sticker paper when the surface of the paper is reflected.
One way to get around this is to tape over the registration marks with clear matte tape. This should reduce the shininess over the registration marks and make it easier for the Silhouette to read.
What do I do if my auto blade isn't cutting?
This issue is most common with the Silhouette Cameo® 4, but the tips can be applied to other Silhouette cutting machines, as well.
Check that your blade is loaded correctly. It should sit flush in carriage one.
Check that the cover on the auto blade is screwed on tightly.
If those steps don't work, look at your auto blade while it's tapping before it starts cutting.
The red line on the auto blade should reset to zero and move forward with each tap. If it's not doing that, that means that the blade depth is not changing. To fix this, try these steps:
First, remove the cap to your auto blade and make sure there is no debris in the blade cap.
Then turn off your machine and move the auto blade carriage back and forth three times. Turn your machine back on and it will reset your auto blade carriage position.
Finally, make sure there is no firmware update needed. You can do this by making sure you have the most recent version of Silhouette Studio® downloaded. If you do, plug in your machine and you will be notified if there are any firmware updates available in the Send panel.
If none of these fixes work, you can override the auto blade and use it as a manual blade — also known as a ratchet blade. Here's how:
Go to the Send panel in Silhouette Studio® and find the default cut settings.
Remove the auto blade and change the blade depth on it, moving the red line to the Default setting from your Send panel.
Put the auto blade back and go back into the Send panel of Silhouette Studio®. Change the action to Cut and the tool to Ratchet Blade (or one millimeter manual blade), depending on your version of Silhouette Studio®.
When you send to Cut, it'll override the auto blade and match the settings you set in Silhouette Studio®.
What do I do if your recommended cut settings are not working with my sticker paper?
You may have seen our article where we list out all of our recommended cuts settings for our sticker paper materials. It should be noted that our settings are meant to be used as a baseline to get users in the range of which settings should work. They may need to be slightly adjusted.
This can be due to a number of factors, including wear and tear on the blade or even the cutting mat being used. If our provided cut settings don't work for you, here are some steps you can use to adjust:
If your cuts settings are only slightly off and you need to adjust your settings by small increments, adjust the Force setting.
If you need to adjust your settings by larger increments, adjust the Blade setting.
If you're trying to do a full cut on a thicker material, you may need to increase the number of Passes to achieve a clean cut. This number tells the Silhouette how many times it needs to cut the design.
You can also test your setting using the Test Cut feature in Silhouette Studio®.
How do I prevent my sheets or stickers from tearing when I peel them off of the mat?
This is usually a common problem with new cutting mats where the adhesive is too strong to peel off your sticker paper. It'll become less sticky over time, but you can help speed up the process by dabbing it with a clean cotton material, like a t-shirt or a pillowcase. Silhouette also sells a light tack mat that you can use.
When rubbing your sticker paper from the mat, try pulling the mat away from your sticker paper instead of pulling your sticker paper from the mat. This should help with tearing and will also prevent your sticker paper from curling after removing it from the mat.
You can also use the Silhouette Spatula or something similar to help remove your sticker paper from the mat.
---
See all of the our sticker paper products for your next Silhouette cutting machine project.
---