Product Categories:
Bottles and Containers
Packaging Material
Printer Supplies
Label Coating Sprays
Plastic Bucket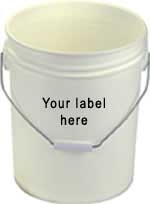 Plastic buckets, also known as pails, are great for storage. You can find buckets in a variety of colors ranging from white, black, blue, green, yellow and more. Most buckets are made of a high density polyethylene, which makes them durable enough for industrial applications. Visit our sponsored partner below, Specialty Bottle, for more information on plastic buckets.
Plastic buckets are a great addition to the home where industrial strength storage is needed. They are easily packed away to save space and have a strong shell to protect its contents. Whatever your use for a plastic bucket, be sure to visit our sponsored advertisement below for any plastic bucket needs.