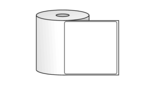 has been added to your cart.
-
Product RL951 - 4" x 4" Roll Labels - 1" Core / 4" Outer Diameter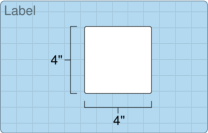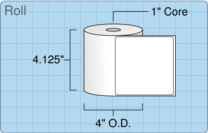 Quick Specs for RL951
Label Size:

4" x 4"

Core Diameter:

1"

Outer Diameter:

4"

Labels per roll:

370
2:

Select a quantity:
In Stock - Ships the same day if placed before 5pm ET
In Production - Normally ships
Customer Testimonials
"Online Labels have met my every need with high quality labels and fast, accurate service. With a huge selection of inventory anything I could imagine can happen. Well done, Online Labels!"

- Sam (August 02, 2013)
"Our business has been using Online labels since 2009. Their excellent approach to service is not only timely, but friendly. We love the design tools available."

- Chics-N-Dip, LLC (July 29, 2013)
"I love Online Labels products. They have everything I need for my business and the products are excellent! I saved a lot of money by printing custom labels using their products. Thank you Online Labels!"

- Sylviana (March 27, 2013)
"Great customer service on the phone, easy ordering on website, lightning fast delivery and awesome quality. I love my labels and OnlineLabels.com will be my go to for all my labeling needs. So glad I found you guys!!!!!!"

- Renee (March 21, 2013)
"I never write reviews on websites but this one is worth it. It is very hard to find a company that has such a wide variety of label sizes with good prices. Also, delivery is fast and customer service answers your phone calls immediately. Thanks!"

- Maria (March 15, 2013)
"I have had the pleasure of using Online Labels about 3 times now in the last month. Every single order is fast, excellent quality, and packed in clam shells for easy transport or storage. We use thousands of labels for our products each year, so its vital that we have a quality company that we can rely on- On-line Labels is just that company. They had me at "hello" with their excellent customer service; that the quality, pricing, & delivery were just as good- sealed the deal. I would recommend On-line Labels to EVERY one for standard and custom labels- they are the BEST."

- Gail (March 04, 2013)
"I absolutely love Onlinelabels.com's labels. I have used them more and more as my business grows. I have recently been able to switch from matte to waterproof which makes sense since I make natural made hygenic cosmetics! They are ... to say the least ... AWESOME! Shipping is always fast, processing is quick. The whole process in general is a pleasure! I love their label designing area. I just cant get enough! my creativity just flows! Thanks again!"

- Dezarae (February 27, 2013)
"Great company - I order from them almost weekly and I have never been told a product is not in stock. Delivery is always fast and always the labels comes in perfect condition. Also, their website makes it very easy to find what you are looking for!! If you need labels order from Online Labels, they are the best."

- Hats Off to Online Labels (February 19, 2013)
"I literally ordered 2 days ago. My labels were delivered today by 5 pm. I was not expecting them to arrive for at least 7 business days. I am very pleased and will be a customer for life. THANK YOU and for the speedy service, amazing product and versatility of the labels available! Much appreciated!"

- Candice (February 14, 2013)
"I am a new customer of Online Labels, but after seeing the vast selection and the actual quality of the labels, I came back for more."

- Kari (February 07, 2013)
"I have been buying labels from Online Labels for years. As a business owner I always compare pricing. I have found this supplier to be fast, accurate and high quality with the best prices. I no longer shop around for labels. I always buy here."

- MelloDe (February 04, 2013)
"I've been satisfied with service from your company. Always get my products early & on time when i run out. Will keep ording products from you. Thank you"

- Harry (February 04, 2013)
"We love your labels. They have such great products for the best prices you can find!!!"

- Donna (February 01, 2013)
"I just discovered your site and thank goodness. You have every size I'm looking for at phenomenal prices. I'm so glad I found you!"

- Sarah (October 25, 2012)
"Normally, I do not make comments or do testimonials, however, I ordered true red star labels. I was absolutely amazed at how easy it was to design and print these labels. Not only did they turn out perfect, I did it in a very short time. I am not a computer whiz, but these were so easy to do and turned out so sharp and clean. Glad I found your website and I will definitely be a repeat customer!"

- Rose Mary (June 29, 2012)
| | | | |
| --- | --- | --- | --- |
| Dimensions: | 4" x 4" | Gap: | 1/8" |
| Corner Radius: | 1/8" | Carrier Width: | 4-1/8" |
| Core Diameter: | 1" | Wind: | Face Out |
| Outer Diameter: | 4" | Perforations: | Yes (Between labels) |
| Labels per Roll: | 370 | | |
Please note: these labels are not compatible with Dymo™ and Brother™ printers.