How are you supposed to figure out the nutritional facts? How do the large food companies do it? What are the available options for small businesses like yours? Great questions! Many of our customers are in the same boat and simply need some guidance on where to start. To create nutritional facts, the ingredients food manufacturers use in their products must be analyzed, which can be done in a couple of different ways.
Send your product to a lab for a thorough analysis.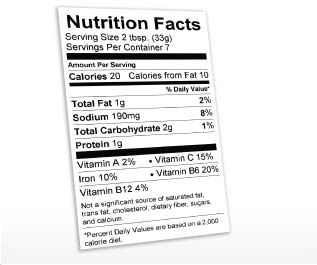 Foods such as fried, coated or salted items have nutrition facts that can only be determined by a lab analysis because of their complexity. Since foods being analyzed in an official lab must follow strict procedures according to the FDA, the process can be both time consuming and expensive.
Examples of Product Labs:
Nutritional and food analysis companies such as theses use their extensive database and food science experience to calculate accurate nutrition facts for consumers. The nutritional information they create is based on the nutrition facts of each contributing ingredient and the percentage used within your formula. These nutrition facts are tallied based on your processing procedures, allowing them to create an accurate assessment for the nutrition facts of your finished product. If your recipe information is not available, they will generally use a more thorough label analysis.
Use a Nutritional Database
For smaller businesses and individual use, sites like the USDA National Nutrient Database for Standard Reference are often used to determine nutrition facts because the information is free and readily available. Here you can find nutrition information on over 8,000 foods and ingredients and it is searchable by food item, group or description. This database contains complete analysis on a wide variety of items, although some items are still unable to be analyzed this way. Additionally, there a few other sites that you may enter in a particular ingredient and serving size to find out specific nutrition facts.
Examples of Nutritional Database Services:
Does the FDA have to approve the panels?
The next biggest question most people have when it comes to food labeling and nutrition facts is does the FDA have to approve the panels? The easy answer is no, the FDA does not regulate nutrition fact panels on a proactive basis. Instead, the FDA provides information on standards they set forth, and recommends these nutrition fact guidelines are followed. Should the FDA find a business or individual is incorrectly or improperly reporting nutritional facts on their food labels, they will issue a product recall. This is often referred to as a 'Spot Check' by the FDA. In order to avoid the frustrating, expensive, not to mention embarrassing process of having your food items recalled, it is critical to accurately report and display your nutritional facts. You can find information related to food labeling guidelines and compliance directly from the FDA, by clicking here.
If you're still uncertain or don't have the time to do it yourself, you may want to consider hiring an FDA approved label consultant to ensure you're providing the most accurate information on your food products labels. An FDA label consultant will support your goal towards having an FDA compliant label because their job is to be the expert on what can and cannot be printed on a product label. Every different kind of product is labeled under a different set of regulations, so if you have a complex product line, a label consultant can take help you understand how to comply with various rules.
Examples of Food Label Consultants:
Create A Nutrition Label For Your Product
Now that you know what options are out there to create your nutrition facts or nutritional information, how will you create the nutrition labels for your packaging? That's where we come in! Onlinelabels.com offers a completely free nutrition label generator that allows you to choose from three different nutrition label types including basic, vertical or horizontal size configurations. After selecting a nutrition label configuration, you simply enter in the nutrition facts to the pre-existing fields and a nutrition label is generated. At this point, you have the option to download their nutrition label in .jpg format or save the design directly on OnlineLabels.com. From here you can choose the label size and material that fits your packaging needs and print out the nutrition panel right from your home or office printer.
Creating nutritional facts for your products is an interesting and exciting process. We hope the information within this article gives you the knowledge to get started creating your nutritional information today!