Printer Alignment Guide (Old)
Want the perfect print every time? This guide is designed to help you eliminate misaligned prints. Use the tools below to get better aligned labels without the headache.
Design with Printer Movement in Mind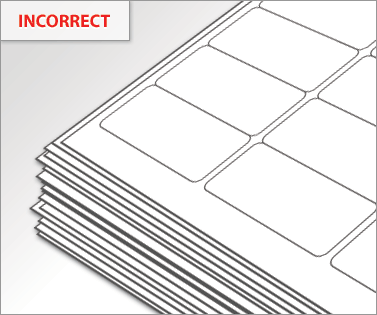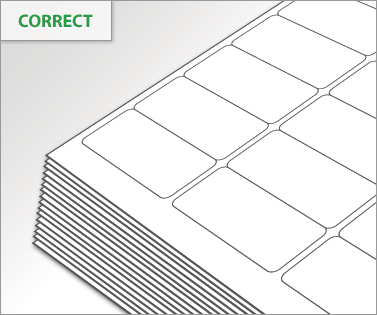 The first thing to note about most home printers is that the sheets move during printing. These shifts inside the printer can cause your designs to print over the edge of your labels. To work around this issue, stack your sheets neatly and evenly in the printer tray. You should also try to keep text and images at least 1/8" away from the edge of your label.
Give your Designs Bleed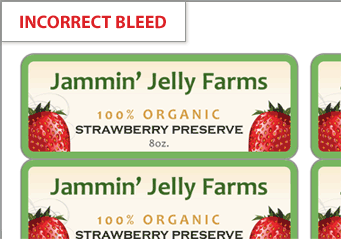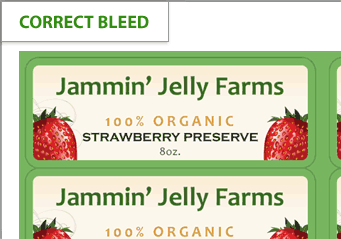 If you're a frequent labeler, chances are you've heard the term "bleed" tossed around. What exactly is it? Adding a bleed to your art means that you are adding a border to your design that extends over the edge of your label. This is another way to adjust for paper-shifting – with a bleed, you're less likely to be left with unprinted edges when/if the paper shifts.
This is primarily important if you have a border, background color, or image that goes to the edge of your label. If your label allows for it, add at least an extra 1/8" beyond the border. Learn how to add bleed to your designs in Maestro Label Designer.
Account for Non-Printable Margins
Most common household printers cannot print all the way to the edge of a sheet. To find out what your non-printable margins are, use our non-printable margin tool. You'll be able to see your printer's non-printable margin and adjust your label design accordingly. While determining your printer's capabilities, you should also make sure you're printing at 100% zoom and that page scaling turned off (we go into more detail about this in the next section).
Set Up Proper Page Scaling
Some PDF viewers may scale your design to fit a normal piece of paper, not your label. To avoid this, find your program below or click on the links here: Adobe Reader | Firefox | Safari. Follow the instructions in each section for those specific settings.
If you're using Maestro Label Designer, you can choose to download your design and open it in a PDF viewer or view it in your browser. We recommend hitting Download & Print, then using Adobe Reader to view it. Learn how to set Adobe Reader as your default PDF viewer.
---
If you still need help aligning your labels, our customer service team can help. Call us at 1-888-575-2235 for one-on-one troubleshooting. You can also visit our related articles on the topic, including Troubleshooting Label Printing and Printing Tips.