What is an EAN-13 Barcode?
Very similar to UPCs, EAN-13 Barcodes (originally "European Article Number", but now renamed "International Article Number") are barcodes that appear on many products internationally. There are two classes of EAN Barcodes: the more common 13-digit code, and the smaller 8-digit code. For the purposes of this guide, we will be describing EAN-13 Barcodes, which contain 13-digits.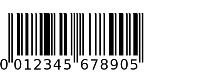 How to get an EAN-13 Barcode
To get any kind of EAN Barcode, you must first obtain a unique GS1 Company Prefix by joining GS1 and paying an initial fee of $750 and then an annual maintenance fee of at least $150, depending on the number of unique products you sell. As stated below, however, you do not need to pay fees with GS1 for barcodes used for internal purposes. Here are GS1's ten steps to barcode implementation (you will be redirected to GS1's website):
1
2
3
Select a Bar Code Printing Method
4
Select a "Primary" Scanning Environment
5
6
7
8
9
10
Do you need to register with GS1 for internal use like inventory or non-retail uses?
You do not need to join or pay fees with GS1 / GS1-US for internal use within your organization, however, there are certain GS1 prefixes assigned specifically for internal use.