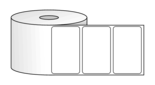 has been added to your Cart.
-
Product RL934 - 2.5" x 1.5" Roll Labels - 1" Core / 4" Outer Diameter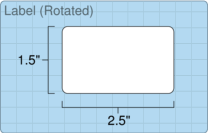 Quick Specs for RL934
Label Size:

2.5" x 1.5"

Core Diameter:

1"

Outer Diameter:

4"

Labels per roll:

950
2:

Select a quantity:
In Stock - Ships the same day if placed before 5pm ET
In Production - Normally ships
Customer Testimonials
"Online labels has been supplying my labels for over 5 years now. Top Quality labels and customer service that is in the Top 1%. Great Company!! Keep up the great work!!"

- Bill (May 12, 2014)
"I recently got a custom label made. I drew the label shape as accurately as I could as I had no drawing software at that stage. Jason and his colleagues were kind enough to reproduce it on their software. The production of it was lightning fast. Online Labels Customer service has been exceptional on all my orders."

- Kim (April 05, 2014)
"One of the BEST there is. This company bends over backwards to make sure their customers are treated right. It is a very RARE treat these days and to also have a very Great product to boot!! I use their product every day and with the Maestro Design Tool, it makes my life easy. I highly recommend their product and service to one and all!! "

- Bill (March 26, 2014)
"I am always impressed with how quickly I receive my orders from Online Labels. I also find the Maestro Design Tool invaluable for developing new labels on the fly. It's great to do business with a company who understands their customers needs. I will continue to use and recommend them!"

- Elizabeth (March 16, 2014)
"I love my labels....and the price! The quality is fantastic....I can slip them right into my Brother laser printer or my HP color. I don't have to pay printer set up fees and deal with minimum order requirements, etc. I can add my company logo, images and text right into each label. And the label selection is endless. Using the online label program does the rest! I love, love, love Online Labels! Shipping and customer service are unsurpassed. Thank you for making my job so easy!!"

- Dodi (March 14, 2014)
"For the past few months I've been using Online Labels for my skin care business and they work PERFECT. The shipping is always fast and orders are always correct. I really have enjoyed my experience with Online Labels!"

- Megan (February 21, 2014)
"This company is the BEST EVER!!!!! I couldn't ask for better and very courteous service. I will never use another company."

- Rita (February 17, 2014)
"Thank you for the great labels, service and speedy shipping. The labels are great quality and make our products look professional."

- Daniel (February 14, 2014)
"Always find exactly what I need! I use various sizes and colors for labels and won't go anywhere else for them since the quality is excellent, price is right and I receive them fast. Customer service has always been very helpful when I need them as well. Can't go wrong here at all!"

- Toni (February 06, 2014)
"I have been ordering from onlinelabels.com forever and I have ordered from other companies to test the waters. Online labels definitely wins customer service, quality, & especially accuracy of orders! "

- Stanley Scents (January 14, 2014)
"They offer a great selection of label designs & sizes. The Maestro label designer is a MUST have! Excellent service."

- Lisa (January 12, 2014)
"I've done business with ONLINE LABELS for many years, and have always had a positive experience with them. Their employees are courteous and knowledgeable, and if anything is ever amiss, they do everything they can to make it right, and then go above and beyond to make sure you're happy. And their products are always good quality. I would highly recommend them for anyone in need of any kind of labels. Every business should be as customer service oriented as ONLINE LABELS! Keep up the great work, guys!!"

- Ginger! (December 17, 2013)
"Great selection of labels, easy site to navigate, super pricing! I'll be back!!"

- Carolyn (October 16, 2013)
"I've been doing business with Online Labels for many years now. I have a small business and have never been let down with Online Labels. The labels are great quality, shipping is always quick and customer service is awesome. If you're considering doing business with them, don't hesitate."

- Nancy (September 30, 2013)
"Online Labels have met my every need with high quality labels and fast, accurate service. With a huge selection of inventory anything I could imagine can happen. Well done, Online Labels!"

- Sam (August 02, 2013)
| | | | |
| --- | --- | --- | --- |
| Dimensions: | 2.5" x 1.5" | Gap: | 0.125" |
| Corner Radius: | 0.125" | Carrier Width: | 2.625" |
| Core Diameter: | 1" | Wind: | Face Out |
| Outer Diameter: | 4" | Perforations: | Yes (Between labels) |
| Labels per Roll: | 950 | | |
Please note: these labels are not compatible with Dymo™ and Brother™ printers.