has been added to your Cart.
-
Product OL366 - 8.25" x 3.5" Transcription Labels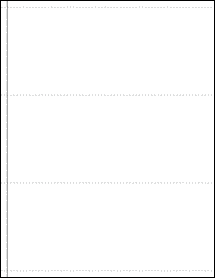 Quick Specs for OL366
Sheet Size:

8.5" x 11"

Label Size:

8.25" x 3.5"

Labels per sheet:

3

Type: Self-Adhesive
Select a material:
Standard White Matte

OL366WX (Laser and Inkjet)

Aggressive White Matte

OL366AT (Laser and Inkjet)
2:

Select a quantity:





500 Sheets

/ 1,500 Labels




1,000 Sheets

/ 3,000 Labels




2,000 Sheets

/ 6,000 Labels




5,000 Sheets

/ 15,000 Labels




10,000 Sheets

/ 30,000 Labels




20,000 Sheets

/ 60,000 Labels



In Stock - Ships the same day if placed before 5pm ET
In Production - Normally ships
Please select a material from the list.
Quick Links
Customer Testimonials
"Online labels has been great to work with. No pressure sales, easy on access, variety of color, size and material. Fast turnaround once order is placed. I've been a customer for years and plan on continuing. "

- Erin (July 27, 2015)
"Thank you for such excellent service and product. I ordered labels on a holiday weekend, they arrived early Monday! How does that happen? Extremely fast. Your product is outstanding! Labels are very low maintenance when it comes to alignment. (I never have to do it) There is zero waste and the cost is perfect. I will recommend your company to everyone I know! A+ outstanding and there are not enough good words about your service and products! Thank you! I will re order soon! "

- Brett N. (July 06, 2015)
"Excellent quality and amazing customer service. It makes a huge difference ordering from a company who truly cares about their customers. Keep it up, guys! You rock!"

- Denise (June 24, 2015)
"Really liking the new software tweaks. Makes your product way easier to use. Thanks! Love Maestro!"

- Kimberly (May 20, 2015)
"Have always received prompt and courteous service. Orders are timely received and of good quality. "

- ETS (May 11, 2015)
"I have always received great service and great products from this company. I am really glad I found them! "

- Marilyn (April 29, 2015)
"I've been using Onlinelables for about a year and a half (or more) to professionally print my custom labels for me. I have never been disappointed. As a small business, they make it so easy for me to peel and stick and be done! Love their fast turnaround, easy ordering tools and wonderful finished products!!"

- Rachael (April 08, 2015)
"We have been using online labels for over 5 years. Ours are used in packaged food that needs to be kept frozen. They are very durable and the ink doesn't smear! Re-ordering is also a breeze. Thanks!!"

- Erin (March 18, 2015)
"The ease of re-ordering your products is outstanding. Not only did I find just what I was looking for quickly, but now I can place repeat orders with just the click of a button. Great job!!!"

- Linda (March 17, 2015)
"My company has been buying labels from Online Labels for several years. We receive our orders very quickly. The customer service reps are very helpful if we can't find what we need, or if we need an order rushed out for next day delivery. I would definitely recommend Online Labels. "

- Cynthia (March 03, 2015)
"I looked for a company like yours for long time. Your website is so rich with many options, so easy to look through and choose almost anything anyone wants and on top you offer samples which is the greatest way of customer service I ever received! Thank you for being the best on the web."

- Phoenician Enterprises (February 21, 2015)
"I've worked with Online Labels for 2 years and have been very happy with my labels, Maestro Designer and with the great customer service."

- Karen (February 09, 2015)
"I am amazed at how quickly and efficiently my orders are handled! Very reliable service. I know that I will get the labels when I need them."

- Larry (February 08, 2015)
"I have been ordering labels from Online Labels for several years now. Not only do they have every kind of label imaginable but the quality of the labels is unsurpassable. In addition to a great product, I always receive my labels in a timely manner. Thank you Online Labels for always exceeding my expectations."

- Diane (February 02, 2015)
"I am a longtime customer and rely on Onlinelabels products to be quickly at my door. They never disappoint me! Thank you for your great product, extensive selection, and reliable delivery! :O)"

- Sharon (January 24, 2015)
"Since we switched to Online Labels from one of the brand name products, we are loving it. The free templates that is offered by Online Labels are easy to use and make our products look neat. "

- Rachael (January 09, 2015)
"I've always enjoyed the labels from online labels but was frustrated with Word and never having everything perfect until I tried Maestro. With Word it looked fine on the computer but was always off and I wasted so many sheets of labels. I can't flippin believe how easy and perfect the process of making labels has become. Also the fact you can access your account from anywhere is amazing. The customer support is fantastic too. Thank you for taking the nightmare of label making away. "

- Karen (December 05, 2014)
"I use a lot of different companies for my supplies but onlinelabels.com never fails to impress me. Their fast shipping and low prices makes owning my own company enjoyable. "

- leissa (November 27, 2014)
"We've been using the glossy inkjet labels for four years on our candles. They look professional and never smear. Couldn't be more pleased with Online Labels!"

- Alicia (November 21, 2014)
"I converted to online labels after using avery labels for awhile. The design software is way superior and the prices are better. I love it!"

- keli (November 21, 2014)
"You have every size imaginable. When I think of a project to do, you always have what I need. Very prompt service also. Thanks!"

- Henrietta (October 06, 2014)
"My clients love the professional look, they almost can't believe I print them at home. So thankful I found Online Labels!"

- Ana (September 25, 2014)
"Online labels has the best selection of labels and at the very best prices. "

- Lenora (September 02, 2014)
"This is the most amazing paper for labels on my bath and body products. You can keep your products in the shower and the ink does not run....the label stays perfect! ONLINELABELS has made my life so much easier.....THANK YOU!"

- Gloria (August 05, 2014)
"Online Labels has delivered for me every time. Between the wide variety of labels available to meet my needs for graduation parties, Bar Mitzvahs and weddings to the great customer service to the awesome on-line Maestro designer, they have made putting that extra special touch on everything I do so easy! I also love that you can buy just the quantity you need and that the website is so easy to navigate. I am a repeat repeat customer as a result!"

- Sharon (July 31, 2014)
"The labels are high quality at a reasonable price. Maestro Designer is easy to use once you get the hang of it. When you do have a question, the support is amazing. They are quick to answer your questions and are very knowledgeable and friendly. So glad I found this site."

- Tammy (July 27, 2014)
"As an owner of a small indie biz- its so refreshing to find something that meets my modest pricepoint. I have had a number of transactions with online labels and each one has gone smoothly. I am a customer for life!"

- Deborah (July 21, 2014)
"Best customer service for an online company that I have ever worked with. Thank you so much Onlinelabels. You really are a great resource."

- Rebekah (July 08, 2014)
"I always find the label i want at this site. No matter what size shape or color. They deliver quantity at a great price without sacrificing quality."

- Nazman (June 25, 2014)
"The previous reviews tell it all - if I could award 1 to 5 stars for this company, I would certainly give them an 8 !!"

- D G (June 17, 2014)
"Online labels has been supplying my labels for over 5 years now. Top Quality labels and customer service that is in the Top 1%. Great Company!! Keep up the great work!!"

- Bill (May 12, 2014)
"I recently got a custom label made. I drew the label shape as accurately as I could as I had no drawing software at that stage. Jason and his colleagues were kind enough to reproduce it on their software. The production of it was lightning fast. Online Labels Customer service has been exceptional on all my orders."

- Kim (April 05, 2014)
"One of the BEST there is. This company bends over backwards to make sure their customers are treated right. It is a very RARE treat these days and to also have a very Great product to boot!! I use their product every day and with the Maestro Design Tool, it makes my life easy. I highly recommend their product and service to one and all!! "

- Bill (March 26, 2014)
"I am always impressed with how quickly I receive my orders from Online Labels. I also find the Maestro Design Tool invaluable for developing new labels on the fly. It's great to do business with a company who understands their customers needs. I will continue to use and recommend them!"

- Elizabeth (March 16, 2014)
"I love my labels....and the price! The quality is fantastic....I can slip them right into my Brother laser printer or my HP color. I don't have to pay printer set up fees and deal with minimum order requirements, etc. I can add my company logo, images and text right into each label. And the label selection is endless. Using the online label program does the rest! I love, love, love Online Labels! Shipping and customer service are unsurpassed. Thank you for making my job so easy!!"

- Dodi (March 14, 2014)
"For the past few months I've been using Online Labels for my skin care business and they work PERFECT. The shipping is always fast and orders are always correct. I really have enjoyed my experience with Online Labels!"

- Megan (February 21, 2014)
"This company is the BEST EVER!!!!! I couldn't ask for better and very courteous service. I will never use another company."

- Rita (February 17, 2014)
"Thank you for the great labels, service and speedy shipping. The labels are great quality and make our products look professional."

- Daniel (February 14, 2014)
"Always find exactly what I need! I use various sizes and colors for labels and won't go anywhere else for them since the quality is excellent, price is right and I receive them fast. Customer service has always been very helpful when I need them as well. Can't go wrong here at all!"

- Toni (February 06, 2014)
"I have been ordering from onlinelabels.com forever and I have ordered from other companies to test the waters. Online labels definitely wins customer service, quality, & especially accuracy of orders! "

- Stanley Scents (January 14, 2014)
"They offer a great selection of label designs & sizes. The Maestro label designer is a MUST have! Excellent service."

- Lisa (January 12, 2014)
"I've done business with ONLINE LABELS for many years, and have always had a positive experience with them. Their employees are courteous and knowledgeable, and if anything is ever amiss, they do everything they can to make it right, and then go above and beyond to make sure you're happy. And their products are always good quality. I would highly recommend them for anyone in need of any kind of labels. Every business should be as customer service oriented as ONLINE LABELS! Keep up the great work, guys!!"

- Ginger! (December 17, 2013)
"Great selection of labels, easy site to navigate, super pricing! I'll be back!!"

- Carolyn (October 16, 2013)
"I've been doing business with Online Labels for many years now. I have a small business and have never been let down with Online Labels. The labels are great quality, shipping is always quick and customer service is awesome. If you're considering doing business with them, don't hesitate."

- Nancy (September 30, 2013)
"Online Labels have met my every need with high quality labels and fast, accurate service. With a huge selection of inventory anything I could imagine can happen. Well done, Online Labels!"

- Sam (August 02, 2013)
"Our business has been using Online labels since 2009. Their excellent approach to service is not only timely, but friendly. We love the design tools available."

- Chics-N-Dip, LLC (July 29, 2013)
"I wanted to let you know how happy I am with your labels. I am a new business owner and finding your company has helped my partner and I turn out a great looking, professional product. And I Love! the reclosable plastic containers the labels come in. It keeps them so nice and flat and helps me organize them all. Thank you."

- laura (July 18, 2013)
"I love Online Labels products. They have everything I need for my business and the products are excellent! I saved a lot of money by printing custom labels using their products. Thank you Online Labels!"

- Sylviana (March 27, 2013)
"Great customer service on the phone, easy ordering on website, lightning fast delivery and awesome quality. I love my labels and OnlineLabels.com will be my go to for all my labeling needs. So glad I found you guys!!!!!!"

- Renee (March 21, 2013)
Item Details
These Transcription Labels have a horizontal perforation unlike most of our labels that have continuous die cuts.